I really wanted to get this recipe up before the holidays, but time got away from me. I grew up with two giant pomegranate trees in my yard. Is that what they are? Trees? Or are they considered bushes? I could never really tell. Anyway, every year we would help my grandma and grandpa make giant batches of pomegranate jelly!
It was the BEST treat in the entire world. We looked forward to all of the hard work… Mainly because we knew that in the end we would take home a massive amount of the sweet jelly and enjoy it until the next season when we would stock up again. Unfortunately, the recipe was lost and I have been trying my hardest to duplicate my grandma's magic.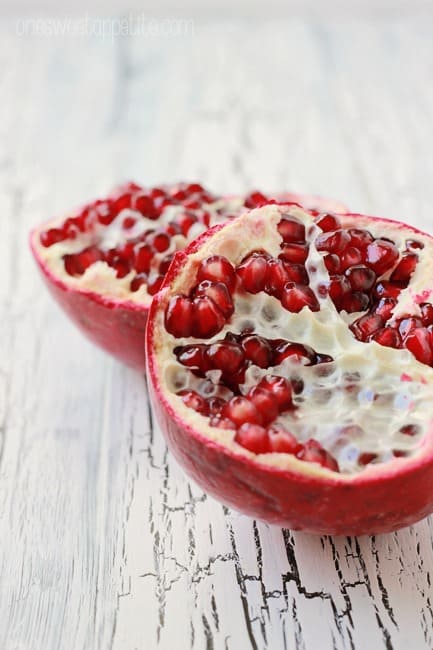 If you are super ambitious you can use real pomegranates to get the juice… OR you can use PomWonderful to cheat… (shhhhhh Don't tell anyone!) Normally I like to use the real deal, but every now and then I'll use the store bought stuff.
This recipe doesn't taste like the one I grew up with, but it's delicious all the same. I'll consider this attempt number one on my journey, and won't be giving up until I get that same flavor I tasted when I was little! Which may be harder than I think.
I almost forgot! Happy 2014!! Hopefully you all had a great and fun night that was full of great memories! 2014 is looking like a great year for One Sweet Appetite!
Pomegranate Jelly
Ingredients
7

cups

of pure pomegranate juice

6

cups

sugar

1

package pectin
Instructions
Bring the juice and the pectin to a rapid boil on the stove. Stir in the sugar and cook for an additional two minutes, or until the sugar is dissolved.

Place in freezer jars, or seal in canning jars.
(Visited 10,934 times, 3 visits today)
50