This Homemade Strawberry Rhubarb Jelly is the BEST. Incredibly simple and perfect for beginners! Made with frozen strawberries, rhubarb, sugar, crushed pineapple, and gelatin! A must-make flavor combination that everyone will love!
Amazingly delicious spread on top of a warm slice of Artisan Bread, as a topping to French Toast, OR added to a bowl of ice cream.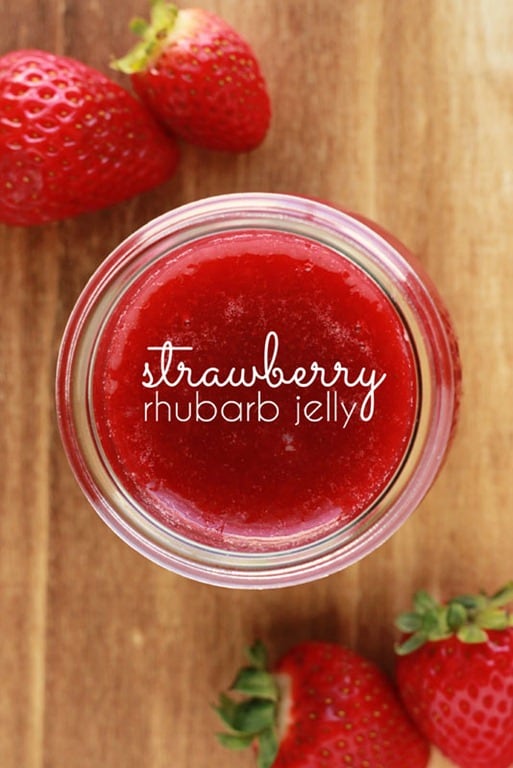 Recipe Features
5-Ingredient: This recipe uses only five simple ingredients.
30-minute: Start to finish, you're looking at roughly 30 minutes.
Fuss Free: Because this uses gelatin in place of pectin, this recipe is fuss free!
Last year, for the holidays I made apple cinnamon and pomegranate jelly. Both were amazing, but this year I was hoping to try something different.
The combination of strawberry and rhubarb has always been a favorite. The sweet taste of strawberry paired with the slightly tart rhubarb is ideal for jam and jelly making! I had never really worked with rhubarb which had me kind of clueless on where to start. Luckily, I found it's fairly simple to use and the PERFECT compliment to strawberries.
This recipe is pectin free and uses gelatin in its place. Be sure to pick quality berries and thaw them completely if using frozen.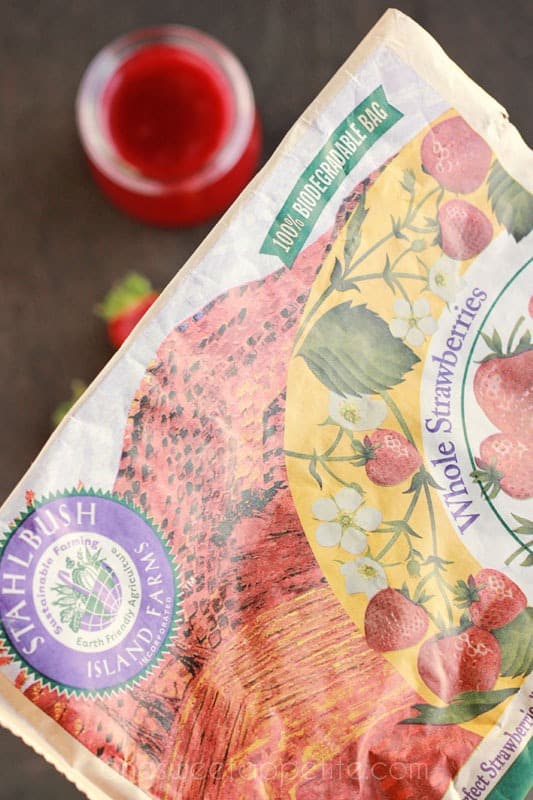 Strawberry Rhubarb Jam Ingredients
Five ingredients. That is all you need for this Strawberry rhubarb jam. Besides the obvious, there are a few ingredients that might surprise you. Below is a quick view. For a full list and measurements see the recipe card below.
Strawberry and Rhubarb: I pick up bags of frozen so I always have ingredients on hand.
Sugar
Crushed Pineapple: In a can. Don't drain it!
Jell-O: Or any strawberry gelatin.
How To Make Strawberry Rhubarb Jelly
Once you have all of your ingredients you are halfway through the recipe! The rest is super simple.
PREP: If using frozen strawberries, be sure to thaw them completely before starting.
BLEND: Add the thawed berries, rhubarb, and crushed pineapple with the juice into a blender or food processor. Pulse until the mixture is smooth, about 1 minute.
COOK: Transfer the mixture to a tall pot stirring in the sugar. Bring to a simmer and allow to cook for 20 to 30 minutes.
WHISK: Whisk in the gelatin and pour into clean sterile jars.
This is a freezer jam. I have never processed this particular recipe.
Why am I telling you this? I want you to be prepared to pour a little less in your jars than you typically would. You need a little extra space in the top of the jar for the jelly to expand as it freezes.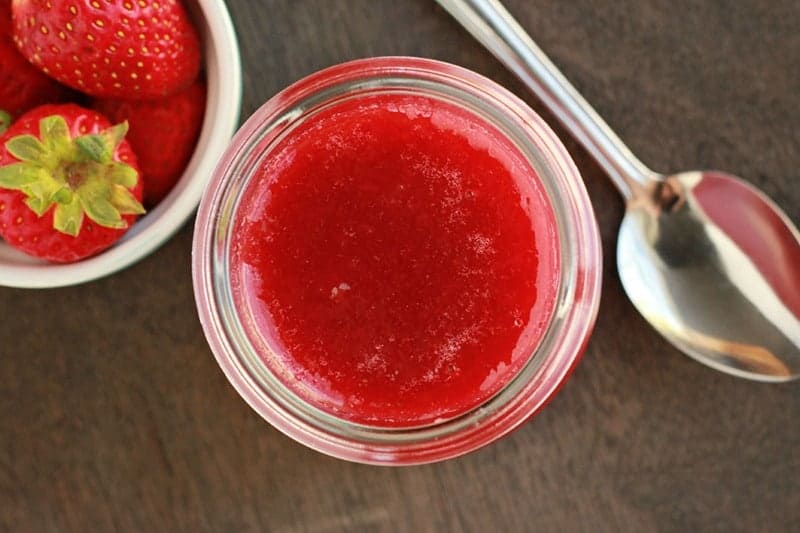 Recipe Notes:
Warning! One taste and you will be hooked. We had a hard time letting it cool before polishing off half of a jar. With how easy this recipe is you will be whipping up a few batches over the next couple of months.
Can you use fresh fruit in this recipe?
Yes. For this recipe, you can substitute fresh or frozen fruit. Make sure you pick ripe berries and dice both the strawberries and rhubarb finely.
How long does this recipe last?
When stored properly, this recipe can last up to 10 days. I suggest keeping it in an airtight container in the refrigerator.
Freezing will extend the life of your jelly. It will last two to three months.
MORE MUST-MAKE JELLY RECIEPS
Like this recipe? You will love my:
Still Hungry? Follow One Sweet Appetite on Instagram, Pinterest, and Facebook!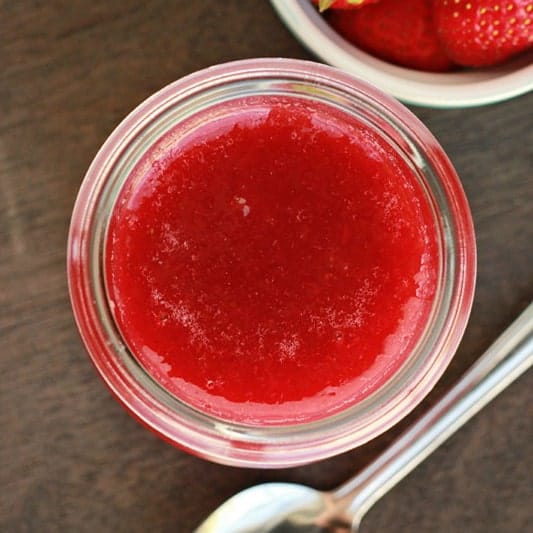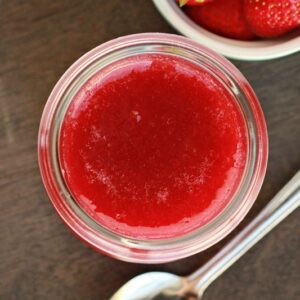 Strawberry Rhubarb Jelly
Strawberry Rhubarb Jelly. This jelly recipe is perfect for beginners! Made with frozen strawberries and rhubarb, sugar, crushed pineapple, and gelatin!
Ingredients
2½ cups frozen strawberries thawed
1½ cups frozen rhubarb thawed
2½ cups sugar
1 (8 oz) can crushed pineapple do not drain
1½ packages strawberry gelatin like jello
Instructions
Combine the strawberries, rhubarb, and pineapple in a strong blender or food processor. Pulse until finely crushed.

Pour into a large pot and stir in the sugar and bring to a boil. Cook for 20 minutes.

Remove from the heat and stir in the gelatin. Pour into sterile containers and cool completely. Store in the freezer or refrigerator.
Notes
This is a freezer jam. I have never processed this particular recipe.
Nutrition
Serving: 1Servings | Calories: 83kcal | Carbohydrates: 21g | Protein: 1g | Sodium: 6mg | Fiber: 1g | Sugar: 20g
Equipment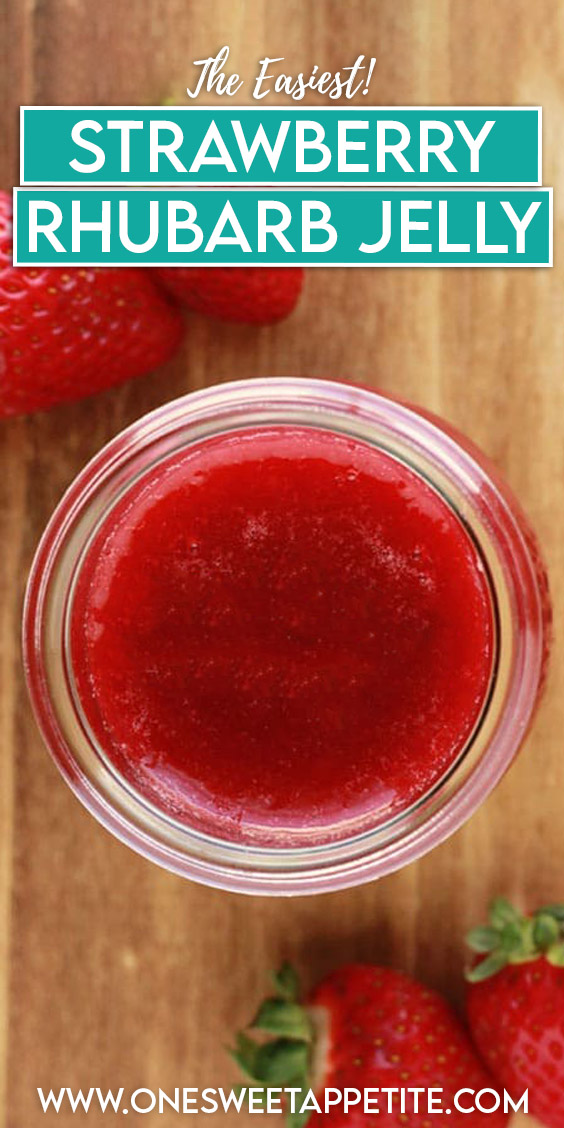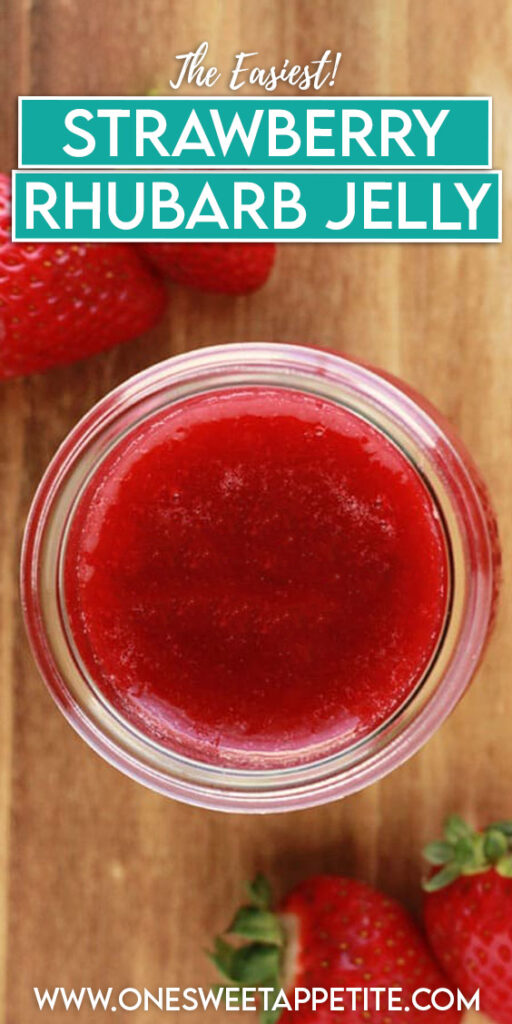 Reader Interactions