Spice up your weekday menu with this easy Taco Pizza.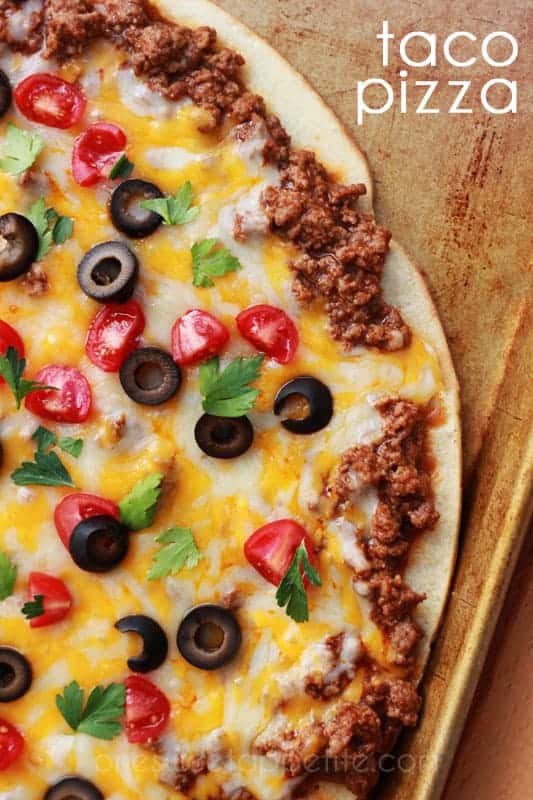 Guys. This pizza was soooo good but pushed me to the edge when it came to photos. I want you to take a second and imagine, if you will, that you are standing in my kitchen and smelling the most amazing tacos. I combined the meat with some of my favorite flavor boosting veggies (can I get a hell yeah for some onion and peppers?!) and sprinkled just a touch of taco seasoning. The smell was intoxicating and left me with one hungry six year old with his furry friend sitting at the counter counting down the minutes until dinner. And really, I don't blame them. It took every ounce of restraint to not give up on this whole idea and just make a burrito. Thankfully we were out of tortillas which forced me to continue this crazy pizza.
Let's talk crust for a second. You have a few directions you can take this. If you are in a hurry you can just pick up one of the pre-made crusts from the grocery store that are baked and ready to go (totally what I did), grab a pizza dough from the store, or make your own thin crust. I happen to have the best thin crust pizza dough recipe on here and if I wasn't in a super hurry I would have made that one. You bet your buttons I'll be trying that next time around.
I especially love that you can really get crazy with the toppings. We chose to keep it simple with some chopped tomatoes, cilantro, and sliced olives. Next time I think we might add in some corn and maybe even black beans. We served each slice with just a bit of sour cream, homemade guacamole, and hot sauce.
Taco Pizza
Ingredients
1

pizza crust

1

lb

ground beef

1/4

onion

chopped

1

cup

chopped red and green pepper

2

tablespoons

taco seasoning

1 10

oz

can enchilada sauce

1-2

cups

Mexican shredded cheese

chopped tomatoes

sliced olives

fresh cilantro

sour cream

guacamole
Instructions
Preheat your oven to 425 degrees.

Cook the ground beef with the onion and peppers until browned. Sprinkle with taco seasoning. Drain the grease and return to the pan. Stir in the enchilada sauce.

Spread the beef mixture over your prepared pizza crust. Sprinkle with the cheese. Bake 8-12 minutes or until crust is lightly browned and cheese is bubbly.

Top the pizza with cilantro, olives, tomatoes, and any other ingredients you might like.
(Visited 6,572 times, 1 visits today)
4