This Streusel Pumpkin Pie is brought to you by Harmons.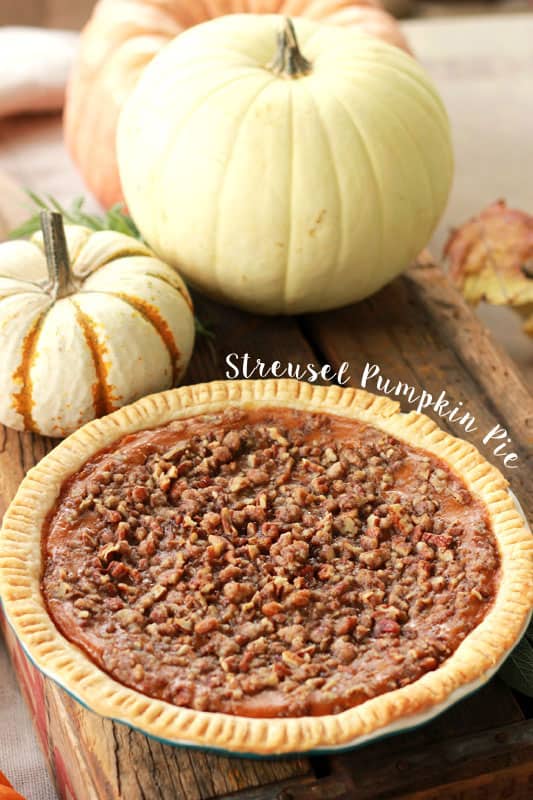 Pumpkin pie… We all know it as the staple that makes it's way to the Thanksgiving dessert table and disappears almost immediately. I have a classic version already on my site so this year I decided to try something a little different.  Adding a streusel topping took this pie from good to AMAZING.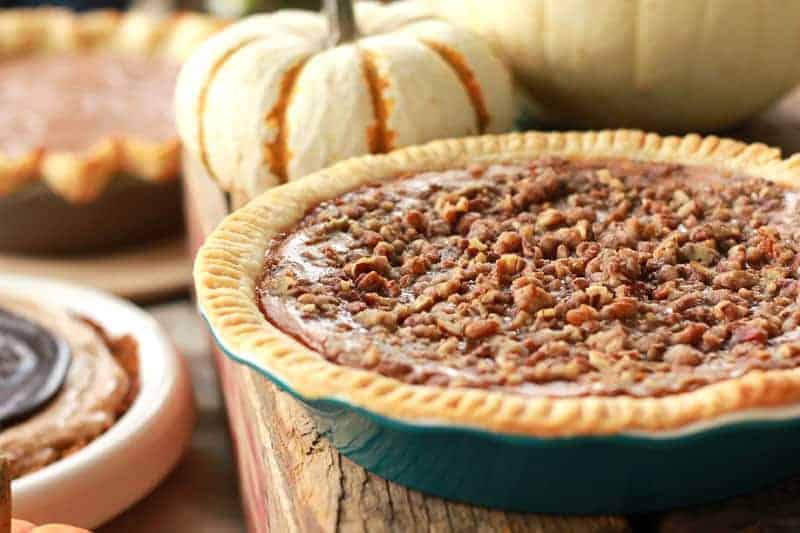 This part of the post is where I admit to you a terribly embarrassing secret… I, Jesseca of One Sweet Appetite, hate pie. Not even kidding. I always keep my fingers crossed that someone will bring brownies or cookies to our big holiday gatherings but all of that changed with this recipe. I whipped up two in a trial run the night before I was scheduled to meet with a group of talented ladies and sometime around midnight I forced my husband to cut and try a slice out of the extra. One bite and I was HOOKED. It's sweet, it's salty, it's packed with fall flavor. I just can't even describe how wonderful every bite was hitting my taste buds.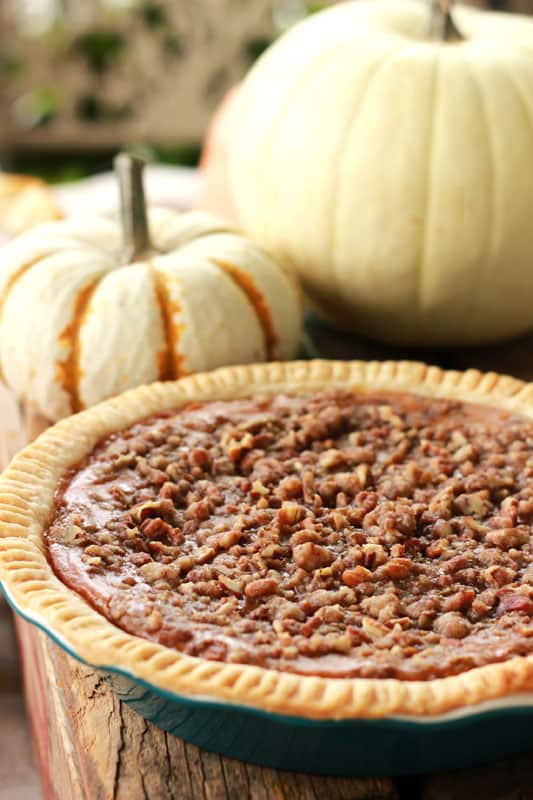 The secret, I think, is in the pumpkin. Instead of using a canned variety of puree I opted for a homemade version. I'm normally a "keep it simple" kind of gal but the sugar pumpkins beautifully displayed outside of Harmons pulled me in. I followed the easy recipe over on Bless this Mess in just 2-3 hours had fresh wonderful pumpkin ready to be whipped into oh-so-many desserts. The only warning I have is that this pie takes a loooooong time to bake. Make sure you cover or tent it in foil to avoid an extra dark crust.
Ingredients
15 oz pumpkin puree
14 oz evaporated milk
1 cup granulated sugar
1/2 cup brown sugar
2 large eggs
2 teaspoons pure vanilla extract
1 teaspoon cinnamon
1/2 teaspoon ginger
1/2 teaspoon nutmeg
1/2 teaspoon salt
2 pie shells, unbaked
1/4 cup brown sugar
4 tablespoons flour
1 teaspoon cinnamon
2 tablespoons butter, soft
1 cup chopped pecans (optional)
Instructions
Preheat your oven to 425 degrees. Place both of your shells in two dishes and set aside.
Whisk together the pumpkin puree, evaporated milk, granulated sugar, 1/2 cup brown sugar, eggs, and vanilla.
In a separate bowl combine 1 teaspoon cinnamon, ginger, nutmeg, and salt. Fold into your pumpkin mixture. Divide evenly between you two prepared crusts. Bake for 20 minutes.
While your pie is baking stir together the 1/4 cup brown sugar, flour, 1 teaspoon cinnamon, butter, and pecans.
Pull to pies out of the oven. Reduce the temperature to 350 degrees. Divide your crumble mixture over the top of each pie. Place a tent of foil over each and return to the oven.
Bake 40-60 minutes or until the center is set.
https://onesweetappetite.com/2015/11/streusel-pumpkin-pie/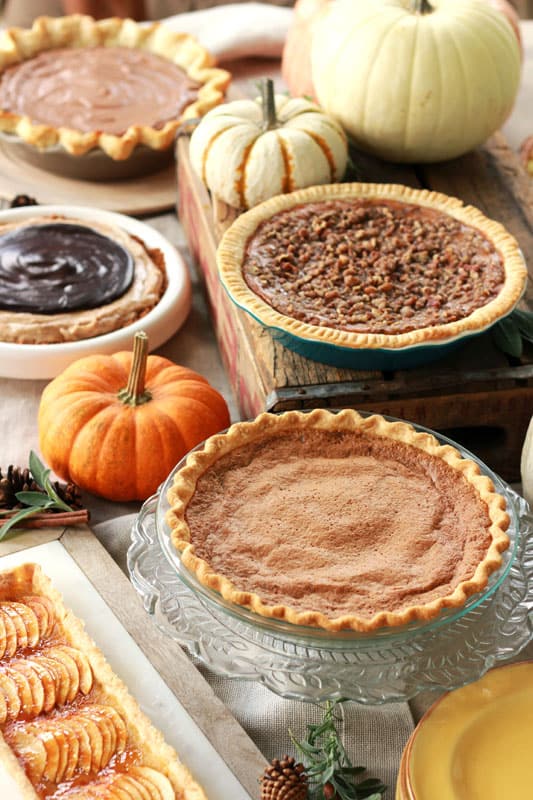 Being a Harmons blogger has helped me to learn more about a local grocer and how they operate, create fun recipes, but also build relationships with the other girls on the team. I am lucky to be paired with some of the most talented local foodies out on the web all year long. Last year we recreated a Thanksgiving Feast fit for a king and this year we have a wonderful spread of sweet Thanksgiving treats! I hope you have a sweet tooth because these pies are drool worthy!
Gingerbread Chess Pie from the adorable Rachael at La Fuji Mama
Almond Butter Pie from the kitchen of Becky at Vintage Mixer
Chocolate Silk Pie from Si's A Bountiful Kitchen
French Apple Tart from the adorable Caroline at Armelle Blog
This post may contain affiliate links. I include these links to help you find specific products that are used in my recipes. If you purchase an item from the link on One Sweet Appetite, I will receive a small commission helping keep my recipes free for you.
One Sweet Appetite is a participant in the Amazon Services LLC Associates Program, an affiliate advertising program designed to provide a means for sites to earn advertising fees by advertising and linking to amazon.com
(Visited 1,524 times, 1 visits today)
4