This post was updated on by Jesseca
These biscuits… Oh my. I don't know that there are really words that can describe just how amazing they really are. My love for this salty sweet combination started a few weeks back when my husband took me to Bojangles. Yes, that is a real place and if you are on the east coast you know exactly what I'm talking about. They had some red white and blue biscuits that were out of this world amazing. I knew I needed to make my own version and that is where these Blueberry Biscuits come in.
Just start with some fresh blueberries and a good base biscuit. I found mine from Kaylynn over at Among the Young. A few adjustments later and you've got this wacky creation. There is just no way to truly explain the melt in your mouth goodness that you will experience while eating these biscuits. They are so easy to make and the perfect way to add a little sweetness to your day.
Blueberry Biscuits
Ingredients
For the biscuits:
2

cups

all-purpose flour

1

tablespoon

sugar

1

tablespoon

baking powder

1-1/2

cups

heavy whipping cream

1

cup

blueberries
For the Glaze:
1

teaspoon

butter

melted

1-1/2

cups

powdered sugar

1/4

teaspoon

vanilla extract

2

tablespoons

milk
Instructions
Preheat your oven to 350 degrees. Wash your berries and set them in the freezer until we are ready to work them into the dough.

Whisk the flour, sugar, and baking powder in a large bowl. Stir in the heavy cream until your dough starts to come together. Finish mixing with clean hands. Fold in the berries.

Turn the dough out onto a floured surface. Roll to 1/2 inch thickness and cut into circles using a glass or biscuit cutter. Place on a baking tray and cook for 10 minutes or until lightly browned.

While your biscuits are cooling combine all of the glaze ingredients in a small bowl. Whisk until smooth and drizzle over your biscuits.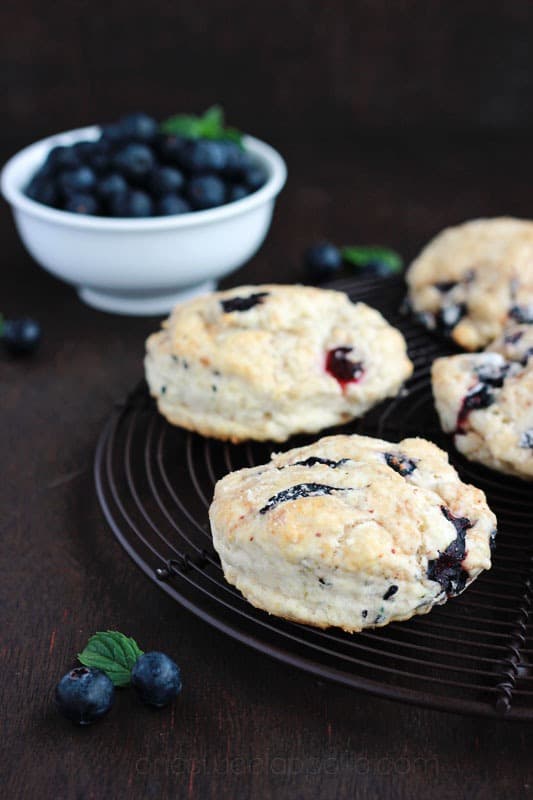 I suggest you try the original biscuit recipe at least once in your life. It's insane how easy and quick they are to make. Every bite seems to be better and better. Try them with my three ingredient sausage gravy for the perfect breakfast, OR stick with this sweet version. Either way you are bound to be pleased.
(Visited 1,303 times, 2 visits today)