Ok, so I know today is Halloween and I should be posting something spooky and/or incredibly gross… The problem is that I'm completely ready for the holiday to be over and want to jump into some incredibly delicious and easy desserts. Blueberry cobbler is one dish from my childhood that fills me with nostalgia. I can remember driving to a local diner with my grandma and ordering a slice (er… serving?) of warm blueberry cobbler topped with vanilla bean ice cream… and two spoons. Splitting that cobbler always made me feel extra special.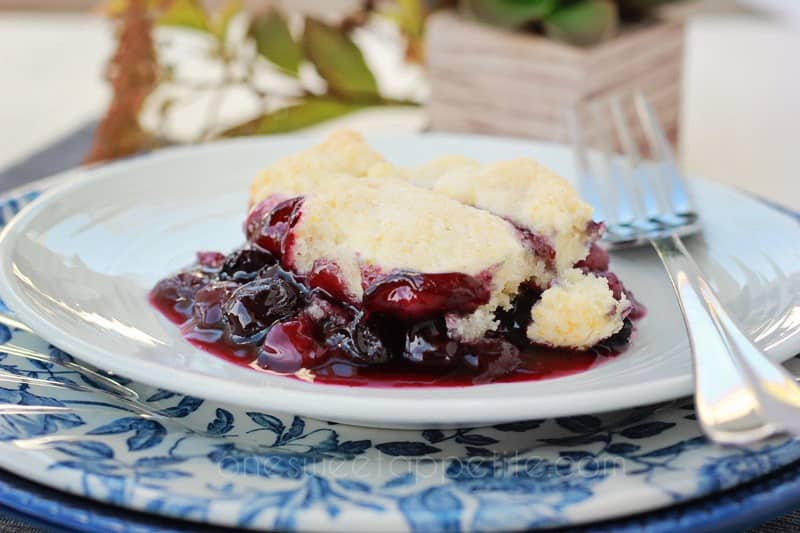 When I first tried Stahlbush Island Farms frozen berries in my blueberry sauce I fell head over heels in love. There were so many factors that played in to my new found fondness. The packaging is amazing, the price was right, but most importantly the berries were INCREDIBLE. I had no idea that frozen fruit could turn out so great in a recipe.
But more on that in my next post. On to the recipe!
Blueberry Cobbler
Ingredients
4 cups blueberries fresh or frozen
1 cup sugar
1/2 teaspoon cinnamon
3 tablespoons cornstarch
1/2 cup water
1½ cup flour
2 tablespoons sugar divided
1½ teaspoons baking powder
1/2 cup salted butter plus 2 tablespoons
1/2 cup milk
Instructions
Preheat your oven to 350 degrees. Spray an 9 inch square pan with non-stick spray.

Combine blueberries, 1 cup sugar, and cinnamon in a medium saucepan. Bring to a slow boil.

Dissolve the corn starch in 1/2 cup water. Stir into your blueberry mixture and cook until somewhat thickened. Pour into your prepared pan.

Combine flour, 1 tablespoon sugar, baking powder, and 1/2 cup butter in a strong blender or food processor. Pulse until butter is pea sized. Add the milk and blend until your dough forms.

Drop the dough by the tablespoon full onto the top of your blueberry base. Spread with 1-2 tablespoons of melted butter and sprinkle with 1 tablespoon of sugar.

Bake 30 minutes or until lightly browned.
Nutrition
Serving: 1Servings
Top your warm cobbler with a scoop of vanilla ice cream or a little whipped cream for the ultimate dessert experience. We even like to heat it in the morning and enjoy it for breakfast. The sweet dough combined with the blueberries and cinnamon is pure heaven.
Like this recipe? You will love my Blueberry Yogurt Drops, Easy Cherry Cobbler Recipe
Reader Interactions