This post was updated on by Jesseca
This simple Strawberry Sauce recipe is made with just three simple ingredients. Perfect for topping pancakes, ice cream, cake, and so much more!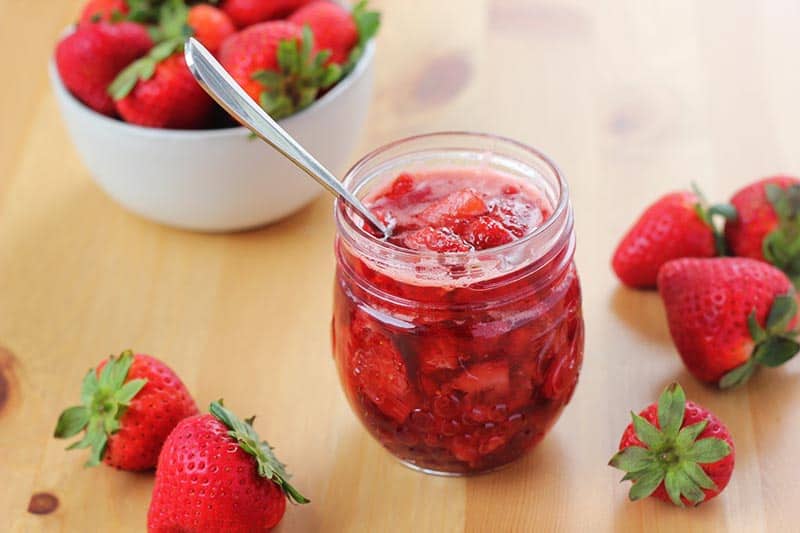 This recipe. You guys, if I could swoon over one single dish on my site, this would be it. SWEET berries are combined with just a touch of sugar and a drip or two of pure vanilla extract. IT. IS. DIVINE.
It tastes incredible on so many things and is the perfect way to use any slightly past their prime berries. Roughly chop your berries, toss in a pan, and simmer until thickened. It really is that easy!
Strawberry Sauce Recipe
Have I mentioned how incredibly my house smells as this simmers? The vanilla and berries combine to make a beautiful aroma that slowly fills our tiny home. If I could bottle and sell this smell, I could make a fortune.
TIP: Use very ripe berries. I even suggest them being slightly past their prime. This will give you a sweet sauce without the addition of too much sugar. Bonus? Most of the time my kiddo and husband refuse to eat those bruised berries anyway. This gives me a quick way to use them up without them turning their noses to them!
Here are a few of our favorite ways to use this strawberry sauce:
On Ice Cream
Stirred into lemonade
On pancakes, waffles, or french toast
IN french toast
On top of pound cake
Inside crepes
In a jar and gifted to neighbors with a box of pancake mix
It is truly so delicious on so many things. The possibilities are endless. I even have big plans to use it inside doughnuts and ice cream!
NOTE: This sauce will last up to 4 days if stored properly.
Strawberry Sauce Ingredients:
Strawberries
Granulated Sugar
Pure Vanilla Extract
How to make an easy strawberry sauce:
Wash and roughly chop your strawberries, removing the green ends.
Place the berries, sugar, and vanilla into a medium sized pot.
Bring to a simmer.
Cook, stirring frequently, for 15 minutes or until the sauce has thickened.
Allow to come to room temperature and serve!
Like this recipe? You will love my:
Strawberry Sauce
Yield: 4 servings

Prep Time: 10 minutes

Cook Time: 15 minutes

Total Time: 25 minutes

This simple Strawberry Sauce recipe is made with just three simple ingredients. Perfect for topping pancakes, ice cream, cake, and so much more!
Ingredients
1 pint strawberries
1/3 cup granulated sugar
1 teaspoon vanilla extract
Instructions
Roughly chop all of your berries. Combine all of the ingredients in a large pot. Bring to a simmer and cook for 15 minutes.
Let the sauce cool Transfer to an air tight container.
Keep in your freezer or the refrigerator. 
Notes
When I'm ready to use it, I simply set it out on the counter for a few minutes.
Recommended Products
As an Amazon Associate and member of other affiliate programs, I earn from qualifying purchases.
Nutrition Information:
Yield: 4 Serving Size: 4 servings
Amount Per Serving: Calories: 96

This post was originally published May of 2015. It has since been updated to provide photos and additional information.
Pin for later:
(Visited 2,656 times, 1 visits today)
13