This Strawberry Sauce Recipe is made using only 3 ingredients and comes together in a snap. The perfect topping for ice cream, cheesecakes, and so much more.
Try using this delicious fruit topping on French Toast, Pancakes and Waffles to give your brunch a fancy finish!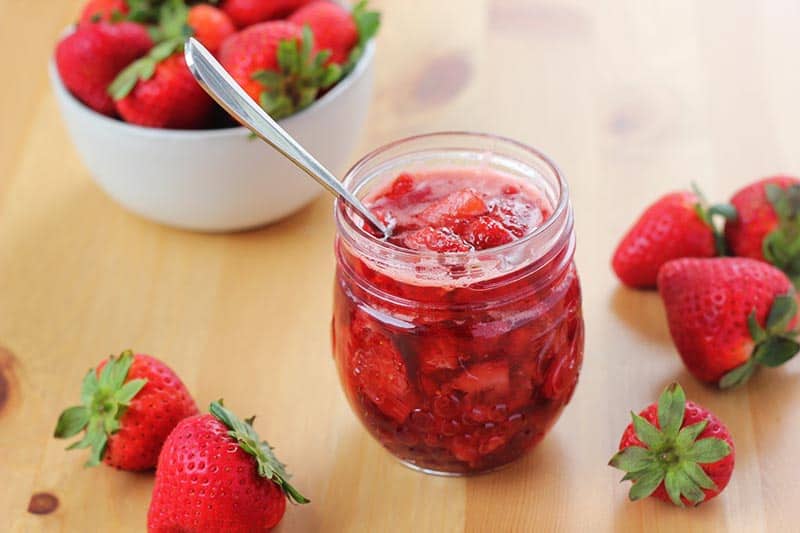 RECIPE FEATURES
Easy: Wash, toss and cook. Making this sauce is so simple and gives you delicious results.
Minimal ingredients; Three very basic ingredients. You'll be surprised how bold the berries shine through without many additions.
Family Favorite: This is a must for our brunch table.
This recipe. You guys, if I could swoon over one single dish on my site, this would be it. SWEET berries are combined with just a touch of sugar and a drip or two of pure vanilla extract. IT. IS. DIVINE. It tastes incredible on so many things and is the perfect way to use any slightly past their prime berries. Roughly chop your berries, toss in a pan, and simmer until thickened. It really is that easy!
This strawberry sauce is a must-try over vanilla ice cream, cheesecake, pie… You name it and it pairs perfectly! It's dangerously irresistible and perfect for sharing.
EASY STRAWBERRY SAUCE INGREDIENTS
Have I mentioned how incredibly my house smells as this simmers? The vanilla and berries combine to make a beautiful aroma that slowly fills our tiny home. If I could bottle and sell this smell, I could make a fortune.
Strawberries: Fresh works best, however frozen can work too!
Sugar: Be sure to adjust the sugar based on the sweetness of the berries. If they are pretty sweet on their own, you can minimize how much sugar you add to the dish.
Vanilla: Just a touch of vanilla extract to enhance the flavor.
TIP: Use very ripe berries. I even suggest them being slightly past their prime. This will give you a sweet sauce without the addition of too much sugar. Bonus? Most of the time my kiddo and husband refuse to eat those bruised berries anyway. This gives me a quick way to use them up without them turning their noses to them!
HOW TO MAKE STRAWBERRY TOPPING
I like to call this a beginner recipe. It is so simple and requires almost no prep. The only real tip I have is to avoid blending the berries. You want bigger pieces so they can break down without becoming too saucy.
PREP: Wash and hull the berries, or remove the green tops. Chop into halves or quarters.
MIX: Place the berries into a pot and sprinkle with the sugar and vanilla. Gently toss.
COOK: Turn the heat up to a low/medium and bring the mixture to a simmer. Stir frequently and allow the sauce to cook for 15-20 minutes, or until thickened.
ENJOY: Pour the sauce into a jar or container and allow to cool slightly before serving.
HELPFUL TOOLS
Silicone Spatulas: I probably link to these more than any other item on my website. A set of silicone spatulas (affiliate) are so handy for so many things. They're heat resistant and perfect for scraping the sides of jars or pans. Bonus, they are ideal for non stick pans!
Mason Jars (affiliate): Super great for storing so many things. Bonus? They are reusable and recyclable!
RECIPE TIPS
How long does this recipe last?
If stored properly, in an airtight container inside the refrigerator, this recipe will last 3 to 4 days.
Can I use other fruits?
Yes! I have tried this with blueberries and raspberries with great success. You can even add a blend of multiple berry types.
How do you use strawberry sauce?
Here are a few of our favorite ways to use this strawberry sauce:
On Ice Cream
Stirred into lemonade
On pancakes, waffles, or French toast
IN French toast
On top of pound cake
Inside crepes
In a jar and gifted to neighbors with a box of pancake mix
As a cupcake filling!
It is truly so delicious on so many things. The possibilities are endless. I even have big plans to use it inside doughnuts and ice cream!
Can you freeze leftovers?
Yes! Transfer cooled sauce to an airtight freezer container, leaving 1/2 inch space towards the top. Freeze for up to 6 months.
MOER MUST-TRY STRAWBERRY RECIPES
Still Hungry? Follow One Sweet Appetite on Instagram, Pinterest, and Facebook!
Strawberry Sauce (Strawberry Topping)
This Strawberry Sauce Recipe is made using only 3 ingredients and comes together in a snap. The perfect topping for ice cream, cheesecakes, and so much more.
Ingredients
1 pint strawberries
1/3 cup granulated sugar
1 teaspoon vanilla extract
Instructions
Roughly chop all of your berries. Combine all of the ingredients in a large pot. Bring to a simmer and cook for 15 minutes.

Let the sauce cool Transfer to an air tight container.

Keep in your freezer or the refrigerator. 
Notes
When I'm ready to use it, I simply set it out on the counter for a few minutes.
Nutrition
Serving: 4servings | Calories: 96kcal
Reader Interactions