This  Coconut Horchata Latte is sponsored by the
Mr
.
Coffee®
brand. All opinions are mine alone.
For the last few weeks I've woken up to the wonderful smell of coffee and it's all because I hired my own personal barista! Er… Or maybe it's because my husband is obsessed with the Mr. Coffee® Pump Espresso Maker that's sitting on the counter. At first we were so intimidated by the idea of espresso that we let that poor lonely machine just sit… It sat on that counter staring me down for about a week before I bit the bullet and finally broke open the instructions. After all, I couldn't throw a brunch party and NOT know how to use it!

Good news? It is impossibly simple to use and I was worried over nothing. The instructions were clear and our FIRST try turned out amazing! It wasn't long before we started to experiment with so many different cappuccino and latte flavors but my ALL time favorite was this Coconut Horchata Latte!  
Horchata is one of those drinks that I love and always have on hand (you can't have taco Tuesday without it, am I right?). All you really need to do is blend and soak two base ingredients and top off with a little milk.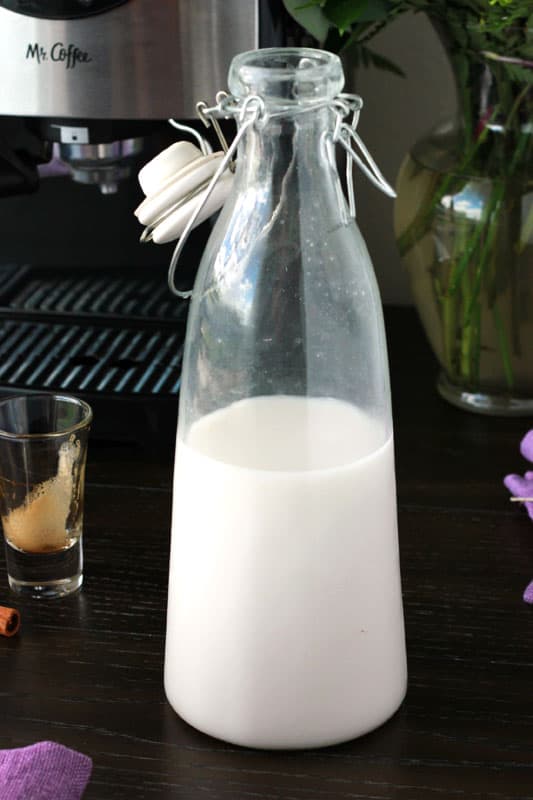 Since I wanted an extra creamy latte with a punch of flavor I made the simple swap from regular milk to coconut. It is SO delicious all on it's own (my son gulped it down) but even better with a shot or two of fresh brewed espresso! The creamy drink tones down the deep flavor of the coffee and makes it ideal for sipping warm or chilled! So once you've got this mixed up it's time to brew those shots and get them mixed in!
A few espresso making tips before we move on…
– Invest in a bean grinder (Here are some great ones from Mr. Coffee®). Fresh grounds really do give you the best flavor!
– Pack it tight! You want to make sure you pack the grounds tightly and evenly before getting things going. This will ensure that you get even flavor.
– A clean machine produces better coffee. I'm not saying to go crazy and scrub, scrub, scrub. But making sure you properly maintain and clean your espresso maker is always a good idea.

See that beautiful froth layer? Gorgeous and ready to be mixed in! Top things off with a little dust of cinnamon and enjoy!
Make sure you come back all week long and check out some of the other amazing brunch inspired ideas I've got planned including the Mocha Cupcakes from yesterday. You aren't going to want to miss this creative party.

Coconut Horchata Latte
Ingredients
1

cup white long grain rice

2

cinnamon sticks

4

cups

water

? cup sugar

2

cups

coconut milk

2

teaspoons

vanilla extract

1

shot of fresh brewed espresso per cup

Instructions
Instructions
Combine the rice and cinnamon sticks with 2 cups of water in a blender. Pulse until both are slightly ground. Add the remaining water, cover, and refrigerate overnight.

Strain the mixture through a fine mesh strainer and discard the rice/cinnamon grounds. Stir the sugar, coconut milk, and vanilla extract into your rice drink.

Pour 1 shot of espresso into your glass or cup and top off with the horchata. Stir and enjoy!
PS, you might like…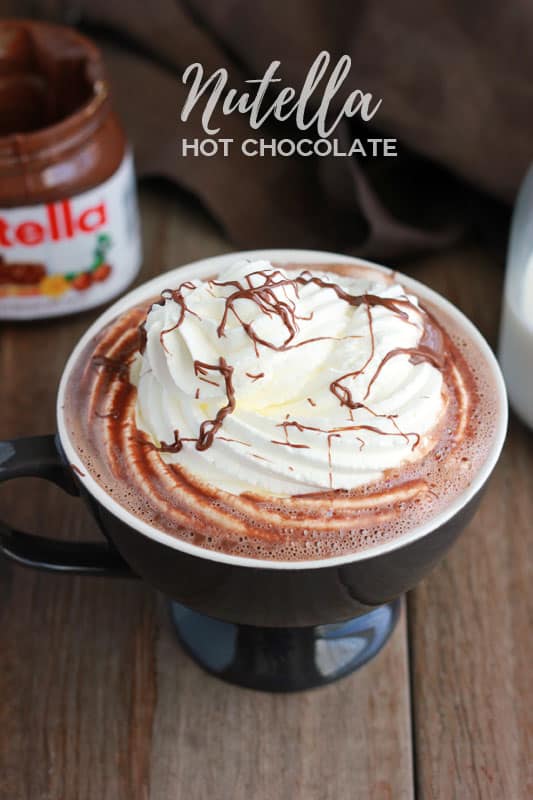 This post may contain affiliate links. I include these links to help you find specific products that are used in my recipes. If you purchase an item from the link on One Sweet Appetite, I will receive a small commission helping keep my recipes free for you.
One Sweet Appetite is a participant in the Amazon Services LLC Associates Program, an affiliate advertising program designed to provide a means for sites to earn advertising fees by advertising and linking to amazon.com
(Visited 900 times, 1 visits today)
3