Our Butterbeer Latte is the enchanting concoction you never knew you needed in your life. Picture velvety steamed milk swirled with rich butterscotch and a hint of warm vanilla, topped off with a frothy layer of whipped cream and a sprinkle of wizardry. It's like sipping a piece of Hogwarts right in your own cozy kitchen. So, wands at the ready, muggles – get brewing and transform your coffee break into a delightful wizarding adventure!
Make it a meal and serve this delicious latte with a Homemade McGriddle, French Toast Casserole, or Fluffy Buttermilk Waffles!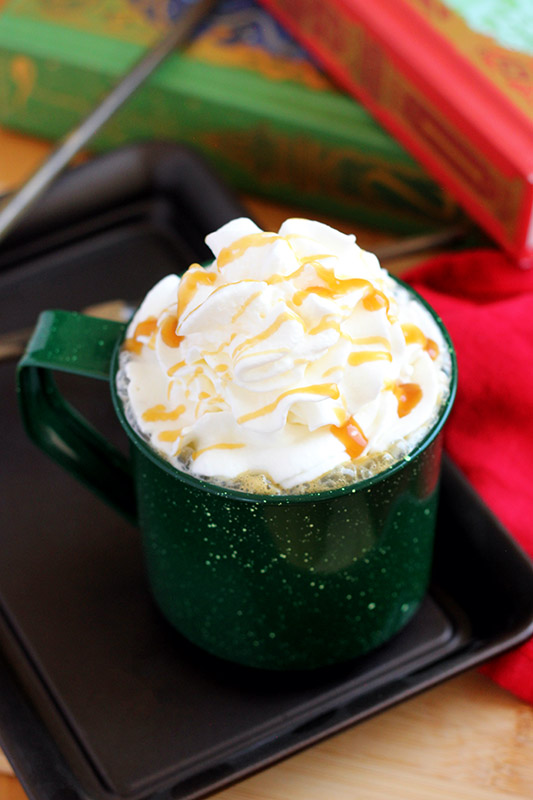 Why You'll Love This Easy Latte
Dreamy Butterscotch Syrup: This syrup will last up to two weeks!
Easy to Customize: Control the sweetness with more or less syrup, use different coffee types, serve warm or iced.
Family Favorite: This flavor is a HUGE hit with the family!
It's the last week in July, which means I am in full swing Harry Potter Party mode. As most fans will remember, Harry's birthday is July 31. We are celebrating with a week long movie marathon AND so many new HP inspired recipes, starting with this butterbeer coffee!
They mention butterbeer A LOT in the books and movies. It's a drink that everyone loves and tastes insanely delicious as a coffee. A touch of butter flavor with a sweet butterscotch finish. You are about to fall in love with this easy homemade latte.
Looking for the classic Warm Butterbeer Recipe? I've got you covered!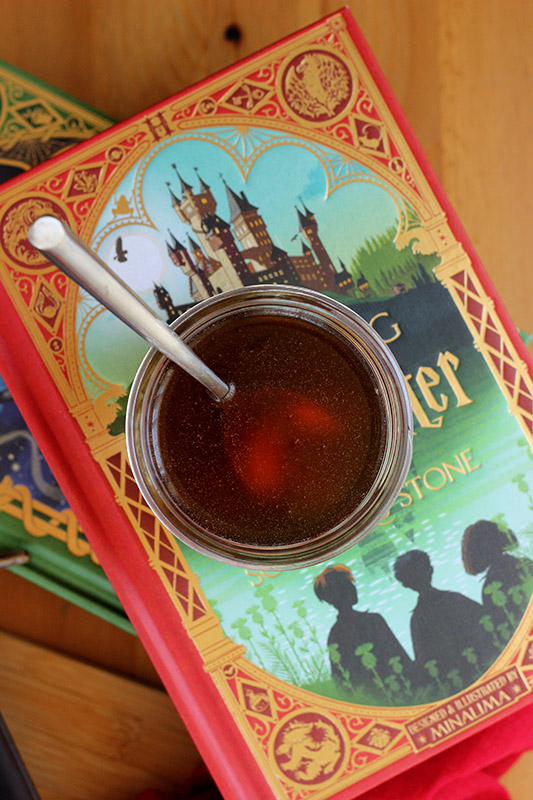 Butterbeer Latte Ingredients
So, what exactly is a butterbeer latte?
This easy coffee recipe combines espresso with the wizarding flavor of butterbeer. I opted for a homemade butterscotch syrup with a touch of butter for an authentic flavor experience that will transport you right back to Harry Potter World in Universal Studios. It also happens to be a fairly popular order at Starbucks!
Water: You start the recipe by creating a simple syrup. Cook water and sugar until it dissolves and you're set!
Sugars: Both granulated and brown sugar is needed. One for the simple syrup, and one for the butterscotch.
Salt: Just a pinch to help heighten flavor.
Butter: It wouldn't be butterbeer without the butter. I used unsalted, but you can use salted and skip the pinch of salt that is called for.
Vanilla: Pure vanilla extract helps to bring all of the flavors together.
Coffee: For a warm drink, opt for espresso or strong brewed coffee. For iced, use cold brew, espresso, or strong brewed.
Milk: I've used whole milk, 2%, coconut milk, and soy with success.
How To Order A Butterbeer Latte At Starbucks
If you are waiting in line at the coffee chain, and wondering how to order a Butterbeer Latte from Starbucks, try asking for a whole milk steamer with 2 pumps caramel, 2 pumps toffee nut, 2 pumps cinnamon dolce, and 1 shot espresso. This order is for a tall. Be sure to adjust for larger sizes.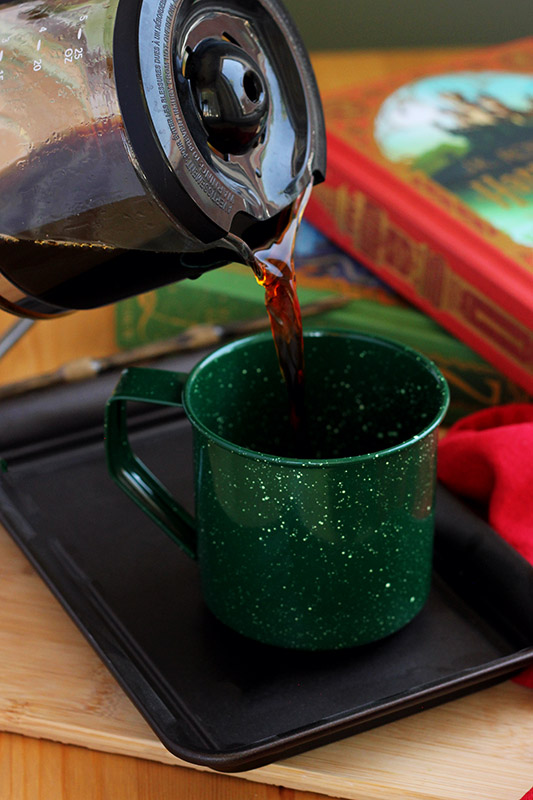 Butterbeer Latte Recipe
PREP: Gather ingredients. The first thing we are going to do is make the butterscotch syrup.
SYRUP: Make the butterscotch coffee syrup by combining a butterscotch sauce with simple syrup. Full recipe is in the recipe card below.
LAYER: Add 1 to 2 tablespoons of the homemade syrup into the bottom of a glass. Top with coffee and steamed milk.
ENJOY: Enjoy as-is or with a little caramel drizzle and whipped cream on top.
HELPFUL TOOLS
Cold Brew Maker: For under $20 you can get a cold brew maker (affiliate) that is SO EASY to use. This is the one I have, and used in the photos, and it makes a super smooth cold brew that is barista worthy.
Espresso Maker: Did you know you can get an espresso machine (affiliate) for around $30? This is the one I have and I love it. It doesn't take up too much space and makes a killer shot of joe.
Iced Coffee Glasses: AKA an insulated tumbler (affiliate). There is nothing worse than having your ice melt and drown out the flavor of your coffee.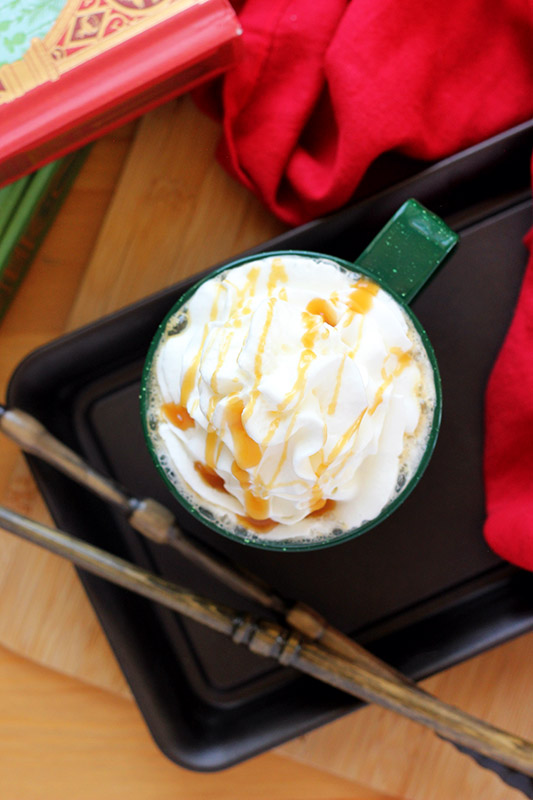 Recipe Notes:
What is a butterbeer latte?
A Butterbeer Latte is a delightful and magical coffee-based drink inspired by the famous wizarding world of Harry Potter. It combines the flavors of butterscotch, vanilla, and steamed milk to create a deliciously creamy and comforting beverage.
Can I make a Butterbeer Latte without an espresso machine?
Absolutely! If you don't have an espresso machine, you can brew a strong cup of coffee using your preferred brewing method, such as a French press, Moka pot, or pour-over, and use it as a base for your latte.
Can I make a Butterbeer Latte iced?
Yes, you can! To make an iced Butterbeer Latte, brew a strong cup of coffee and let it cool. Pour the cooled coffee over ice and add your butterscotch and vanilla flavors. Top it off with cold milk and whipped cream for a refreshing treat.
Can I add a sprinkle of cinnamon or nutmeg to the latte for extra flavor?
Yes, definitely! Adding a pinch of cinnamon or nutmeg can add a delightful warm and spicy flavor to your Butterbeer Latte. Experiment with the amount to find the right balance for your taste buds.
Is there any actual beer in a Butterbeer Latte?
No, there is no actual beer in a Butterbeer Latte. The name "Butterbeer" might suggest it, but this latte recipe is completely non-alcoholic, making it suitable for all ages.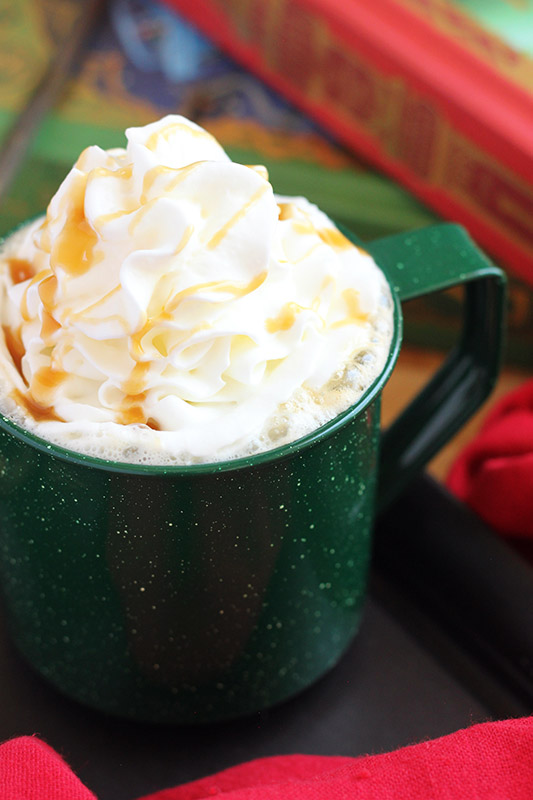 More Latte Recipes we LOVE
Still Hungry? Follow One Sweet Appetite on Instagram, Pinterest, and Facebook!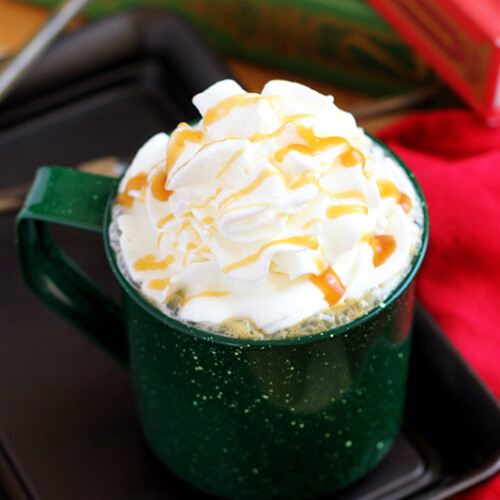 Harry Potter Butterbeer Latte
This Butterbeer Latte Recipe is a must-try for all of my Harry Potter fans. Coffee combines with the rich sweet flavor of homemade butterbeer! Step into the Three Broomsticks with this classic wizard flavor.
Ingredients
Butterscotch Coffee Syrup:
1/2 cup water + 1 tablespoon divided
1/2 cup granulated sugar
2 tablespoons brown sugar
1/4 teaspoon salt
1 tablespoon butter
1/8 teaspoon vanilla extract
Coffee
2 oz espresso or 1/4 strong brewed coffee or cold brew
1/4 cup milk of choice
Instructions
Syrup:
Combine the 1/2 cup water and 1/2 cup granulated sugar into a small saucepan. Bring to a simmer and cook 30 seconds to 1 minute, or until the sugar has dissolved. Remove from the heat.

Add the brown sugar, 1 tablespoon water, salt and butter to a tall pot. Cook on medium heat, stirring once, until the butter melts and the sugar dissolves. Continue to simmer until the sauce reaches 300 degrees.

Carefully whisk in 1/2 of the simple syrup that was set aside, being sure to whisk as you add. This will foam and bubble so be careful not to burn yourself.

Once that is combined, add the remaining syrup and cook 1 additional minute, or until the bubbles calm and the mixture melts into a liquid.
Coffee:
Add 1-2 tablespoons of dolce syrup to a cup.

Top with coffee or espresso.

Add steamed milk, whipped cream, and caramel drizzle.
Notes
How to make this an iced coffee:
Fill one tall glass with ice.
Add 1-2 tablespoons of dolce syrup to the cup.
Pour the milk over the ice and syrup.
Top with coffee or espresso, mix, and enjoy.
More Of My Favorite Coffee Recipes
Reader Interactions