Enjoy this easy and refreshing Mixed Berry Smoothie as a quick breakfast or snack any day of the week. A healthy combination of fruit and yogurt that is approved by even the pickiest eater!
Making a smoothie bowl? This recipe is amazing topped with my Homemade Vanilla Granola and fresh fruit pieces.
RECIPE FEATURES
Make-Ahead: Add all of the non-liquid ingredients to a zip top bag and toss in the freezer.
Quick and Easy: Less than 10 minutes
Healthy breakfast or snack
Hello, lover. This mixed berry smoothie is easily my all-time favorite. Ever. It has slowly surpassed our love for the classic peach smoothie we love so dearly.
It has the perfect combination of mixed berries, banana, yogurt, splash of milk, and sometimes even spinach! Yes, I said it… Spinach is the BEST add-in for this smoothie recipe.
Oh, and my smoothie hating ten year old BEGS me to make this for breakfast, lunch, and snacks. So loading it up with fruit and a good ol' handful of spinach has me feeling like I am killing this whole "parenting" thing.
TRIPLE BERRY SMOOTHIE INGREDIENTS
Minimal ingredients are key to a super amazing smoothie, in my opinion. If I can keep things under five ingredients, and still hit that crazy good flavor combo, I consider it a win. This recipe falls firmly into that category with only FOUR base ingredients and a few potential add-in's.
Berries– We typically purchase a bag of frozen mixed berries from our grocery store. BUT We have also tossed together whatever berries we have on hand. Our favorite combination is blueberries, blackberries, and raspberries.
Banana– Using a very ripe banana adds a touch of sweetness which helps lessen the need to add sugar. We also aren't huge fans of banana flavor, but the strong berries overpower the banana making it super subtle.
Milk– Confession, we use regular ol' 2% OR coconut milk. Both are good but the coconut milk boosts the flavor to the next level. I'm sure almond milk would taste fantastic as well!
Yogurt– You can get pretty creative with the type of yogurt you use. If I am making this for myself, I stick with plain Greek yogurt (you may have to add a splash of honey). If I am making a larger batch to share with my kid I like to reach for peach Greek yogurt. Really, any yogurt you use is going to taste great.
Additional add-in's– A handful of spinach or tablespoon of chia seeds are items we occasionally like to toss in.
HOW TO MAKE A FROZEN FRUIT SMOOTHIE
PREP: Using a high powered blender, add all of the ingredients. Make sure to add the wet ingredients (juice or milk) first and the frozen items last. That helps the blender puree everything easier.
BLEND: Blend for around 1 minute, or until smooth. Be sure to add more liquid if you notice that the blender is struggling to puree the fruit.
ENJOY: Transfer to a tall glass with a straw and enjoy!
HELPFUL TOOLS
Blender: The best advice I can give is to pick a quality blender. We really like this KitchenAid model (affiliate), our Blendtec (affiliate), or our smaller single serve Ninja (affiliate).
Silicone Spatulas: A set of small spatulas (affiliate) will become your new go-to kitchen tool. Perfect for hot pans and scraping out jars.
Reusable Straws (affiliate): These are so handy and my kid loves the bright colors.
Are fresh or frozen berries best for smoothies?
You can use either fresh or frozen fruit in a smoothie recipe. IF you opt for a frozen fruit, I do suggest using a high powered blender to ensure that everything is blended to that smooth texture we all know and love. 
How to sweeten a smoothie:
You might find that your smoothie is not as sweet as you prefer. No problem! Simply taste the smoothie after blending and add honey, agave, or sugar and pulse a few more seconds. 
Are berry smoothies healthy?
Berries are loaded with antioxidants, fiber, and vitamin C. Yogurt is a great source of protein and calcium. However, you are also getting a lot of natural sugar with the berries themselves. It's always a good idea to balance things out with a handful of leafy greens like kale or spinach in your berry smoothie.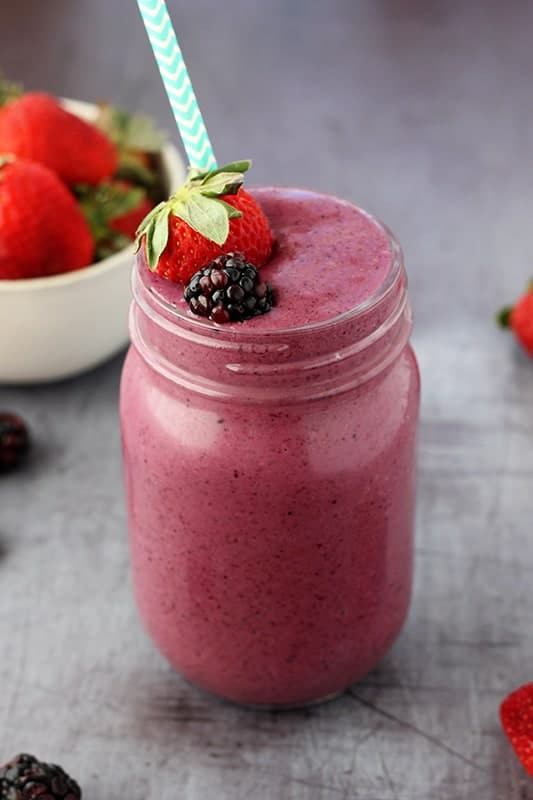 More Smoothie Recipes:
More Berry Recipes:
Still Hungry? Follow One Sweet Appetite on Instagram, Pinterest, and Facebook!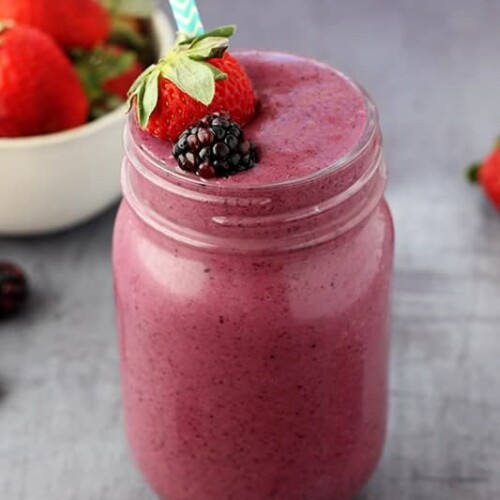 Triple Berry Smoothie Recipe
This triple berry smoothie is a go-to quick breakfast our entire family loves. Made with fresh or frozen berries, banana, and yogurt for a delicious combination of flavors. 
Ingredients
2 cups fresh or frozen mixed berries*
1 ripe banana
1¼ cup milk*
1/2 cup yogurt*
Handful of spinach or kale optional
Honey or agave optional
Instructions
Place the berries, banana, milk, yogurt, and spinach (if using) in a high powered blender.

Blend on high, or the smoothie setting, for 30 seconds to 1 minute or until smooth.

Add honey to sweeten if desired.

Divide between two glasses and serve immediately.
Notes
You can use fresh or frozen berries in this recipe. We like a combination of blackberries, blueberries, strawberries or raspberries. Coconut milk, almond milk, or any variety works well with this recipe. Plain greek yogurt, strawberry yogurt, or peach yogurt are good options to use.
Nutrition
Serving: 1g | Calories: 370kcal | Carbohydrates: 73g | Protein: 24g | Fat: 11g | Saturated Fat: 7g | Polyunsaturated Fat: 4g | Cholesterol: 43mg | Sodium: 332mg | Fiber: 9g | Sugar: 32g
Pin for later: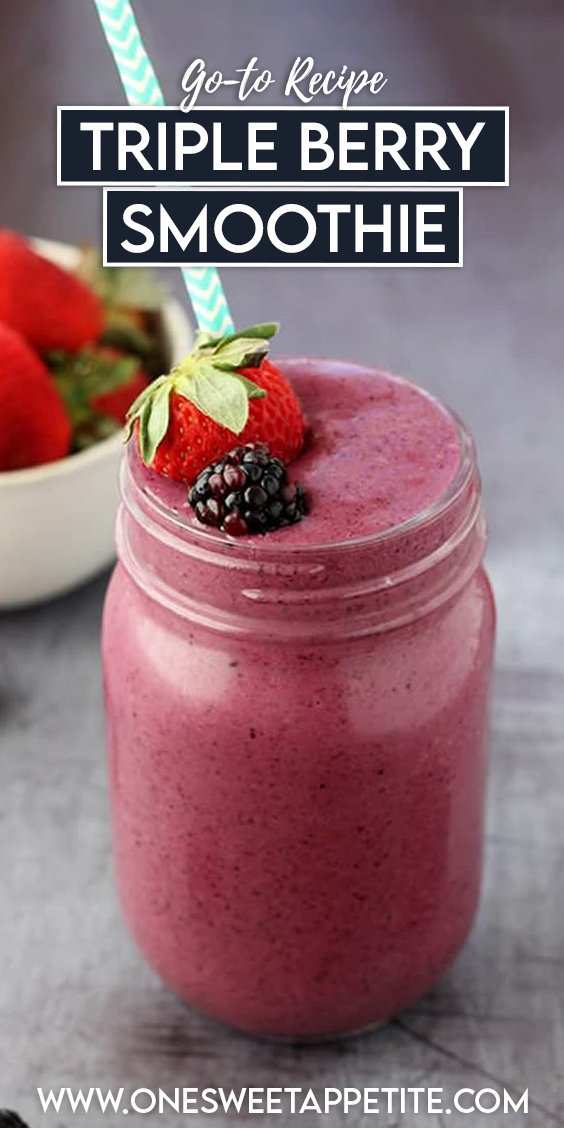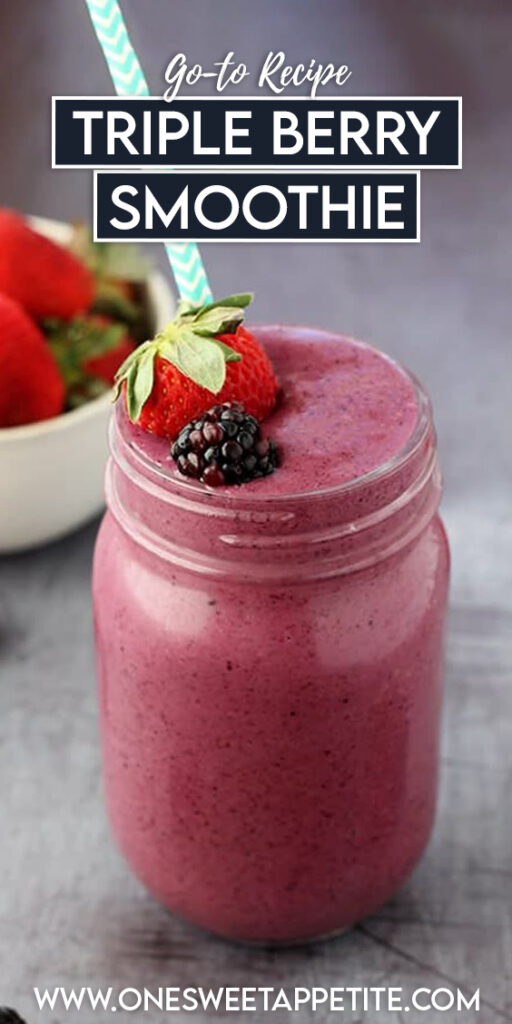 Reader Interactions