This easy southwest egg scramble is a quick breakfast or dinner! Light and fluffy eggs are filled with bell pepper, bacon, eggs, and cheese!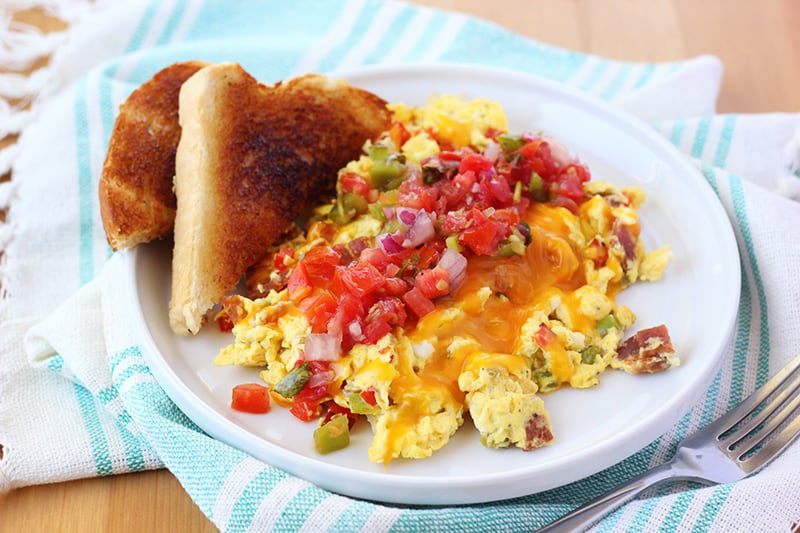 I share a LOT of sweet breakfast recipes. If you scroll through the section you'll find page after page of pancakes, french toast, and cinnamon rolls. The funny thing is that everyone in our household prefers a savory start to the day.
Breakfast scrambles are our go-to. They are so simple to make and can be customized in a million different ways. Everyone gets to pick their ingredients making it a win for the entire household.
That being said, this southwest scramble is always a winner. The ingredients are universally loved, it's filling, and loaded with flavor. Perfect served all on its own, with a slice of toast, or wrapped in a tortilla!
Easy Southwest Egg Scramble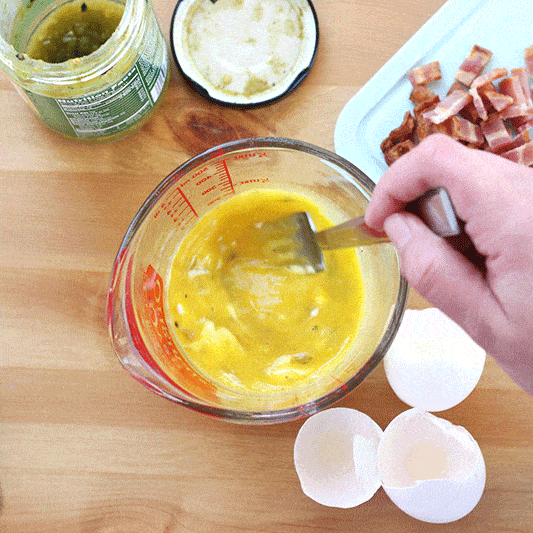 What ingredients can you add to scrambled eggs?
I think the better question is what ingredients can you NOT put into scrambled eggs. We have served them plain Jane and loaded with ingredients. Whichever way you decide to enjoy them, you will start with some base ingredients.
Base ingredients:
Eggs
Salt and pepper
Sour cream, Greek yogurt, or milk (see below for more details)
Additional add-in ingredient ideas:
Bacon
Sausage
Diced peppers and onion
Salsa
Ham
Spinach
Kale
Zuchinni
Broccoli
Hot sauce
Fresh Herbs
Cheese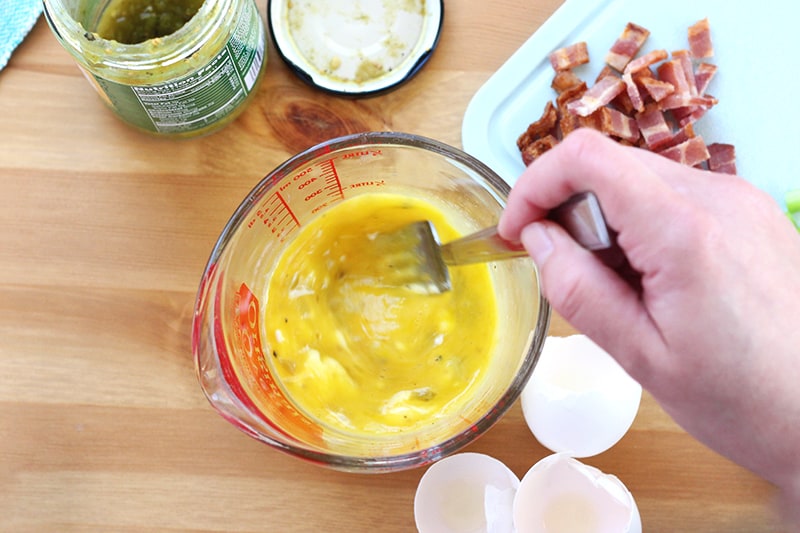 How to make fluffy scrambled eggs:
I whipped up a giant batch of scrambled eggs for brunch the other day and my sister could not believe how light and fluffy they were.
"What is your secret??"
Here's the deal, I used to make my scrambled eggs with milk. For years it was the only way. In a pinch, I substituted sour cream and will never go back. It gives the eggs a light fluffy texture and adds a hint of flavor. We also use plain yogurt with great success. SO here is a quick break down of how to make PERFECT light and fluffy scrambled eggs:
Ingredients:
2 large eggs
1-1/2 tsp sour cream or plain yogurt
salt and pepper to taste
Combine all ingredients in a bowl or small measuring cup. Whisk to combine fully.
Heat a small skillet over low heat. Melt 1 tsp butter in the pan.
Pour the egg mixture into your heated skillet. Cook 30 seconds. Mix with a silicone spatula. Gently fold the eggs until fully cooked. This should only take 1-2 minutes.
Serve immediately.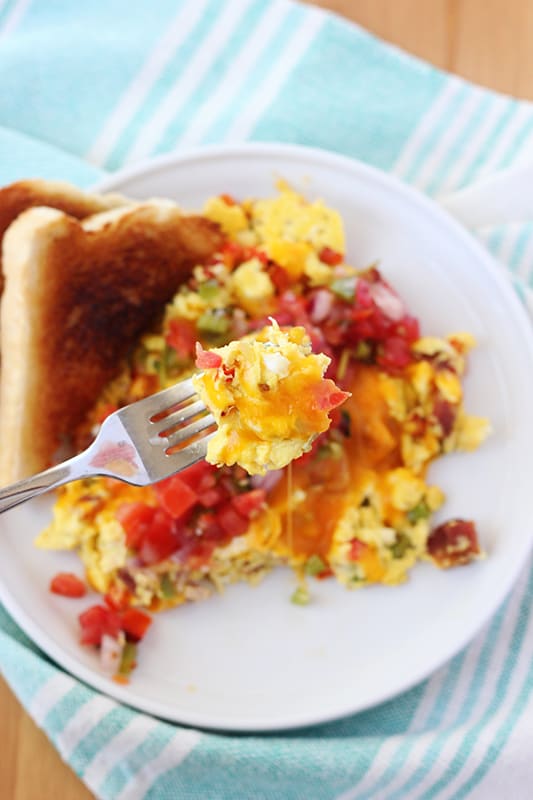 Tips to help you make the absolute BEST scrambled eggs:
Use a non-stick skillet. Heaven knows I'm a fan of my stainless pan set and cast iron, but when it comes to eggs I always go with a non-stick pan. They are less likely to stick to the bottom and always cook evenly and quickly.
Silicone spatulas are your best friend. They fold the eggs perfectly and are heat resistant, making them the perfect tool to help achieve perfect eggs!
Whisk your eggs BEFORE you add them to the pan. You want the eggs, seasoning, and sour cream/milk to be fully incorporated.
Cook them on low heat. Medium/high temperatures cook the eggs too quickly giving you dark and crispy edges.
Remember that scrambled eggs can be saved. If you don't eat them all, place in an air tight container and in the refrigerator. Heat in the microwave when you are ready to eat and enjoy!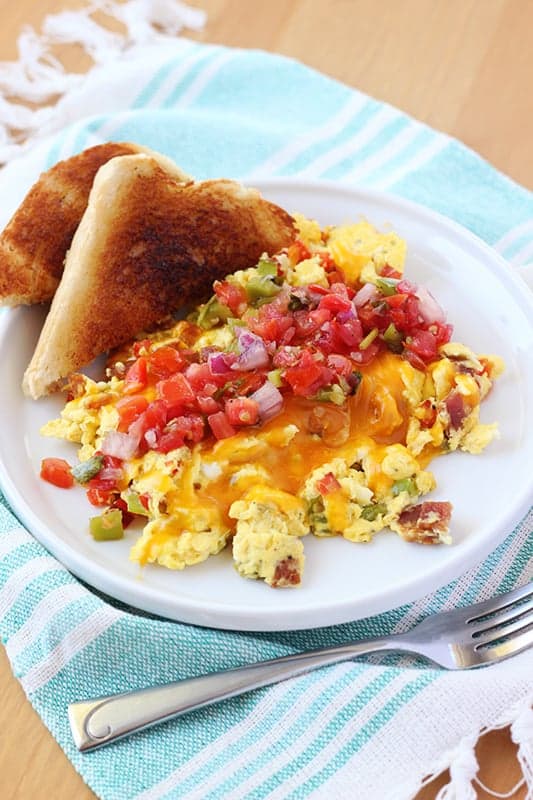 Like this recipe? You will love my:
How to make a southwest egg scramble: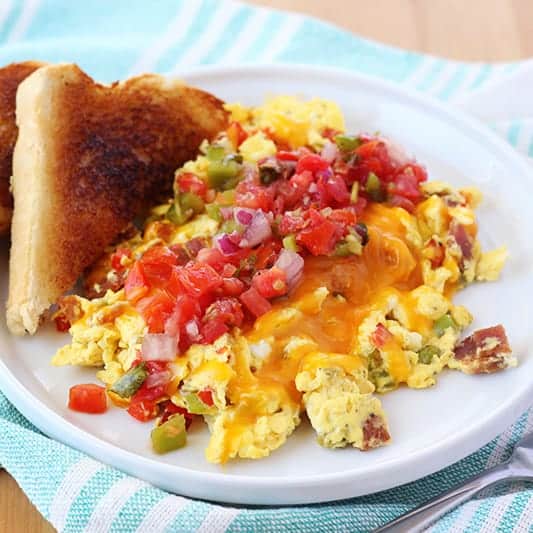 Southwest Egg Scramble
This easy southwest egg scramble is a quick breakfast or dinner! Filled with bell pepper, bacon, eggs, and cheese making it a filling and tasty egg recipe.
Ingredients
1

tablespoon

butter

2

tablespoons

chopped red bell pepper

2

tablespoons

chopped green bell pepper

2

large

eggs

1

tablespoon

salsa

1-1/2

teaspoon

sour cream

salt and pepper

to taste

2

pieces

bacon, cooked and chopped

1/4

cup

cheese, shredded

pico or salsa, optional
Instructions
Heat the butter over a medium sized skillet on low heat until melted. Add the chopped peppers. Cook, stirring frequently, 2-3 minutes or until the peppers are soft.

Whisk together the eggs, 2 tablespoons salsa, sour cream, salt and pepper in a medium measuring cup. Pour into the pan. Sprinkle with chopped bacon.

Cook over low/medium heat, folding the egg frequently, until cooked completely. Sprinkle with cheese and heat until melted.

Serve immediately. Top with pico or salsa.
Recipe Notes
We love the hatch chili salsa from Trader Joe's for this recipe. 
Pin for later:
Still hungry? Follow One Sweet Appetite on Facebook, Instagram and Pinterest for more great recipe ideas!
(Visited 515 times, 2 visits today)
5