Spice up your breakfast with this Southwest Egg Scramble! Picture this: fluffy scrambled eggs mingling with zesty bell peppers, fiery jalapeños, tangy salsa, and a sprinkle of melty cheese that turns every bite into a fiesta for your mouth. It's like a sunrise serenade of flavors that will wake up your senses and make you say, "Adios, boring breakfast (or dinner)!" So, ditch the ordinary and embrace the sizzle and sass of a Southwest Egg Scramble.
Love a savory breakfast? Same! Try these other favorites: Breakfast Burritos, Huevos Rancheros Casserole , Gourmet Breakfast Sandwich, and Microwave Omelet !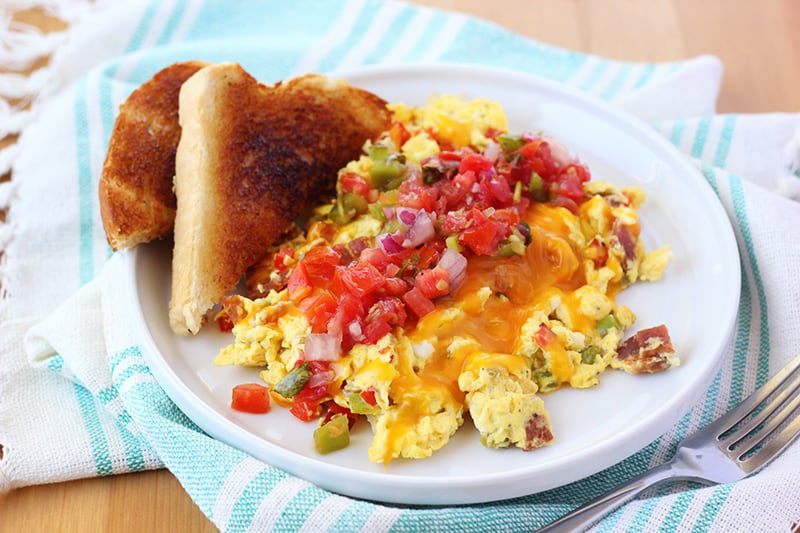 Why You'll Love This Easy Southwest Breakfast Scramble
Filling: This quick breakfast is incredibly filling and a great way to sneak in some veggies.
Customizable: You can shake things up by using different breakfast proteins, adding a variety of vegetables, or even playing with the cheeses!
Family Favorite: We love this recipe. We use it as a scramble, toast topper, and filing for breakfast burritos.
Breakfast scrambles are our go-to when it comes to starting our day. They are so simple to make and can be customized in a million different ways. Everyone gets to pick their ingredients making it a win for the entire household.
That being said, this southwest scramble is always a winner. The ingredients are universally loved, it's filling, and loaded with flavor. Perfect served all on its own, with a slice of toast, or wrapped in a tortilla! I've made this over a dozen times and each time it's met with rave reviews. A true winner and a great way to fuel up for the day.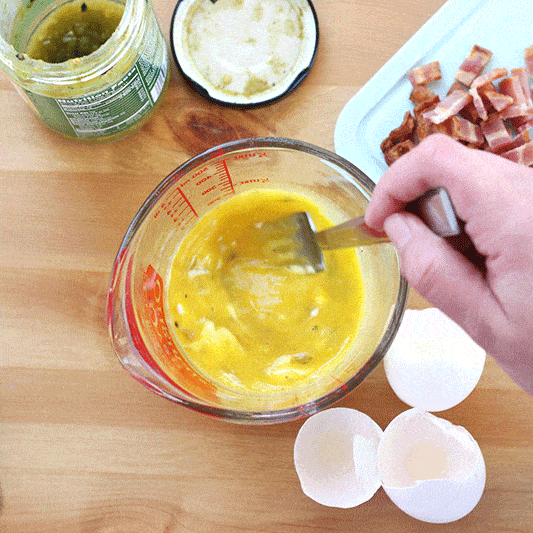 What Ingredients Can You Add To Scrambled Eggs?
I think the better question is what ingredients can you NOT put into scrambled eggs. We have served them plain Jane and loaded with ingredients. Whichever way you decide to enjoy them, you will start with some base ingredients. Here is what you'll need for this quick breakfast.
Scramble Ingredients:
Eggs: I like to use large eggs. However, you could easily switch things up and use egg whites or whatever your preference.
Seasonings: You can use classics like salt and pepper or you can dive in with some blends like Dan-O's or Tony's.
Fluff: Here's the secret to a really fluffy scramble. I like to mix in a little sour cream. It adds a delightful tang while helping give the eggs a beautiful fluffy finish. You can also opt for Greek yogurt, milk, or even cottage cheese for a little protein boost.
Scrambled Egg Mix-In Ingredients
Proteins: Bacon (try it made in the oven!), sausage, diced ham, smoked salmon, turkey, chicken or even tofu.
Vegetables: I like diced peppers and onion. You can actually chop these in advance and keep them in the freezer for a quick start. Other suggestions are tomatoes, spinach, kale, zucchini, or broccoli.
Sauces: Salsa, hot sauce, hollandaise, siracha mayo, or even pesto!
Cheese: For this specific recipe, I like to use cheddar or pepper jack cheese. However, you could always mix things up and try Parmesan, gruyere, or feta.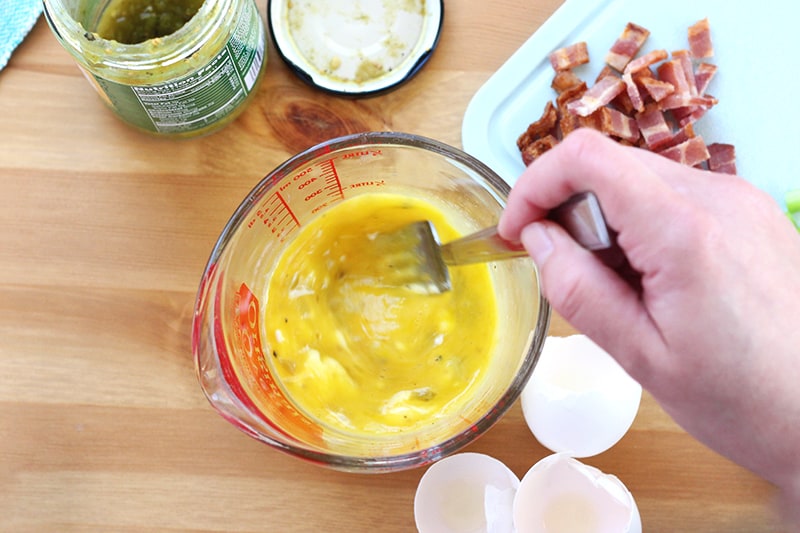 How To Make Fluffy Scrambled Eggs
I whipped up a giant batch of scrambled eggs for brunch the other day and my sister could not believe how light and fluffy they were.
"What is your secret??"
Here's the deal, I used to make my scrambled eggs with milk. For years it was the only way. In a pinch, I substituted sour cream and will never go back. It gives the eggs a light fluffy texture and adds a hint of flavor. We also use plain yogurt with great success. SO here is a quick break down of how to make PERFECT light and fluffy scrambled eggs:
Ingredients:
2 large eggs
1-1/2 tsp sour cream or plain yogurt
salt and pepper to taste
Combine all ingredients in a bowl or small measuring cup. Whisk to combine fully.
Heat a small skillet over low heat. Melt 1 tsp butter in the pan.
Pour the egg mixture into your heated skillet. Cook 30 seconds. Mix with a silicone spatula. Gently fold the eggs until fully cooked. This should only take 1-2 minutes.
Serve immediately.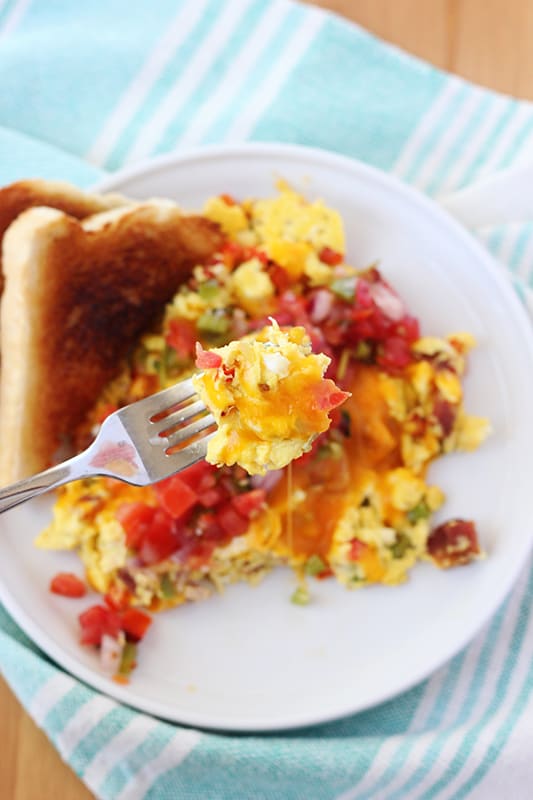 Helpful Tips Tools For The Best Scrambled Eggs
Use a non-stick skillet (affiliate). Heaven knows I'm a fan of my stainless pan set and cast iron, but when it comes to eggs I always go with a non-stick pan. They are less likely to stick to the bottom and always cook evenly and quickly.
Silicone spatulas (affiliate) are your best friend. They fold the eggs perfectly and are heat resistant, making them the perfect tool to help achieve perfect eggs!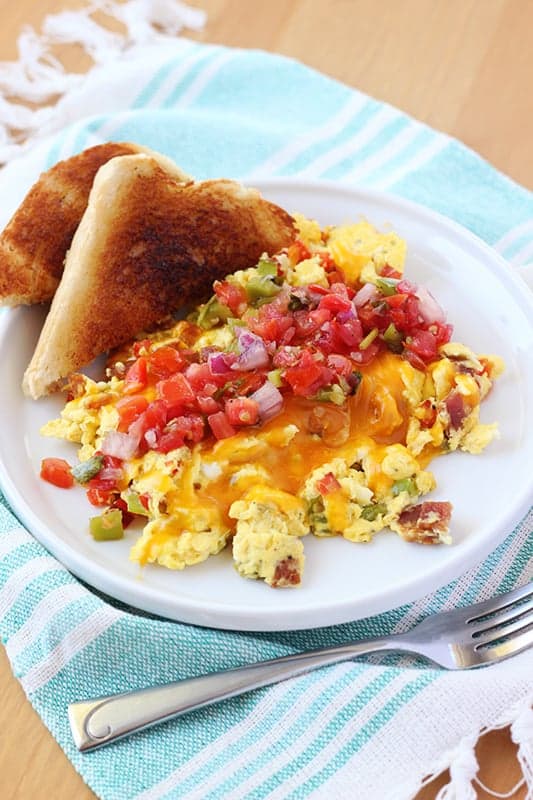 Recipe Notes:
What is a Southwest scramble?
A Southwest scramble is a savory breakfast dish made with scrambled eggs and inspired by Southwestern flavors. It typically includes ingredients like bell peppers, onions, spices, cheese, and sometimes meats or beans.
Can I customize the vegetables?
Yes, you can customize the vegetables to your preference. While bell peppers and onions are commonly used, you can add or substitute other veggies like corn, zucchini, or jalapeños for extra flavor and texture.
Can I make this egg scramble ahead of time?
While scrambled eggs are best enjoyed fresh, you can prepare the vegetables and other ingredients in advance and store them separately. When ready to serve, quickly scramble the eggs and combine everything for a fresh and tasty scramble.
What are some serving suggestions or side dishes to accompany a Southwest scramble?
Southwest scramble pairs well with side dishes like crispy hash browns, warm tortillas, salsa, sliced avocado, or a fresh green salad. You can also serve it with a dollop of sour cream or a sprinkle of chopped cilantro for added flavor.
Can I substitute eggs with tofu or other alternatives?
Yes, if you prefer a non-egg version, you can substitute scrambled tofu or plant-based alternatives, such as chickpea flour or a tofu scramble mix, to create a vegan Southwest scramble.
More Savory Breakfasts To Try
Still Hungry? Follow One Sweet Appetite on Instagram, Pinterest, and Facebook!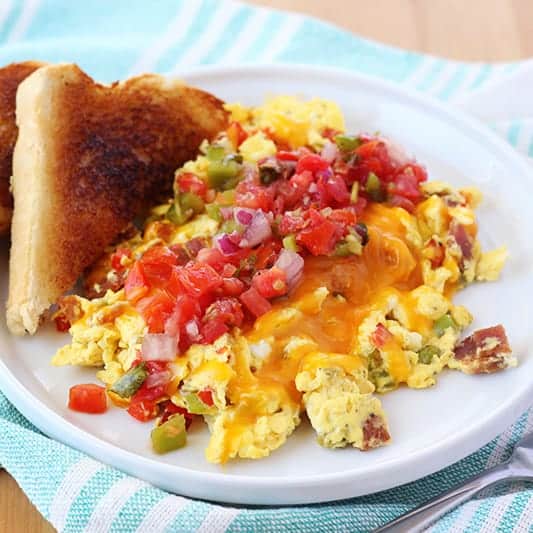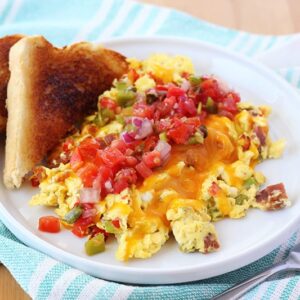 Southwest Egg Scramble
This easy southwest egg scramble is a quick breakfast or dinner! Filled with bell pepper, bacon, eggs, and cheese making it a filling and tasty egg recipe.
Ingredients
1 tablespoon butter
2 tablespoons chopped red bell pepper
2 tablespoons chopped green bell pepper
2 large eggs
1 tablespoon salsa
1½ teaspoon sour cream
salt and pepper to taste
2 pieces bacon cooked and chopped
1/4 cup cheese shredded
pico or salsa optional
Instructions
Heat the butter over a medium sized skillet on low heat until melted. Add the chopped peppers. Cook, stirring frequently, 2-3 minutes or until the peppers are soft. 

Whisk together the eggs, 2 tablespoons salsa, sour cream, salt and pepper in a medium measuring cup. Pour into the pan.  Sprinkle with chopped bacon.

Cook over low/medium heat, folding the egg frequently, until cooked completely. Sprinkle with cheese and heat until melted. 

Serve immediately.  Top with pico or salsa. 
Notes
We love the hatch chili salsa from Trader Joe's for this recipe. 
Nutrition
Serving: 2people
Equipment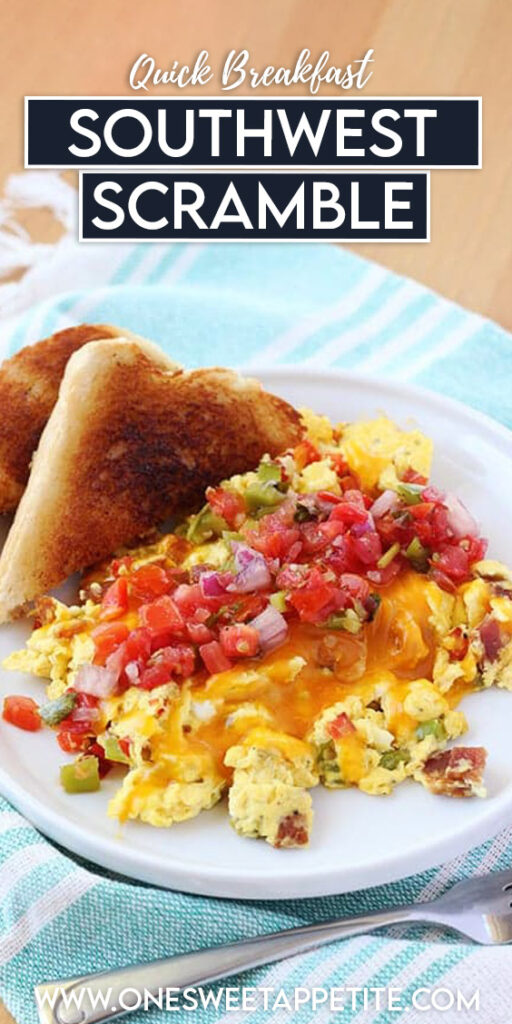 Reader Interactions