This strawberry smoothie recipe is a healthy option for the entire family! Made with fresh berries, yogurt, and almond milk for a healthy sweet treat. Perfect breakfast addition to serve with scrambled eggs or afternoon snack.
Looking for more breakfast inspiration? Check out this list of over 100 Breakfast ideas!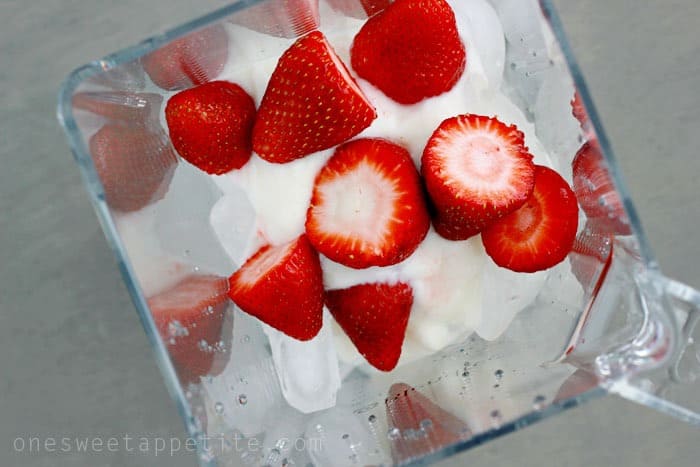 RECIPE FEATURES
Easy: This recipe takes minimal effort, which is great when you're juggling mom duties.
Healthy: Healthier than ice cream and just as delicious.
Kid Approved: My little guy isn't a fan of smoothies. But he goes bananas for this "strawberry ice cream."
Anyone who has a picky eater knows the value in a kid approved drink. Especially one that is loaded with protein and fruit. This strawberry smoothie recipe comes together in minutes and backs a bold berry flavor. The perfect starter smoothie that is kid approved and simple to customize.
Best of all, it is a little thicker which gives it the feel of ice cream! The perfect summer treat for little ones, and adults alike!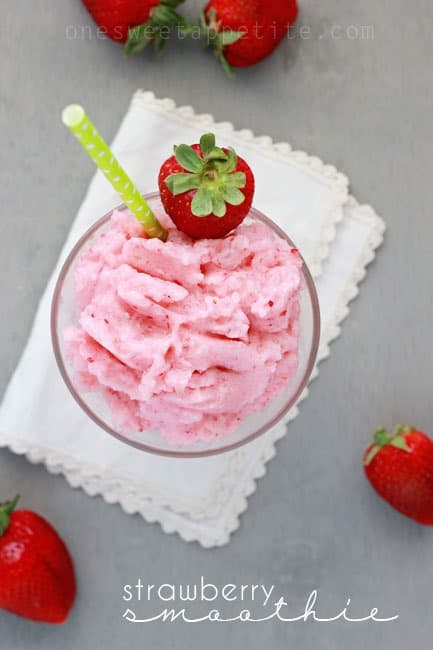 STRAWBERRY SMOOTHIE INGREDIENTS
The ingredient list for this berry smoothie, like most of my recipes, is short and simple. Use what you have on hand and adjust as needed.
Milk: Regular dairy, almond, or coconut milk work well with this easy smoothie recipe.
Yogurt: If you want a little more protein, and a little less added sugar, you can use Greek yogurt. If your kiddos prefer it a smidge on the sweeter side opt for a vanilla or strawberry flavored yogurt.
Honey: Optional, but a great way to sweeten the drink naturally.
Vanilla: Just a touch goes a long way in boosting the smoothie flavor.
Ripe Strawberries: If your berries are super ripe and flavorful you will need less, or no, sweetener. If not, taste and add honey as needed.
Ice: Optional, but a great way to thicken this to be more like ice cream. You can always skip the ice and freeze the berries for a more bold flavor with the same frosty texture.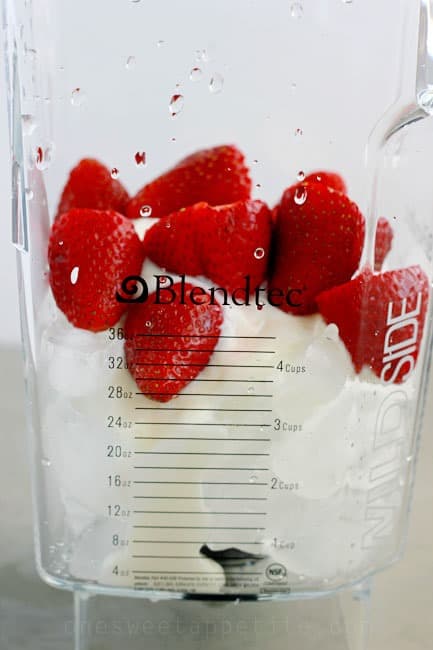 HOW TO MAKE A STRAWBERRY SMOOTHIE
We try to use super ripe berries. They tend to be sweeter meaning I can use less honey or sweetener. You can even substitute the yogurt for sherbet if you want to really make this smoothie into a dessert. If you go that route, I suggest ditching the honey all together.
PREP: I like to measure all of the ingredients first, that way I can quickly toss things together in a pinch.
BLEND: Add the ingredients to a blender, wet ingredients first, and blend until smooth. Add additional milk if needed.
ENJOY: Pour into a glass and enjoy!
HELPFUL TOOLS
Blender: I cannot tell you how much I love my Blendtec (affiliate). However, I've recently discovered the ease of the Magic Bullet (affiliate). Smoothie blender + cup all in one? Yes, please!
Silicone Spatulas: One of the tools I tell EVERYONE they need. This set (affiliate) comes with so many sizes that make it super quick to scrape the sides of bowls. Bonus, they are heat resistant and great for stovetop cooking!
Reusable Straws: For under $10 you can get a set of over 30 reusable straws (affiliate)! Save that wasted plastic and reuse these over and over.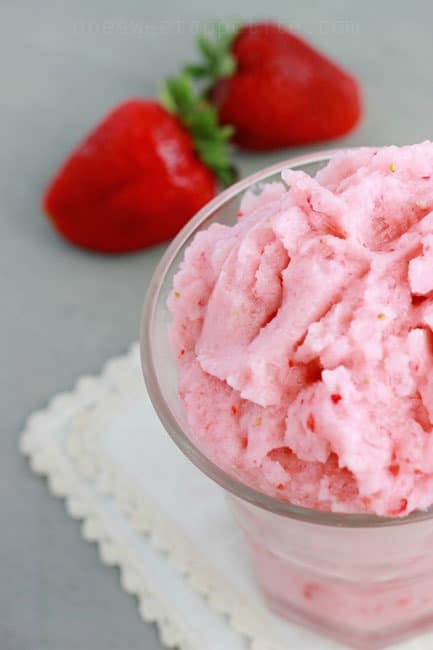 RECIPE FAQ
Can you substitute other berries in a strawberry smoothie?
Yes. Definitely. We have used peaches, blackberries, raspberries, and mixed berries. Swapping out strawberries in this recipe is super simple. Use equal amounts of the berry of your choosing.
Be sure to adjust the sweetener based on the tartness of your fruit.
How can you make a fruit smoothie more filling?
This is a pretty common question I get. How can you make your smoothie more filling? If you are using this as a meal replacement it can be tricky. We find it best used as a snack or lunch. The yogurt adds protein to your drink but if you are looking for a way to get an extra boost I suggest chia seeds or even a scoop of protein powder (although talk to your pediatrician before adding protein powder to children's drinks).
We add a scoop of chia seeds right into the blender before we mix the ingredients. My son doesn't even realize they are in there and it does not alter the flavor in the slightest.
Can I use orange juice in place of milk?
Yes. Orange juice will add a slight tart and tangy flavor that some kids, and adults, really enjoy.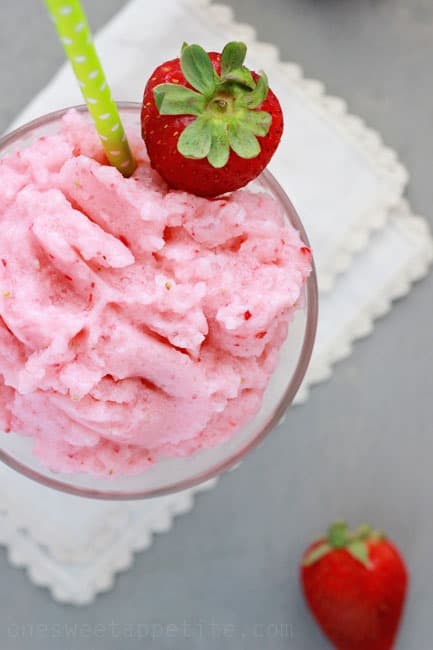 MORE MUST-TRY DRINKS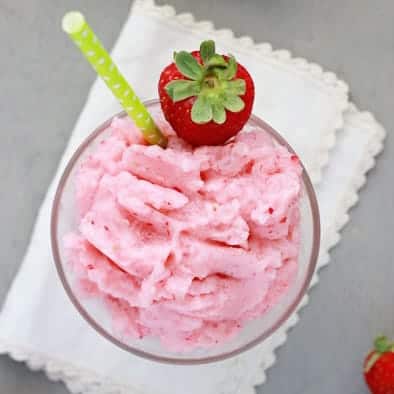 Kid Favorite: Strawberry Smoothie
This strawberry smoothie recipe is a healthy option for the entire family! Made with fresh berries, yogurt, and almond milk for a healthy sweet treat. Perfect breakfast addition to serve with scrambled eggs or afternoon snack.
Ingredients
3/4 cup ripe strawberries hulled
1/2 cup milk we like coconut or almond
1/2 cup plain Greek yogurt
2 tablespoons honey
2 teaspoons vanilla
1/2 cup ice
Instructions
Add all of the ingredients to your blender and blend until smooth.
Notes
For a thinner smoothie double the amount of milk used.
Nutrition
Serving: 1Servings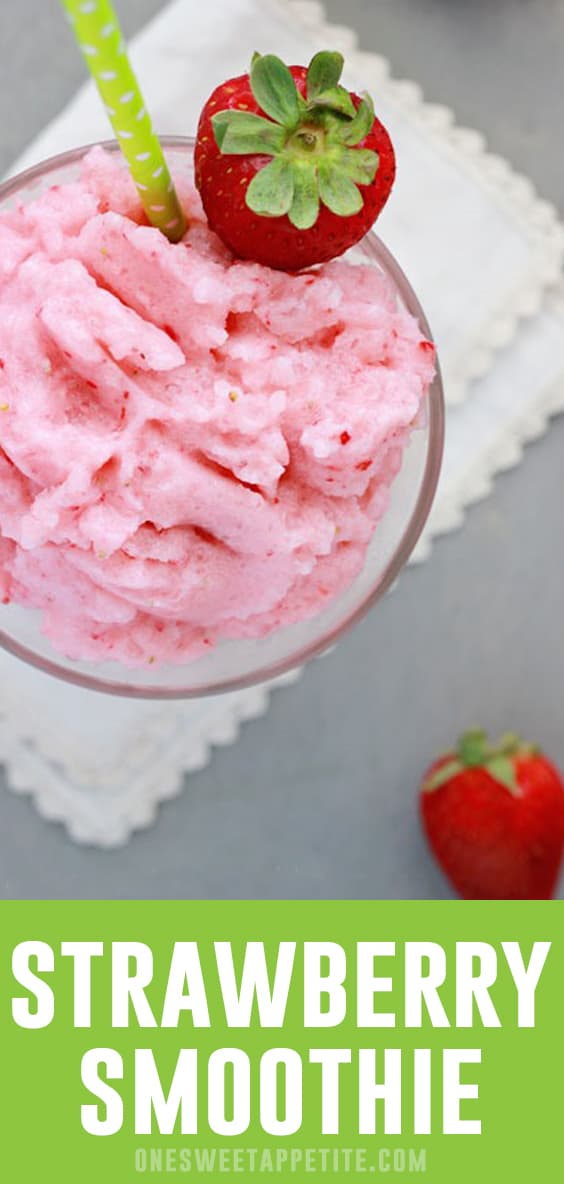 Reader Interactions