Ah, the comforting embrace of a Cinnamon Dolce Latte! It's like a warm hug in a cup, with a dash of sweet spice to kickstart your day. If you're ready to elevate your coffee game and add a little 'oomph' to your morning routine, you're in the right place. Let's dive into the delicious world of this coffee shop favorite and learn how to whip up a homemade version that'll have you saying 'goodbye' to your barista.
This easy latte is perfect finish to breakfast or brunch! Try serving with my Sheet Pan Pancakes, Cinnamon French Toast, or Peaches and Cream Oatmeal for a great start to the day.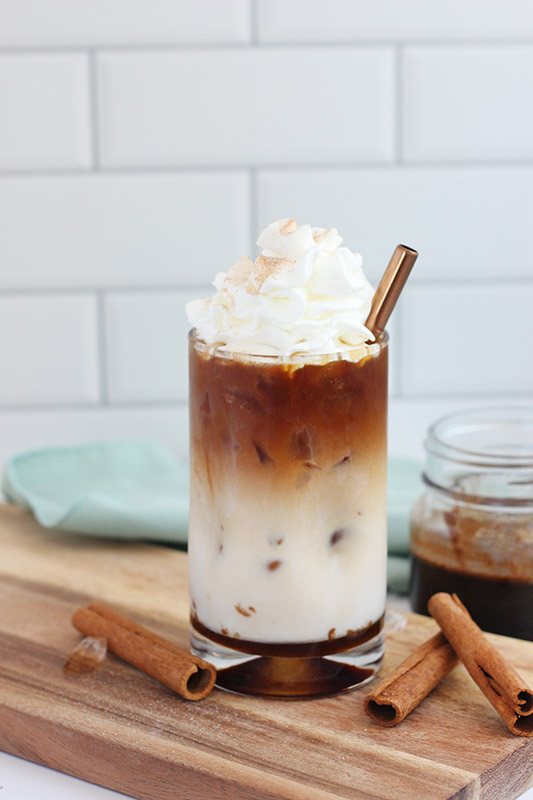 Why You'll Love This Starbucks Copycat Recipe
Easy: The syrup for this recipe calls for 3 simple ingredients and is ready in minutes.
Customizable: Use espresso, cold brew, or strong brewed coffee. No need to purchase any special equipment.
Iced or Hot: You can serve this cinnamon dolce latte as an iced coffee or hot drink.
I am slightly obsessed with coffee. I have over 10 different coffee recipes on my site, and continue to create new flavors. By far, this Iced Cinnamon Dolce Latte is my favorite. Made with coffee, milk, and a sweet cinnamon syrup. You will not believe how delicious this drink is and it will have you wondering why you ever paid for it at Starbucks.
The syrup comes together quickly, with only three ingredients, and is the star of the show. Brown sugar offers a slight molasses flavor while cinnamon shines as the star. Use it in coffee, on ice cream, or as a topping to pancakes and waffles!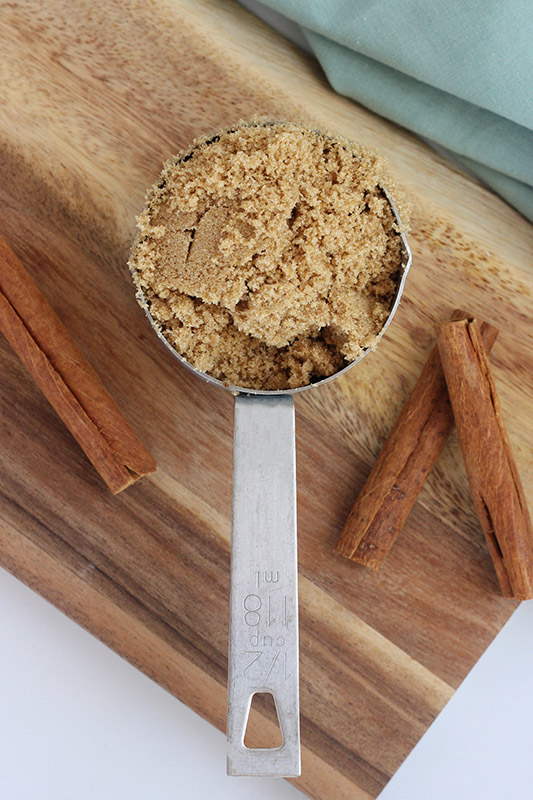 Cinnamon Dolce Latte Ingredients
Espresso, cinnamon dolce syrup, and milk. That's all you need for this insanely delicious latte. I chose to make my own syrup, however you can purchase Starbucks Dolce Syrup from amazon (affiliate). Here is what you need for this recipe:
Brown Sugar: Brown sugar pairs perfectly with the cinnamon. It gives almost a caramel or light molasses flavor that enhances the coffee like nothing you will ever taste.
Cinnamon: Just a touch of ground cinnamon goes a long way in this syrup.
Coffee: I opted to use homemade cold brew, but you can use espresso or strong brewed coffee with great success.
Milk: Another easy substitutable ingredient. We have tested cow milk, coconut milk, and soy. All taste equally delicious. Use your favorite and enjoy your latte.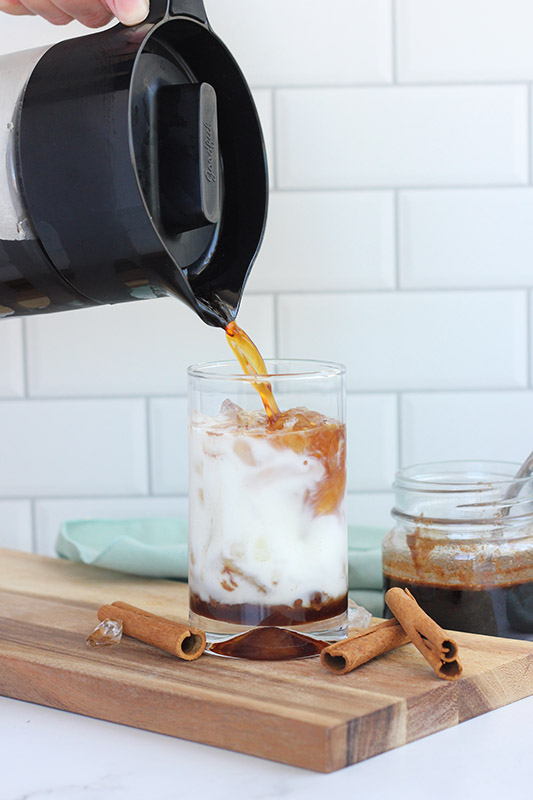 Iced Cinnamon Dolce Latte Recipe
Making the Starbucks cinnamon dolce at home is easier than you might expect. If you can bring a pot to a simmer, you can make this recipe!
PREP: Measure ingredients. I always start by pre measuring everything I will need. This helps the process run smoothly and lessens the chance I will miss an ingredient.
SYRUP: To make the dolce syrup, combine the brown sugar, cinnamon, and water in a small pot. Bring to a simmer while whisking, Cook until the sugar has dissolved. Remove from the heat and allow to cool. This can be stored up to 30 days.
COFFEE: Brew a strong pot of coffee, espresso, or prep cold brew. I have tested all three and can't say I really have a preference, as they are all delicious.
MIX: Add syrup to the bottom of a tall glass. Fill with ice. Pour milk and then coffee into the cup.
ENJOY: If desired, top with whipped cream and enjoy.
Helpful Tools
Cold Brew Maker: For under $20 you can get a cold brew maker (affiliate) that is SO EASY to use. This is the one I have, and used in the photos, and it makes a super smooth cold brew that is barista worthy.
Espresso Maker: Did you know you can get an espresso machine (affiliate) for around $30? This is the one I have and I love it. It doesn't take up too much space and makes a killer shot of joe.
Iced Coffee Glasses: AKA an insulated tumbler (affiliate). There is nothing worse than having your ice melt and drown out the flavor of your coffee.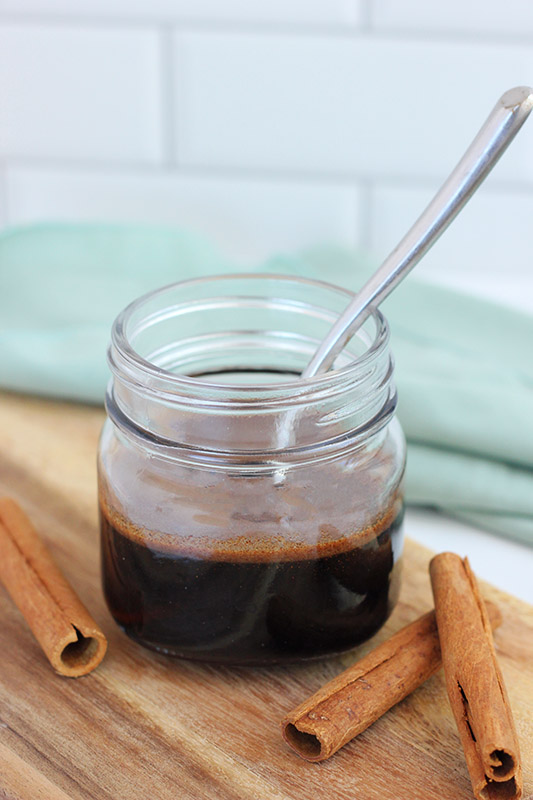 Recipe Notes:
What kind of coffee should I use for this recipe?
Espresso is the traditional choice for a Cinnamon Dolce Latte, but if you don't have an espresso machine, strong brewed coffee or even cold brew will work wonderfully.
Can this be made into a hot drink?
Yes! Just skip the ice and add the syrup with milk directly to your espresso or coffee.
How long does homemade dolce syrup last?
This syrup will last about 1 month if stored covered in the refrigerator. I store mine inside a mason jar.
Can you make an iced latte with coffee instead of espresso?
Yes! You can use a strong cup of brewed coffee, or even cold brew, in place of the espresso in this recipe. The end result will be equally delicious. The only suggestion I have is to make sure you add a little less syrup if substituting with a less bold flavor coffee.
Is cold brew the same as iced coffee?
No, cold brew can be much stronger than iced coffee and tends to lasts longer before becoming acidic. It is made by combining water and coffee grounds and letting sit overnight at room temperature. However, cold brew can be used in an iced coffee recipe, especially if you are looking for a stronger bold taste.
More Starbucks Copycat Recipes
Still Hungry? Follow One Sweet Appetite on Instagram, Pinterest, and Facebook!
Iced Dolce Latte Starbucks Copycat
Cool down with this sweet Iced Cinnamon Dolce Latte all summer! The perfect Starbucks copycat recipe and a refreshing way to start your day. Easy to whip up with a dolce syrup that is life changing!
Ingredients
Dolce Syrup
1/2 cup brown sugar
1/2 teaspoon ground cinnamon
1/4 cup water
Coffee:
2 oz espresso or 1/4 strong brewed coffee or cold brew
1/4 cup milk of choice
Instructions
Dolce Syrup
Whisk the brown sugar and cinnamon in a small pot.

Stir in the water.

Bring to a simmer and cook 1-2 minutes, or until the sugar has dissolved completely.

Remove from the heat and allow to cool completely.
Coffee
Fill one tall glass with ice.

Add 1-2 tablespoons of dolce syrup to the cup.

Pour the milk over the ice and syrup.

Top with coffee or espresso, mix, and enjoy.
Notes
Reserve leftover syrup in a jar or airtight container for up to 1 month.
Equipment
MORE MUST-TRY COFFEE RECIPES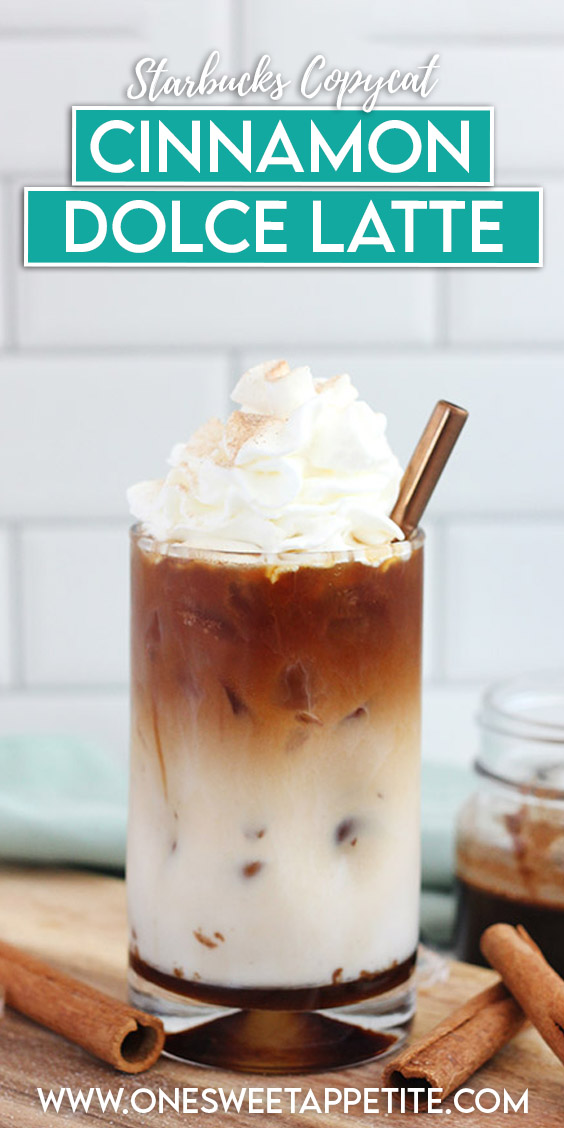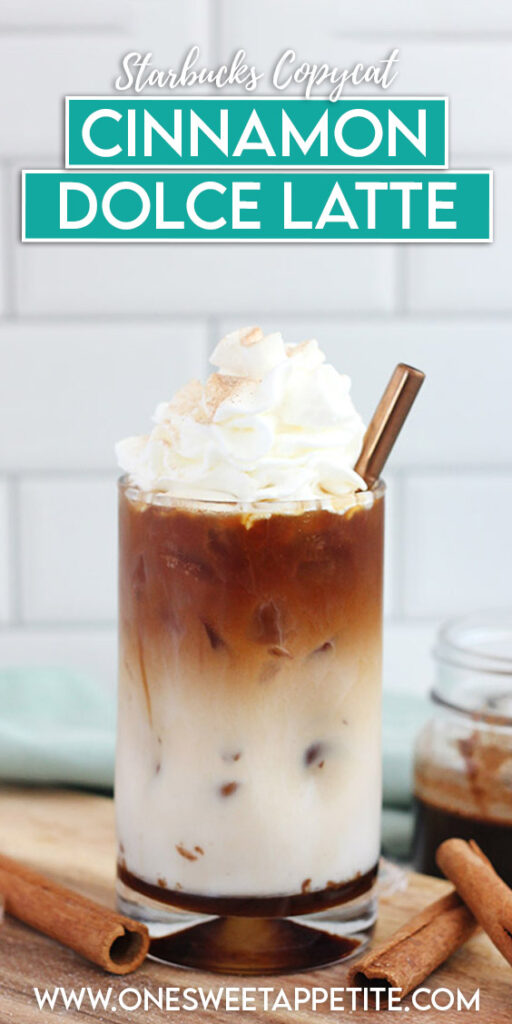 Reader Interactions