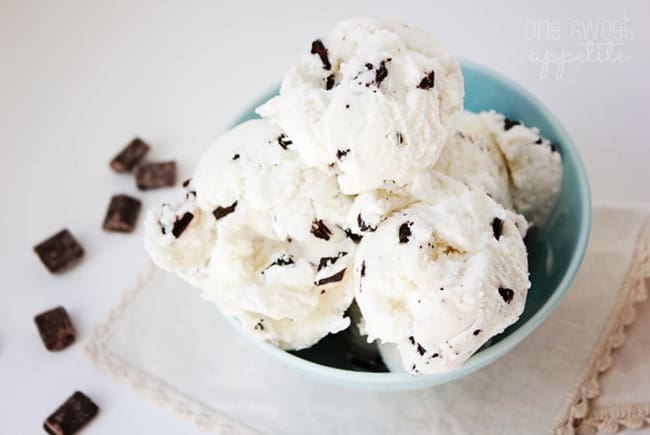 The very first summer that I had this blog I was obsessed with two ingredient ice cream. Obsessed is an understatement. I made every singe flavor that was known to man. This mint chocolate chip ice cream ended up over on Whipperberry as a guest post, but I felt that it just had to be shared here for all of you! The creamy texture blows my mind. I feel like it should be less light or something since it really only has two base ingredients and doesn't use a machine!
So how is it that I made this amazingly fluffy and delicious looking treat? Easy! I combined those two basic ingredients, added in my mixers and froze away.
No Machine Mint Chocolate Chip Ice Cream
Ingredients
2 cups of heavy whipping cream
1 14 oz can sweetened condensed milk
1 cup chocolate chunks
1/2 teaspoon peppermint extract
1/2 teaspoon vanilla extract
Instructions
Now, let's get started! In a small bowl mix together the condensed milk, chocolate chunks, and extracts. Set aside.
Whisk your heavy cream in the bowl of an electric mixer until soft peaks form. Gently fold your whipped cream into your condensed milk mixture.
Pour this into an airtight container and transfer to your freezer. Allow to freeze 6 hours, or overnight.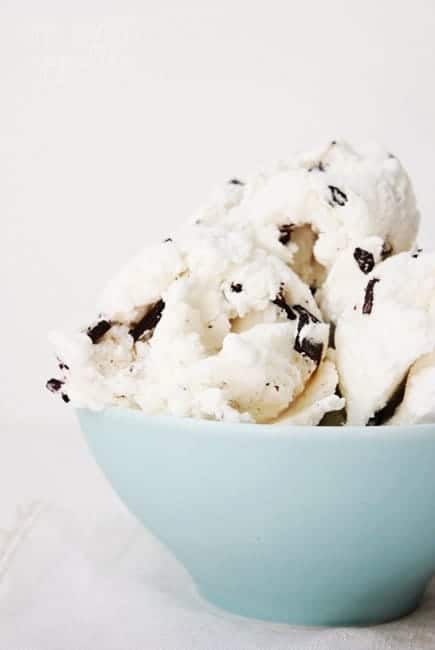 I like to chop my chocolate chunks a bit to make them a little smaller, but that's just personal preference. You sure could leave them large or even substitute them for mini chocolate chips. The best thing about this recipe is how adaptable it is! Don't like mint or chocolate chips? No problem! Switch them out for cherries or cheesecake. Or stick with plain ol' vanilla. The possibilities are endless!
What are your favorite ice cream flavors? We are driving out to our new home in North Carolina this week (more on that soon) and I could use some great recipe ideas for when I get there!