This homemade mint chocolate chip ice cream is made with minimal ingredients and NO machine! Extra creamy and the perfect balance of mint vs chocolate. Perfect for hot summer days or any time you need a sweet fix.
I have dozens of no-churn ice cream recipes right here on the site! Be sure to browse them all or try our favorites; Strawberry Cheesecake Ice Cream or Chocolate Swirl Ice Cream.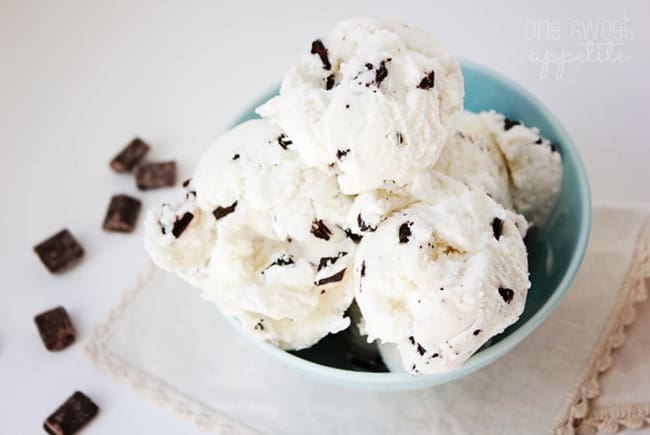 RECIPE FEATURES
No-Fail: This recipe practically makes itself. If you can whip cream, you can make this easy ice cream.
No Special Equipment: NO MACHINE NEEDED!
Customizable: We change the chip types and sometimes swap mint for vanilla.
This no-churn mint ice cream is just as good, if not better, than the scoops you get at any local ice cream shop. You are in control of how much, or how little, mint flavor is added and can load it with chocolate chips!
Best of all? This is made with just 5 simple ingredients and you do not need an ice cream machine! The magic comes in the form of folded whipped cream, which gives you that soft and fluffy ice cream texture we all know and love.
MINT CHOCOLATE CHIP ICE CREAM INGREDIENTS
The secret to a no-churn recipe is to use whipped cream for the texture and sweetened condensed milk for the sweet base. Once you have those two things you can get really creative! This is what I like to use for this easy mint chocolate chip ice cream recipe:
Heavy Whipping Cream: The colder the better. I chill the mixing bowl as well. This helps things come together quickly without the risk of over beating.
Sweetened Condensed Milk: The base to your ice cream. Sweetened milk gives you the perfect balance and a great thick liquid to mix in any extras, like chocolate chips.
Mint Extract: There's a strong argument over which to use. I prefer peppermint, however many people like the more robust flavor of mint.
Vanilla Extract: Just a touch to add a creamy homemade flavor.
Chocolate Chunks or Chips: Mini chips, chunks, or semi sweet morsels. All work for this recipe.
HOW TO MAKE THE BEST MINT CHOCOLATE CHIP ICE CREAM
PREP: Measure all of your ingredients and chill a mixing bowl.
WHIP: Add the cream to a chilled mixing bowl. Whip until stiff peaks form. Set aside for later.
MIX: Stir the sweetened condensed milk with the extracts. Fold in the cream and chocolate chips.
FREEZE: Transfer to a freezer safe, or ice cream, container (affiliate) and freeze overnight or until solid.
ENJOY: Scoop and serve!
NO CHURN ICE CREAM TIPS
The best thing about this recipe is how adaptable it is! Don't like mint or chocolate chips? No problem! Switch them out for cherries or cheesecake. Or stick with plain ol' vanilla. The possibilities are endless!
I have an entire post here with great suggestions on how to quickly whip cream to peaks. The secret is to chill your bowl and beaters first.
When you add the whipped cream to the sweetened milk make sure to just fold it until combined. You want to mix as little as possible. The air in the whipped cream is what gives this recipe it's light and fluffy texture.
I like to chop my chocolate chunks a bit to make them a little smaller, but that's just personal preference. You sure could leave them large or even substitute them for mini chocolate chips.
MORE MUST-TRY ICE CREAM RECIPES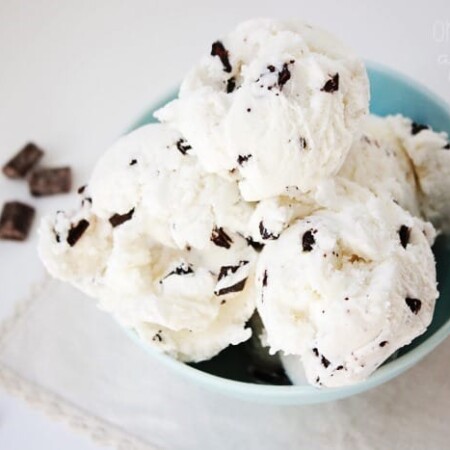 No Machine Mint Chocolate Chip Ice Cream
Ingredients
2 cups of heavy whipping cream
1 14 oz can sweetened condensed milk
1/2 teaspoon mint extract
1/2 teaspoon vanilla extract
1 cup chocolate chunks or chips
Instructions
Whip the heavy cream with an electric mixer until light and fluffy and stiff peaks form, roughly 3 to 5 minutes. Set aside.

In a large bowl stir the sweetened condensed milk with the mint and vanilla extract. Fold in the whipped cream.

Fold the chocolate pieces into the mixture. Transfer to a freezer safe container.

Freeze 6 hours or overnight.
Nutrition
Serving: 1Servings | Calories: 240kcal | Carbohydrates: 42g | Protein: 7g | Fat: 28g | Saturated Fat: 17g | Polyunsaturated Fat: 9g | Trans Fat: 1g | Cholesterol: 76mg | Sodium: 109mg | Fiber: 1g | Sugar: 39g
Reader Interactions