Calling all sweet-toothed pals, if you're in need of a quick chocolate fix, look no further than this magical mug brownie recipe! It's the ultimate dessert hack, featuring just two ingredients and a microwave. Get ready to indulge in the easiest and tastiest mug brownie you've ever experienced!
Try this Gooey Mug Brownie topped with creamy vanilla ice cream or homemade chocolate sauce for the perfect single serve dessert! OR opt for something different like my Cinnamon Mug Cake or Lemon Mug Cake!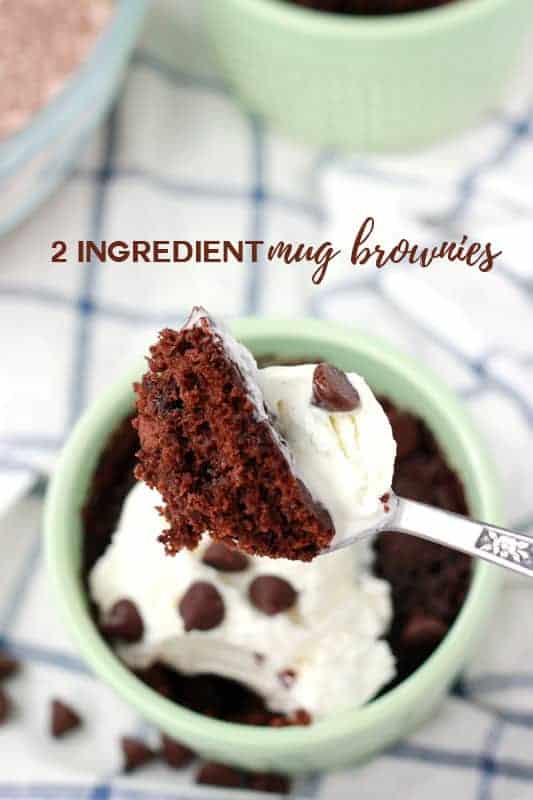 Why you'll love this easy Mug Brownie Recipe
2 Ingredients: The base for this recipe is literally TWO ingredients. It does not get any easier than that.
Single Serving: It makes a hefty single serving or two smaller servings.
Easy to Customize: You can add so many mix-in items to make this more customized to your tastes (see below).
Can we talk brownies for a second? I have a deep love for those sweet chocolatey bars and they will always have a special place in my belly. I dig homemade but am definitely not one to snub my nose at a box mix. So when I saw this cleverly titled book 50 Fixes for Brownie Mixes (affiliate), from my friend Aimee at Like Mother Like Daughter, I knew I needed to add it to my collection. The first recipe I knew I needed to make? This brownie in a mug!
Imagine rich, decadent chocolate goodness with a fudgy, melt-in-your-mouth texture. It's like a warm, comforting hug from your favorite dessert. The sweetness is perfectly balanced with a hint of bitterness from the cocoa, creating a symphony of flavors that's downright irresistible. In short, it tastes like pure chocolatey bliss in a mug!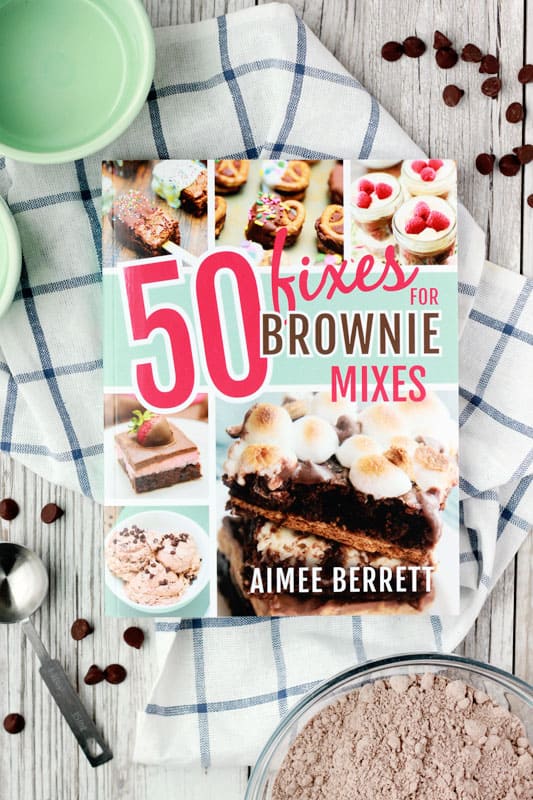 Microwave Brownie Ingredients
I am absolutely in love with this simple small batch dessert. It is the go-to fix for when you are craving something sweet, but aren't looking to make a mess in the kitchen. Rich, fudgy, and comforting in minutes. You just cannot beat it. Every brownie lover's' dream. Here is what you will need to get started:
Brownie Mix: You've got two ingredients in this recipe, and this is the one that matters most. Pick a brownie mix you know you love. And since the recipe won't use the entire mix, keep the leftover stored in a quality airtight container (affiliate) for future brownie fixes.
Water: Whisking water into the brownie mix will give you that beautiful glossy batter. You can also opt to use milk in place of the water if you desire, but we find that it doesn't make too much of a difference with this recipe.
What is the best brownie mix for a Brownie Mug Cake?
You really cannot go wrong with any quality brownie mix. Our personal favorite is Ghirardelli Triple Chocolate Brownie Mix . I mean, it is so full of chocolate flavor that you just cannot beat it. However, Betty Crocker Triple Chunk Brownie Mix and Duncan Hines Dark Chocolate Fudge Brownie Mix come in a close second.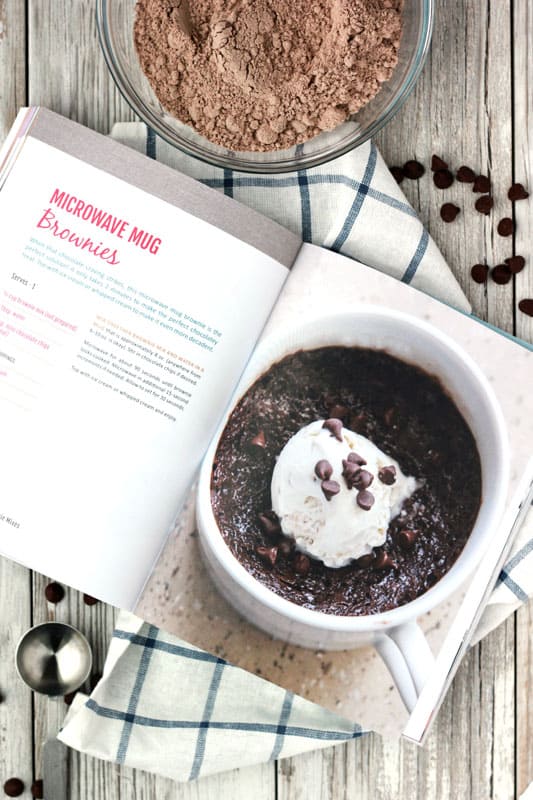 Mug Brownie With Brownie Mix
Since the mug brownie is made without cocoa powder, AND took less than 2 ingredients and 90 seconds, I knew they it was THE recipe for me.
Spray a large mug with baking spray.
Combine the brownie mix and water in the mug and stir to combine , about 30 seconds with a fork.
Microwave 60 to 90 seconds.
Top with whipped cream, ice cream, or chocolate chips.
Hard to believe you can have a dessert ready in under five minutes, am I right? We topped ours with a little ice cream and chocolate syrup. We agreed that it gets two thumbs up. It did turn out a little more cake like but that works for me since I prefer my brownies less fudge textured. 
Don't forget to pick up your copy of Aimee's Book and browse some of her other delicious Brownie Recipes.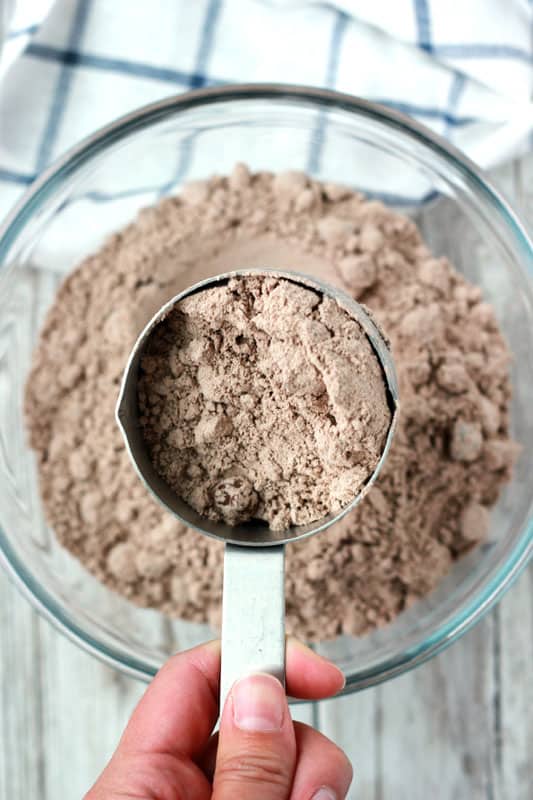 Tips for making Brownie in a Cup
NOTE BEFORE YOU START: This is a mug recipe that only uses two ingredients. It won't have the same oven baked taste that the classic recipe you know and love, but comes in a very close second place. Try adding a handful of chocolate chips, spoonful of Nutella or nut butter, or topping with whipped cream.
HOWEVER, they are still amazing and perfect for a quick treat!
Last tip, use a BIG mug or two smaller mugs.
Mug Brownie Toppings and Variations
Mug brownies are a delightful treat that can be customized with various toppings and variations. Here are some suggestions to enhance your mug brownie experience:
Top your warm brownie with a scoop of vanilla ice cream.
Dollop some whipped cream on top of the cooked brownie for an extra creamy and light touch.
Drizzle some warm chocolate sauce over the top to add an extra layer of decadence.
Add some texture and crunch to your brownie by sprinkling chopped nuts like walnuts, pecans, or almonds on top.
If you enjoy the combination of coffee and chocolate, add a teaspoon of espresso powder to your mug brownie batter for an extra depth of flavor.

Mug Brownie FAQs
What size mug do I need to use?
This makes a rather large brownie. I recommend using at least a 16 oz mug or a medium sized bowl.
My brownie came out chewy?
Microwave cooking times will vary based on wattage. To avoid a chewy brownie, start by microwaving for 60 seconds, adding additional 15-30 seconds as needed.
What can you add to a microwave brownie?
This recipe has a love/hate relationship with my readers. Some people love it, some hate it. We've made it our mission to try ALL of the suggestions left below and here are a few of our FAVORITE mix in ideas:
Mini Chocolate Chips
A spoonful of Nutella
Vanilla Extract
Mayonnaise – Seems weird but a heaping teaspoon gives the brownies a fudgier finish.
Chopped pieces of your favorite candy bar.
Chopped nuts.
Mini marshmallows.
Crumbled cookies (hello OREO's!)
Top with frosting or ice cream
How do you keep the brownie from sticking to the mug?
Be sure to mist the inside of your mug with baking spray, or brush with butter. This brownie will stick to the inside of the mug if you don't prepare in advance.
Can I use coffee instead of water in brownie mix?
For this recipe, yes you can. Coffee works as a flavor enhancer in coffee and is a great substitute for water.
What if you use milk instead of water for brownies?
Yes. Milk will work in place of water for a mug brownie.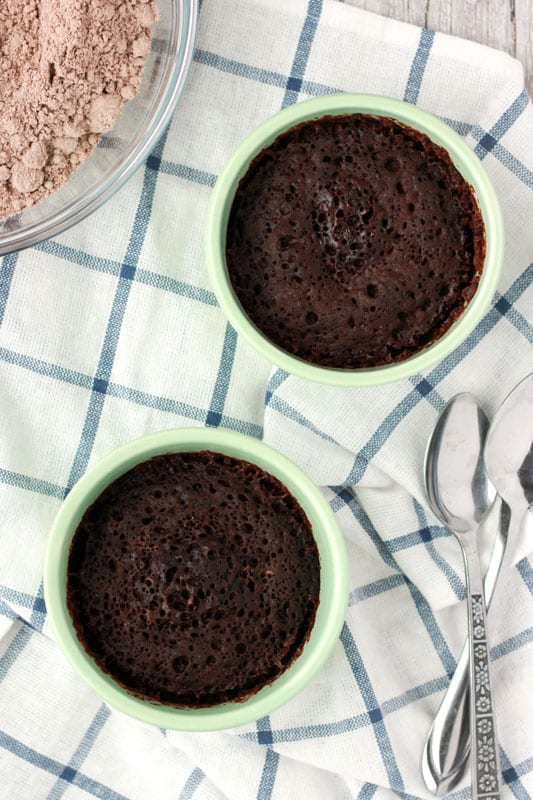 More Mug Recipes
Still Hungry? Follow One Sweet Appetite on Instagram, Pinterest, and Facebook!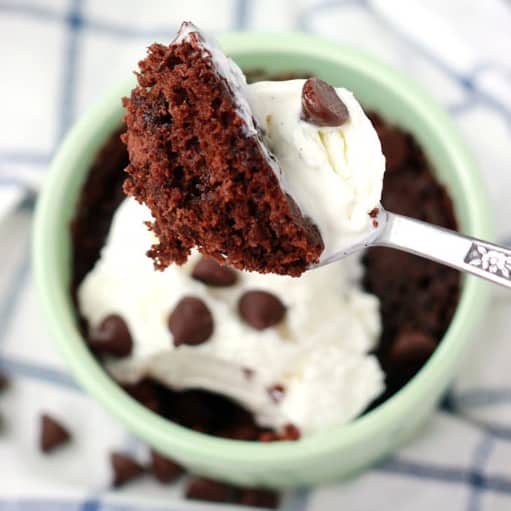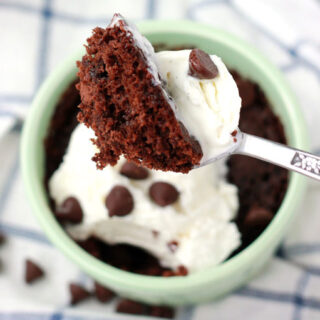 Easy Brownie Mug Cake
This easy Mug Brownie Recipe comes together in minutes which makes it the perfect dessert to help satisfy your craving. Fudgy, delicious, and easy to customize! Made with only 2-ingredients and ready in 5 minutes.
Ingredients
1/2 cup unprepared brownie mix
3 tablespoons water
1 spoonful chocolate chips optional
Ice cream or whipped cream optional
Instructions
Spray a large mug with baking spray.

Combine the brownie mix and water in the mug and stir to combine , about 30 seconds with a fork.

Microwave 60 to 90 seconds.

Top with whipped cream, ice cream, or chocolate chips.
Notes
See comments for great suggestions from my readers! Here are a few of our favorites:
Substitute the water for coffee.
Stir in 1 teaspoon of Nutella and 2 tablespoons water
Add a heaping teaspoon of mayonnaise
Nutrition
Serving: 1g | Calories: 325kcal | Carbohydrates: 73g | Protein: 6g | Fat: 23g | Saturated Fat: 10g | Polyunsaturated Fat: 11g | Cholesterol: 49mg | Sodium: 259mg | Fiber: 1g | Sugar: 27g
Equipment
Amazing Brownie Recipes
More Favorites from One Sweet Appetite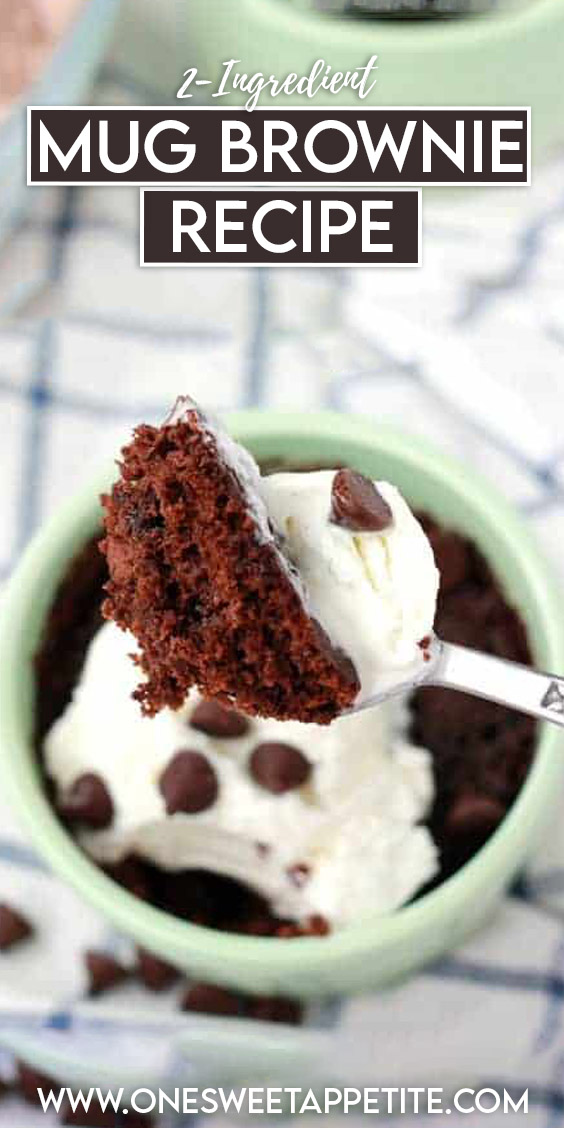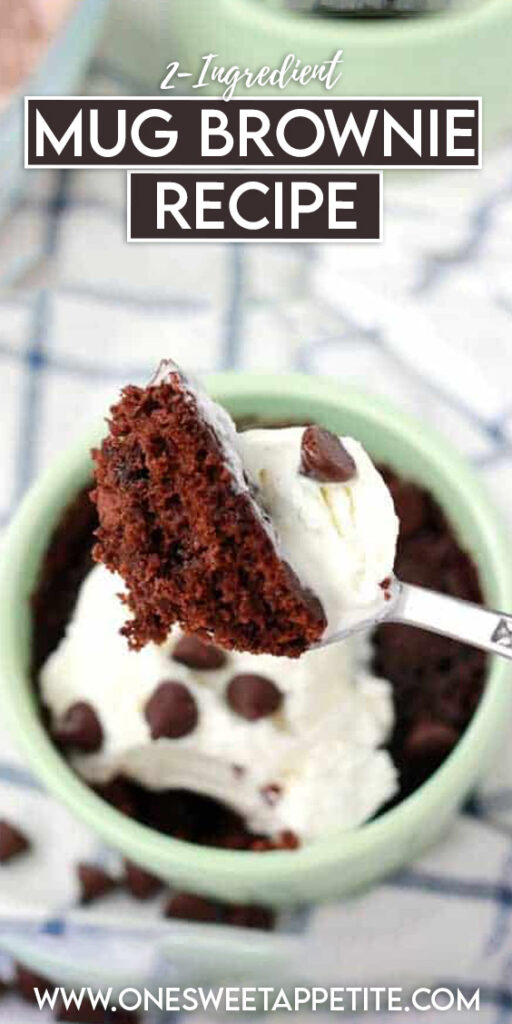 Reader Interactions