This rich and creamy Nutella Hot Chocolate is ready in under 5 minutes and made with just 3 ingredients! You will love this decadent drink recipe.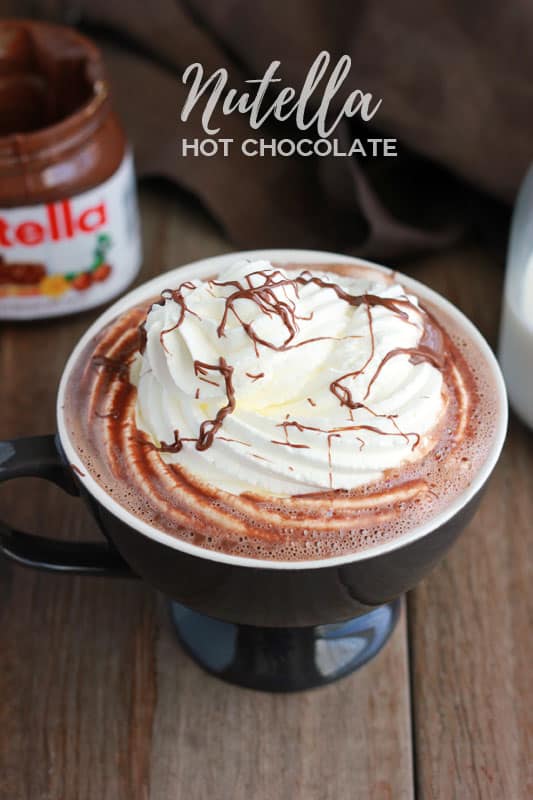 Truth– I have never been a Nutella fan. Ever. I avoid hazelnuts like the plague and do not particularly care for chocolate either (unless it is served in the form of brownies). Which is why I was pleasantly surprised that I love this recipe as much as I do.
Get ready to go crazy when I tell you that there are only TWO ingredients in this Nutella hot chocolate, all of which you most likely already have on hand!
Recipe Features:
Two Ingredient: This recipe only uses two ingredients with the option of a third.
Quick and Easy: Less than five minutes total.
Family Favorite: Easily the most made recipe in our house.
What You'll Need:
Since this is a 3 ingredient recipe, it is super important to use quality ingredients. Go name brand (or a brand you find extra tasty). You will also want to use whole milk to get that extra creamy drink we all know and love.
Nutella- Or any chocolate hazelnut spread
Whole Milk- We have made this with skim or 2%. Still good, but not quite as creamy.
Ground Cinnamon- Optional, but tasty!

Step by Step Instructions:
Combine the milk and Nutella in a small saucepan.
Heat to a simmer, whisking constantly, until frothy and warm.
Stir in ground cinnamon and serve.
And voila! Rich and creamy cocoa ready to be sipped and slurped. If you want to get really crazy you can top things off with a little whipped cream OR homemade marshmallows and drizzle with warm Nutella.
While this recipe is made for two, I easily could drink both portions all on my own. I'm thinking it might even replace the spicy cocoa I usually enjoy!
The BEST Nutella Hot Chocolate TIPS:
This recipe could not get any easier. But here are a few quick tips.
How to make this recipe in the microwave:
Combine the milk and chocolate hazelnut spread in a mug.
Heat 30 seconds, whisk with a fork, whisk 30 seconds more.
Whisk to combine the spread with milk.
Serve immediately.
Topping Suggestions:
We don't always top our hot cocoa with anything, but when we do we go all out! Here are a few topping suggestions:
Marshmallows
Whipped cream
Cool Whip
Variations:
I REALLY suggest trying the recipe as-is before venturing out. But we find a small spoon full of peanut butter a great addition.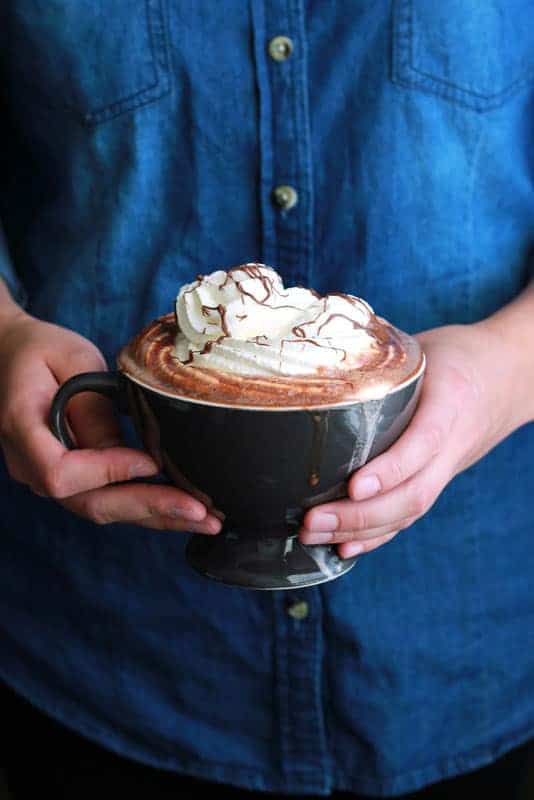 Related Recipes
Nutella Hot Chocolate Recipe
This rich and creamy Nutella Hot Chocolate is ready in under 5 minutes and made with just 3 ingredients! You will love this decadent drink recipe.
Ingredients
2 heaping tablespoons Nutella
1⅓ cup whole milk
dash of cinnamon optional
Instructions
Whisk together the Nutella and milk in a small saucepan. Heat until warm and frothy making sure to watch closely to avoid burning.

Top with a dash of cinnamon or whipped cream.
Notes
For richer flavor add an additional 1-2 tablespoons Nutella
Nutrition
Serving: 2people | Calories: 300kcal | Carbohydrates: 27g | Protein: 12g | Fat: 16g | Saturated Fat: 11g | Polyunsaturated Fat: 4g | Cholesterol: 37mg | Sodium: 163mg | Fiber: 1g | Sugar: 26g
Equipment
Pin for later:
Still hungry? Follow One Sweet Appetite on Facebook, Instagram and Pinterest for more great recipe ideas!
Reader Interactions