This Vegetable Lo Mein is a quick dinner that is ready in just 20 minutes! Loaded with your favorite vegetables and picky eater approved! You can't go wrong with this quick and easy dinner.
Searching for more weeknight dinner recipes that are fast and easy? Be sure to try my Easy Chicken Enchiladas, Air Fryer Chicken Nuggets, Ground Beef Cheesesteak Sliders, and Homemade Alfredo Sauce!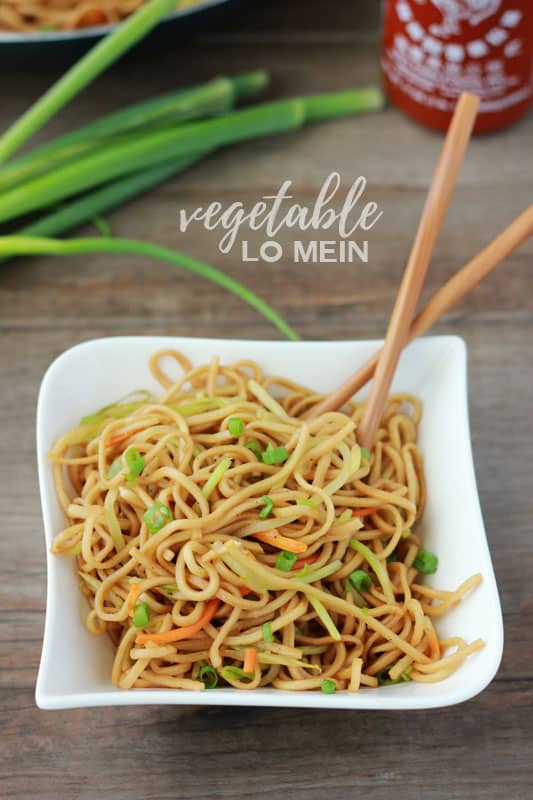 Recipe Features:
Quick and Easy Dinner Recipe: This chinese dish is ready in just 20 minutes, making it a go-to for busy weeknights.
Easy to Customize: While it is delicious as written, you can take this vegetarian dish and add some protein with chicken, beef or pork!
Better than takeout: We LOVE this recipe. Picky eater approved and simple to toss almost any vegetables into.
When you're searching for a light weekday dinner, or lunch, this veggie lo mein is a winner. Easy to load with veggies for a meat free option, or easy to customize with your favorite protein. It really is loaded with flavor and most importantly, kid and picky eater approved! Easily the best lo mein recipe.
If you didn't know, lo mein is a chinese dish that is made with fresh vegetables, egg noodles, and occasionally protein like beef, chicken, or pork. I kept it extra simple by using a bag of veggie slaw, but you can pack it with fresh vegetables! Use whatever you have on hand or whatever sounds good to you.
Want even more dinner inspiration? Try my Easy French Bread Pizza, Air Fryer Cheeseburger, or Taco Stuffed Peppers!
Vegetable Lo Mein Ingredients
I chose a simple veggie slaw with a broccoli base for ease and simplicity in this vegetable lo mein recipe, but the beauty of this dish is that you really can use any vegetable combination. Try mixing things up with some peppers, onions, mushrooms… Anything your little heart desires is a welcome addition or substitution.
Sauces and Vingers: For this recipe, you'll use a combination of soy sauce, sesame oil, rice vinegar, and chili sauce as the base to your sauce. Most of these are fairly inexpensive and even come in smaller portions, if you don't feel you will use them all.
Sugar: Brown sugar is key to giving a little depth to the sauce flavor.
Spices: A combination of chinese five spice, ginger, garlic take this from good to great.
Cornstarch: Just a touch of thickener to help the sauce reach that perfect consistency. It will coat every noodle perfectly.
Vegetables: I like broccoli slaw. The shaved pieces hide in with the noodles which mean even vegetable haters will love this dish! It's so good they won't even realize how many vegetables you have packed in!
Noodles: Chinese egg noodles OR, in a pinch, you can use ramen.
A quick tip for when you have got a hungry bunch at home ready to eat… I recommend using one of those pre-cut/shredded veggie bags you can find at the store. This shortcut can save you time and tastes just as delicious!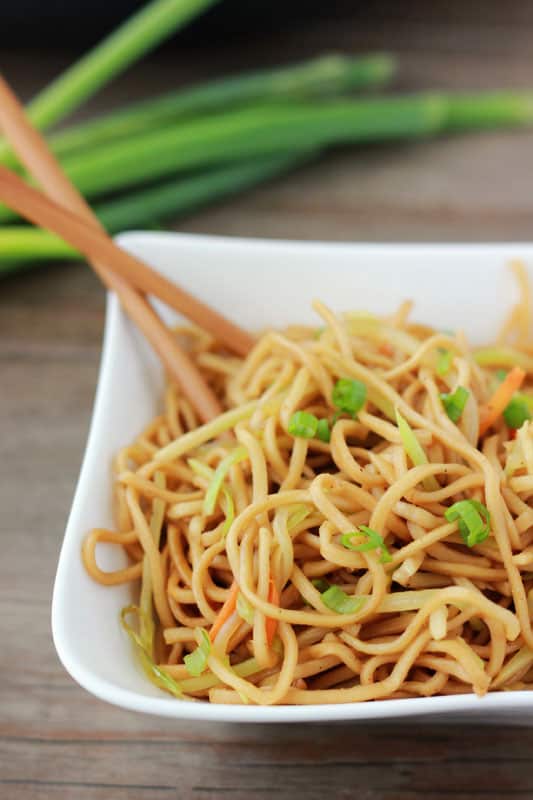 Veggie Lo Mein Recipe
Serve with a side of easy fried rice and chopsticks for a fun family experience and watch your kiddos slurp down veggies quicker than you've ever seen before.
PREP: Cook the noodles according to the package directions. Strain and set aside.
SAUCE: Start building your sauce by combining the soy sauce, wine vinegar, brown sugar, sesame oil, five spice powder, ginger, garlic, sriracha, and cornstarch in a small saucepan
SIMMER: Turn the heat on to medium and bring the sauce mixture just to a boil. Remove from the burner and set aside for later.
VEGGIES: Add 2 teaspoons of cooking oil to a large skillet. Turn the heat to medium and allow to heat slightly. Add the broccoli slaw, or vegetables of choice, into the pan and saute until they begin to tender, about 3 minutes.
TOSS: Stir the cooked noodles, sauce, and green onion into the pan. Toss to coat and serve warm.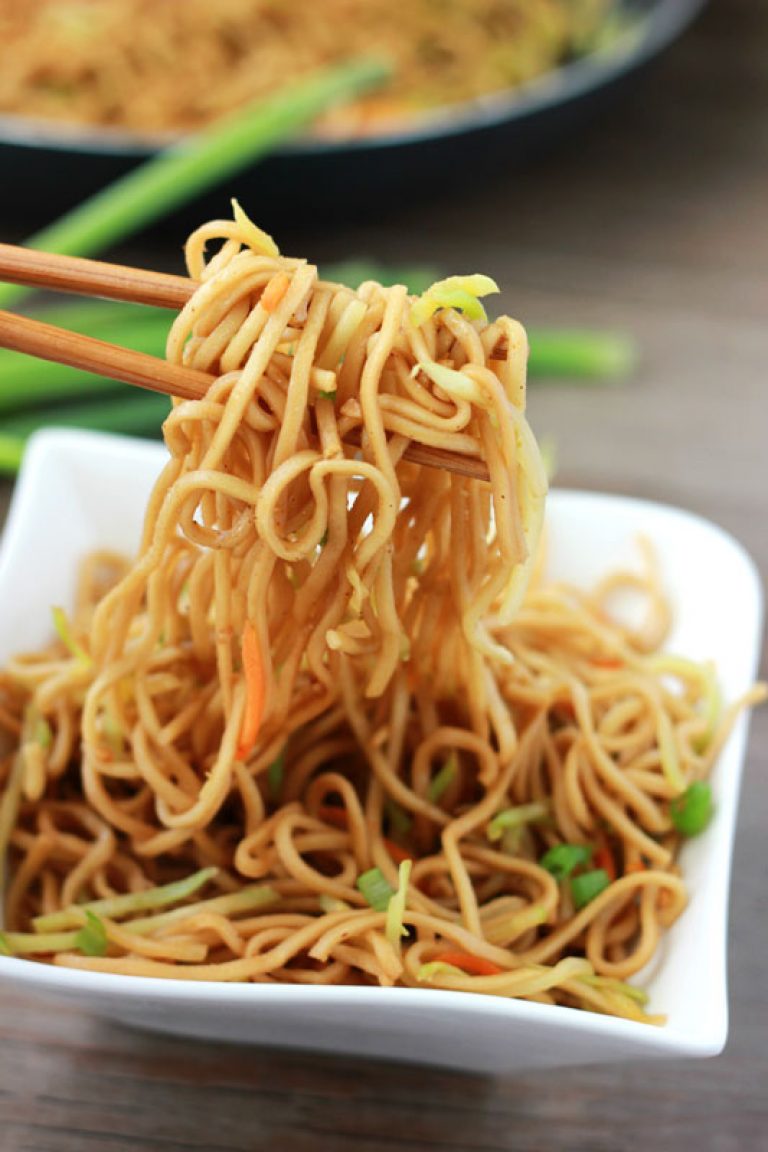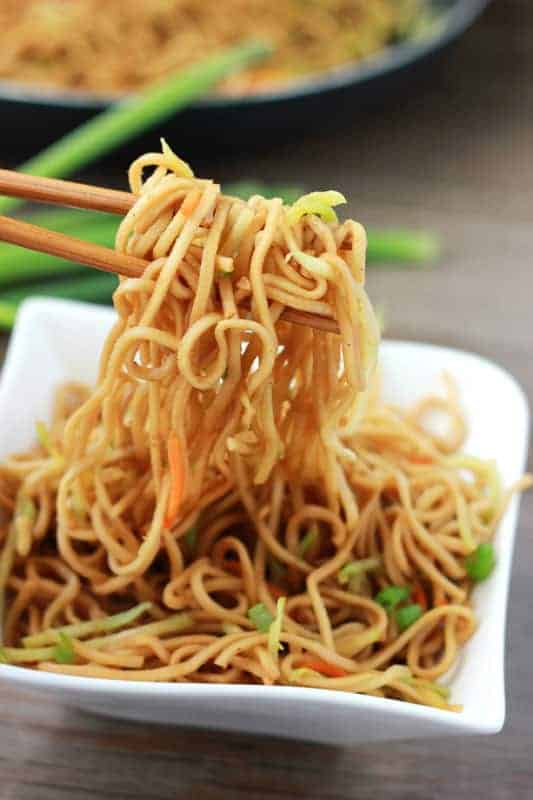 Recipe Notes:
What kind of noodles are used in lo mein?
Lo mein is made using a Chinese egg noodle. These Asian noodles have a little more chew and come in fresh or dried varieties. Look for them at your local grocer near the soy sauce.
What are the vegetables in lo mein?
I used broccoli slaw, which is a combination of shredded broccoli, carrots and cabbage- With no sauce. However, you can use fresh broccoli, carrots, red bell pepper, and onion for a delicious combination.
How long does homemade lo mein last?
This recipe will last up to 4 days. Be sure to keep it stored in the refrigerator in an air tight container.
What kind of sauce is used in lo mein?
Typically, you will see lo mein tossed with a sesame oil based sauce. My recipe uses this same concept with added ginger, garlic, and spicy chili sauce. We mainly serve this as a quick side dish (it comes together in under ten minutes!) but if you want to create a full meal just toss in some cooked chicken, pork, steak, or even tofu!
What is the difference between lo mein and chow mein?
The major difference between the two, chow mein is fried noodles while lo mein is a soft noodle. Both tossed in a sauce.
More Must-Try 30 Minute Meals
Still hungry? Follow One Sweet Appetite on Facebook, Instagram and Pinterest for more great recipe ideas!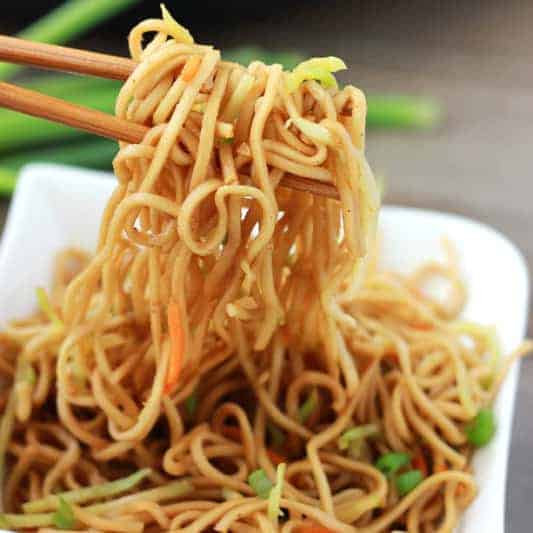 Vegetable Lo Mein
This easy Vegetable Lo Mein comes together in 20 minutes making it a go-to weeknight dinner! Loaded with veggies and kid approved makes this a family favorite recipe!
Ingredients
2 Tablespoon soy sauce
1 Tablesppon rice vinegar
2 Tablespoon brown sugar
1/4 teaspoon sesame oil
1/4 teaspoon Chinese five spice powder
1/4 teaspoonground ginger or 1 teaspoon fresh grated
2 teaspoons minced garlic
1/2 teaspoon Sriracha hot chili sauce
2 t.easspoons cornstarch
2 teaspoon oil
3 cups broccoli slaw or diced veggies of choice
1/4 cup sliced green onion
6 oz Chinese egg noodles cooked
Instructions
Combine the soy sauce, wine vinegar, brown sugar, sesame oil, five spice powder, ginger, garlic, sriracha, and cornstarch in a small saucepan set over medium heat. Bring to just a boil. Remove from the heat and set aside.

Set a large skillet over medium heat with the oil. Toss in the broccoli slaw (or veggies of choice) and saute until the veggies are tender. Combine the noodles, sauce, and green onion. Toss to coat and serve.
Notes
Add cooked chicken, steak, or ham for a fun twist!
Nutrition
Serving: 1Servings | Calories: 404kcal | Carbohydrates: 87g | Protein: 6g | Fat: 3g | Polyunsaturated Fat: 3g | Sodium: 507mg | Fiber: 5g | Sugar: 9g
Reader Interactions