This incredibly simply Christmas Mimosa (cranberry mimosa) is made with only two ingredients! Tart cranberry juice paired with the bubbles of champagne gives you a holiday worthy cocktail that everyone will love. Ready in five minutes and perfect for single serve or for a crowd.
Can't get enough cranberry? I've got you covered! Be sure to try my Easy Cranberry Vinaigrette, Cranberry Meringue Pie, Copycat Cranberry Bliss Bars.
This post includes a recipe for alcohol. Drink responsibly. One Sweet Appetite and it's authors are not responsible for the actions of our readers should they choose to make this recipe and consume it. Please drink responsibly.
RECIPE FEATURES
2 Ingredients: You only need two very simple ingredients to make this easy cocktail.
Customizable: I've included a few variations, including a non alcoholic cocktail version.
Party Favorite: We host a gingerbread decorating competition every year and this is the cocktail we serve. Everyone loves it!
This cranberry cocktail is good for so many reasons. Perfect to serve for Thanksgiving, Christmas or New Years thanks to it's stunning look and bold holiday flavor. Serve with breakfast and brunch OR as a fun dinnertime drink. If you love champagne, but aren't a fan of the classic mimosa, this one is for you!
Fully of bubbly with the added flavor of the classic cranberry. The flavor duo was made for each other. And if you aren't a fan of alcohol, I have the perfect version for you! These are definitely an adult favorite but can be made kid friendly with one simple swap! Holiday cheer served in glasses? Yes, please!
CRANBERRY CHAMPAGNE COCKTAIL INGREDIENTS
The ingredient list for mimosas is short. Two ingredients, to be exact. And this recipe does not veer far from the list. Here is what you need:
Cranberry Juice: Browse the juice aisle. There are so many different varieties of cranberry juice and all of them will work in this drink recipe. We like Simply cranberry cocktail or cranberry grape.
Sparkling Wine: Specifically, champagne or prosecco. Pick a dry champagne, which pairs well with juices, or a cheaper sparkling wine like prosecco. For a non alcoholic version reach for sparkling cider.
Garnish Options: A sprig of thyme looks beautiful, frozen cranberries to keep the glass chilled, or a lime slice for a splash of citrus.
I have also included a mocktail version that uses sparkling cider. It was given two thumbs way way up by my picky little six year old. He loved the idea of enjoying a fancy drink with mom and dad. I was thrilled that he could be a part of the fun.
If that is the route you would like to take just pick up some sparkling cider (apple or grape) and swap it in for the champagne. You will get the same great flavor and bubbly sensation and have a fancy drink perfect for parties.
HOW TO MAKE CHRISTMAS MIMOSAS
Mixing mimosas for a large group is super simple. You can set up a bar and allow guests to serve themselves or you can prepare a pitcher just before serving. 
PREP: Chill all of your ingredients before you are ready to serve. I like to chill my drinks at least one hour before serving, but ideally overnight.
SINGLE SERVE: Fill a glass with frozen cranberries. Add cranberry juice until the glass if half full, or just under if you prefer more bubbly. Top off with champagne.
GARNISH: Add a lime wedge or sprig of thyme for a beautiful finish if desired.
CROWD SERVING: Fill a pitcher half, or just under half for a stronger drink, with juice and top with champagne or sparkling wine. 
I like to start with a 50/50 ratio of juice to champagne. I adjust per our tastes.
Recipe Notes:
Can this be made non-alcoholic?
We have a ten year old who loves brunch. He suggests it on a weekly basis, so when we do decide to whip up something extra special we want him to be included. Here are a few non alcoholic options to replace champagne that we have tried and love:
Ginger ale 
Sparkling Cider
Club Soda
Sprite
7Up
What is the best champagne to use in cocktails?
A dry champagne is what you will want to reach for if you aren't sure where to start. Dry champagne is a little less sweet which is ideal when pairing with juices. 
OR you can opt for something a little less expensive and just as delicious like Prosecco. Prosecco is sparkling wine and you can normally pick up a bottle for around $10-$15 dollars. 
Can this cocktail be made in advance?
No. Make this recipe just before you plan to serve, otherwise the bubbles from the champagne will go flat. You can, however, chill all of the ingredients in advance.
Can you make this cocktail sweeter?
Line the rim of your glass with sugar for a frosted effect that is fancy and perfect at parties.  I originally thought this would be good for the kid glasses but the all of the adults felt left out and ended up adding it to theirs. Just dip a glass in a bowl of clean water followed by the sugar. In two seconds you get an almost frost like edge that's gorgeous.
Still Hungry? Follow One Sweet Appetite on Instagram, Pinterest, and Facebook!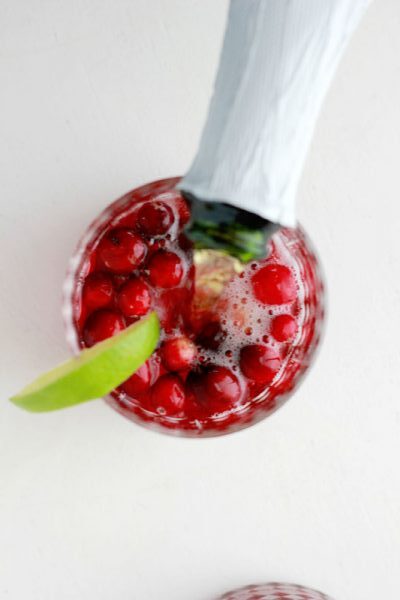 Cranberry Champagne cocktail
Cranberry Champagne Cocktail. A delicious way to bring in some of that wonderful holiday flavor and still keep things simple! Tis the season to raise your glass and toast to family, friends, and cheer!
Ingredients
Single Serving:
4 oz Cranberry Juice
6 oz Champagne
Crowd Serving:
2½ cups Cranberry Juice
6 cups Champagne
Instructions
Fill a glass with ice or a hand full of frozen cranberries, if using.

Pour cranberry juice until half full or just under half if you prefer a less cranberry taste.

Top off with champagne or sparkling cider.
Nutrition
Serving: 1Servings | Calories: 128kcal | Carbohydrates: 5g | Sodium: 3mg | Sugar: 4g
Reader Interactions