This Homemade French Bread Pizza is the easiest way to make pizza at home! Made with a soft french bread, insanely delicious homemade pizza sauce, and loaded with your favorite toppings. Everyone will love this easy dinner recipe.
Make it a full meal by serving this with an Italian Chopped Salad and Garlic Bread.
Recipe Features:
Minimal Ingredients
20-Minute Recipe
Easy to Customize
Would DEFINITELY make this again- and already have over a dozen times!
THIS pizza. It is truly the hero of weeknight dinners. It hits all of the checkmarks. Quick-Easy-Delicious. I mean, can you really beat a 4 to 5-ingredient dinner that is ready in under 20 minutes?! ALSO family approved??
We like to set this up in an assembly line so everyone can build their own. That way no one can complain about their topping choices. And while it appeals to kids and teens alike- turns out it's a favorite of adults as well! This pizza has incredible flavor, a crisp exterior with a soft center, and is so easy to customize. Perfect for weeknight dinner or an after school snack.
FRENCH BREAD PIZZA INGREDIENTS
Ok, so the secret ingredient mentioned above… What exactly IS this mysterious kitchen staple? Well, I'll tell you… It's homemade pizza sauce.
But not just any sauce. This sauce is GOLD. You can make it in advance and even keep it in your freezer for busy weeknights when you need to just toss together a meal. It is so dang good.
Everything else is pretty basic:
French Bread Loaf: We like to slice our loaves in half lengthwise and gently press down to slightly flatten.
Pizza Sauce: Homemade or store bought. The choice is up to you, but I suggest you try my version at least one time.
Cheese: Mozzarella, Italian blend, and a sprinkle of Parmesan. Pick the cheese that works best for your tastes.
Pepperoni or Other Toppings: If you've never tried Old World Pepperoni, that's my suggested topping for you. It's a higher quality pepperoni that is prepared with slightly different seasonings that send it over the top in flavor.
Italian Seasoning or Garlic Salt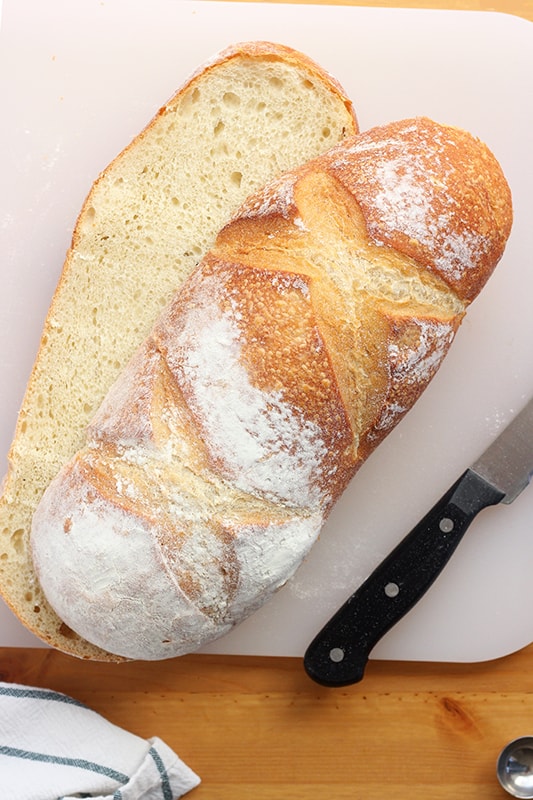 HOW TO MAKE FRENCH BREAD PIZZA
PREP: Measure all of the ingredients you will be using, slice the bread in half, and preheat the oven.
BUILD: Build the pizzas by spreading sauce to the edges, sprinkling with cheese, and adding your favorite toppings.
BAKE: Place the pizzas onto a baking tray, lined with foil for easy cleanup, and bake until the bread is lightly toasted and the cheese is melted.
ENJOY: Slice into pieces and serve with your favorite dipping sauce (hello ranch dressing!).
Searching for more super quick and easy dinners? Try my Pizza Pockets!
AIR FRYER FRENCH BREAD PIZZA
We are obsessed with our air fryer (affiliate) and use it for almost everything. Not only do you get that amazing fried food texture, but it doesn't heat up the house as much as our oven does. Which is a saving grace during the summer.
Preheat the air fryer to 650 degrees.
Add the pizza and cook for 5-7 minutes.
HELPFUL TOOLS
Baking Trays: I have this double set of half sheet trays (affiliate) that are incredible. Easy to clean and perfect size for storage.
Pizza Cutter: Truth be told, we use our pizza cutter (affiliate) for more than just pizza. It's so convenient for sandwiches, pancakes, waffles and more.
Cutting Boards: I used to be one of those people that would cut straight on my plates… Three sets of dishes later I've decided that my cutting boards (affiliate) are 100% worth it.
Homemade French Bread Pizza Tips and FAQs:
This recipe is made to be a no-fuss dinner. It requires minimal ingredients and almost no time. But there are a few tips that come in handy.
Since this recipe has minimal ingredients, you need to reach for "top shelf," or your favorites. Like mentioned above, we really love homemade sauce and feel it takes this to a level 10. Other items that are a booster are quality French bread (hello Costco), and deli sliced pepperoni (Boars Head is my go-to).
Foil isn't necessary, and most of the time it doesn't make a huge mess. We just find it helpful for an easy cleanup.
Top this yummy pizza with any of your favorites! We specifically love pepperoni but have also used sausage, ham, pineapple, peppers, bacon… The ideas are endless.
Can You Cook French Bread Pizza In The Air Fryer?
YES. This recipe can most definitely be made in your air fryer. We like to do this for a quick lunch or something that can be made as a super simple dinner.
Preheat the air fryer to 350 degrees.
Cook 5 to 7 minutes, or until the cheese is melted and the bread golden brown.
How To Make French Bread Pizza Not Soggy
Here's the deal, I have made this recipe dozens of times and never come across a soggy bottom. BUT I believe it is because I follow these steps:
Use a high temperature to bake.
Pre-toast your French bread for a few minutes before adding the sauce, if you like a crispier crust.
Make sure any veggies you use are dried thoroughly.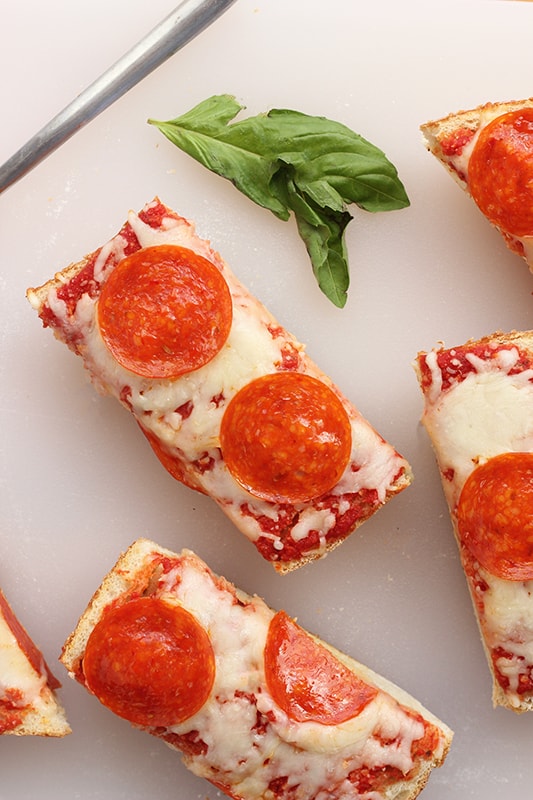 Related Recipes:
Still Hungry? Follow One Sweet Appetite on Instagram, Pinterest, and Facebook!
Easy French Bread Pizza
This Homemade French Bread Pizza is the easiest way to make pizza at home! Made with a soft french bread, insanely delicious homemade pizza sauce, and loaded with your favorite toppings. Everyone will love this easy dinner recipe.
Ingredients
1 loaf French Bread
1 cup pizza sauce
1½ cups shredded mozzarella
1/4 cup shredded parmesan*
Italian seasoning or garlic salt optional
Pizza Toppings
Instructions
1. Preheat the oven to 425 degrees. Line a baking tray with tin foil for easy cleanup.

2. Carefully slice a loaf of French bread in half lengthwise. Set onto the prepared pan, cut side up. Press each half to flatten slightly.

3. Spoon roughly 1/4 to 1/3 cup sauce onto each bread half.

4. Cover with cheese(s) and add toppings.

5. Optional, sprinkle with Italian seasoning or garlic salt for added goodness.

6. Bake 10 minutes, or until the cheese is melted and gooey.

7. Eat while warm.
Notes
*Use shredded and NOT grated parmesan cheese.
Nutrition
Serving: 1g | Calories: 580kcal | Carbohydrates: 80g | Protein: 29g | Fat: 16g | Saturated Fat: 8g | Polyunsaturated Fat: 6g | Cholesterol: 36mg | Sodium: 1564mg | Fiber: 5g | Sugar: 10g
Reader Interactions