These Homemade Turtles are sweet, simple, and the perfect holiday candy to take to all of your parties!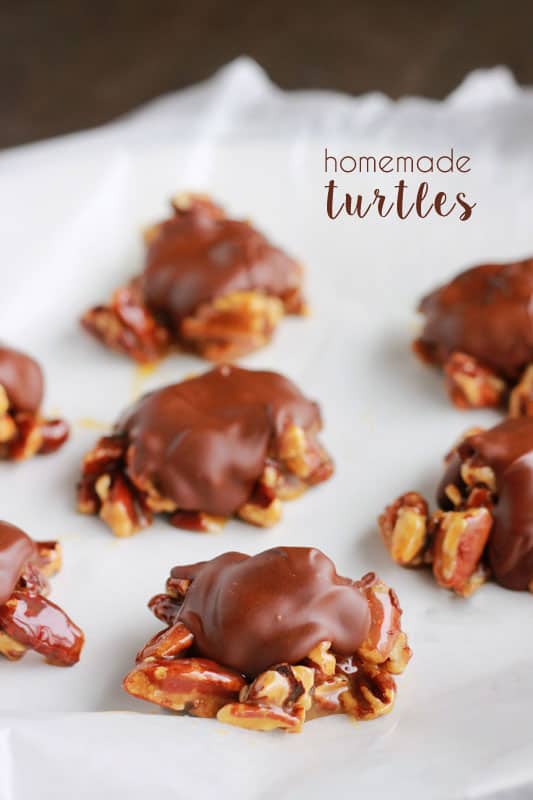 I know, I know… Right now your mind is 110% focused on Thanksgiving recipes. I mean, it is only a day away so that's where your mind should be. But my mind is moving forward. I blame my mom. She's got the meal covered this week which means I'm free to dabble in Christmas cookies and candies. Turtles have been on my must-make list for a while now. Probably because rowing up I remember sneaking into my grandma's "secret" candy stash and searching for the candy clusters. Something about the caramel and chocolate coating mixed with the salty pecans called to me.
What I love about this recipe is how simple it is. That's kind of the theme around here. A lot of my recipes are super easy to make and use minimal ingredients but pack a big punch in the flavor department. These are no exception. I won't lie to you… These are messy. We used a thicker ice cream topping so make sure that you are picky when you are cruising the aisle deciding on your flavor. The thinner syrups won't work as well.
Here's my secret tip… DON'T skip toasting the nuts. Toasting is easy. Line a baking sheet with parchment, spread your pecans in a single layer, and bake at 350 degrees for around 8 minutes or until fragrant. Those babies are going to be your base. You will create a small cluster or group on wax paper, top with our caramel, and seal that all in with your chocolate! Line a small tin or box with wax paper and pack these cuties in for a quick homemade treat this holiday season.
Ingredients
2 cups pecans, toasted
¼ cup caramel ice cream topping (the thicker kind)
1 cup milk chocolate chips
1 teaspoon shortening
Instructions
Stir together the pecans with the ice cream topping. Drop by heaping tablespoon onto wax paper. Refrigerate until solid.
Melt together the chocolate chips and shortening in the microwave, stirring every 20 seconds. Spoon over your pecan clusters.
https://onesweetappetite.com/2015/11/homemade-turtles/
PS- Muddy Buddies, Salted Caramels, Microwave Caramel Corn
This post may contain affiliate links. I include these links to help you find specific products that are used in my recipes. If you purchase an item from the link on One Sweet Appetite, I will receive a small commission helping keep my recipes free for you.
One Sweet Appetite is a participant in the Amazon Services LLC Associates Program, an affiliate advertising program designed to provide a means for sites to earn advertising fees by advertising and linking to amazon.com
(Visited 1,293 times, 1 visits today)
3