This super simple Cookies and Cream Fudge Recipe is made using only 3 ingredients! Creamy vanilla fudge packed with cookie pieces in every single bite. The best fudge recipe that is ready in under 15 minutes!
Want even more incredible cookies and cream recipes? Try my Cookies and Cream Rice Krispie Treats, Oreo Filled Cookies, and Homemade Cookies and Cream Ice Cream.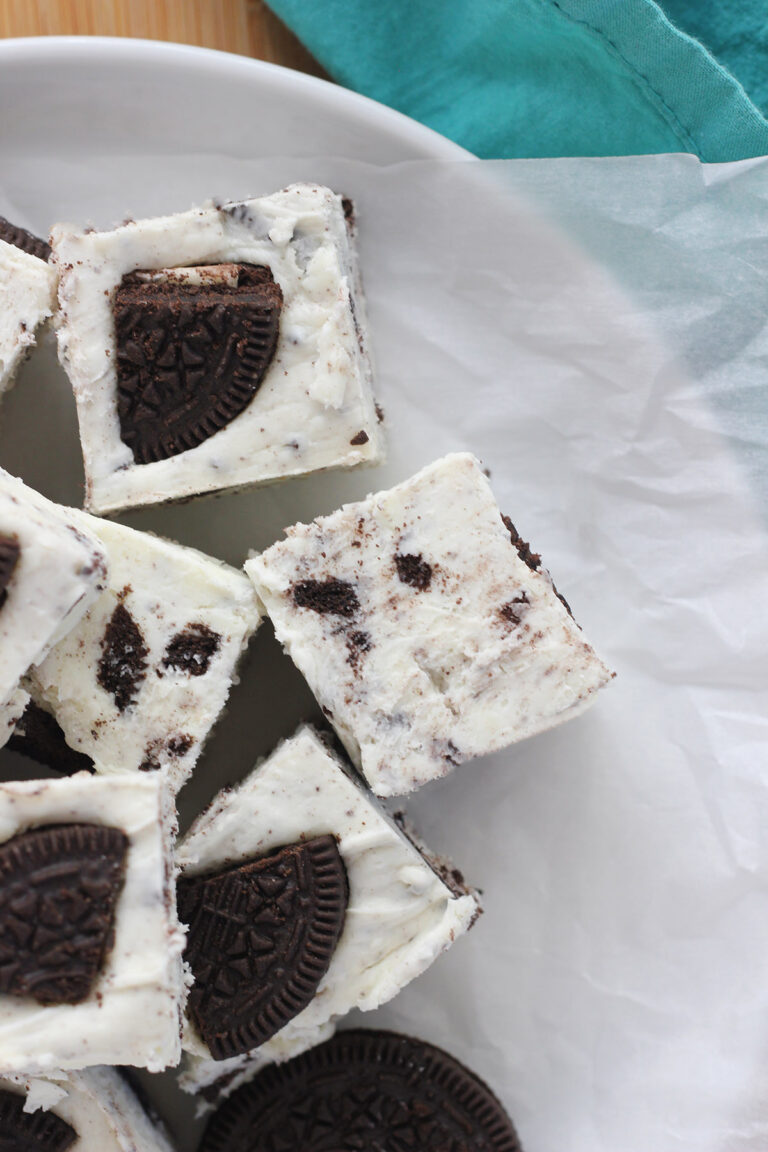 This post was originally published December 10, 2014. It has since been updated to include fresh photos and helpful tips.
Recipe Features
Quick and Easy: This recipe comes together in under 15 minutes! No fail with endless flavor options.
3 Ingredient Dessert: You only need three simple ingredients to whip up this fudge.
Perfect for Parties: This makes a decent sized batch of fudge. Cut into small squares and serve at any party or gathering!
You all know that I LOVE my 2-Ingredient Fudge Recipes. I have everything from classic chocolate, peanut butter, strawberry, and specialtiy flavors like German chocolate and butterbeer! But by far, this easy cookies and cream fudge is my favorite.
Creamy vanilla fudge mixed with chocolate cookie crumbs. It's a party for your mouth with every single bite. Bonus? You don't have to cook this recipe, beyond melting chocolate, and cannot mess this one up! Fudge with no sweetened condensed milk? Sign me up for this food magic!
Cookies and Cream Fudge Ingredients
So, how does this all work? Especially since this fudge recipe uses no sweetened condensed milk? Melted chocolate combining with a premade frosting gives you the most incredible smooth and creamy fudge. It is food magic. Here is what you will need:
Chocolate Chips: One bag of white chocolate chips, melted according to the package directions.
Canned Frosting: A can of vanilla frosting is the secret ingredient. Pick your favorite brand and have it ready to stir into the chocolate once melted.
Chocolate Sandwich Cookies: Like Jo Jo's or Oreo's. Any chocolate sandwich cookie will work perfectly in this fudge.
How To Make Cookies And Cream Fudge With 3 Ingredients
This recipe is ideal to add to your cookie tray. Seriously. It comes together quickly and gives a stunning visual. It also packages nicely!
PREP: Line an 8 inch square pan with parchment paper and set aside. Pro tip, use binder clips to hold the parchment in place while you spread the fudge into the pan to keep the paper from slipping.
MELT: Melt the white chocolate chips according to the package directions. White chocolate can be temperamental. I recommend microwaving in 15 second intervals, mixing well between each heating, until smooth and fully melted.
STIR: Fold in the canned frosting until combined fully and gently stir in the cookie crumbs.
CHILL: Transfer to the prepared dish and chill for 1 hour, or until the fudge has firmed.
Optionally, you can melt the chocolate over a double boiler. Use whatever you feel most comfortable with.
Helpful Tools
8 Inch Pan: I love my 8 inch Oxo Baking Pan (affiliate). It comes with a lid which makes it extra simple to store leftovers.
Binder Clips: I use binder clips (affiliate) to hold parchment paper in place when I spread a batter. The clips keep the parchment in place and make it super simple. Just be sure to remove the clips if you plan to bake anything.
Silicone Pan: OR you can skip the parchment all together and use a silicone pan (affiliate). Silicone is ideal for sticky batters and dough and the fudge will pop out quickly.
Recipe Notes:
Can you create other flavor variations?
One thing I love about this cookies n cream fudge is how versatile it can be. You can easily substitute the chocolate cookies for any cookie you love for equally delicious results. Try gingersnaps or peanut butter filled Oreo's! You can even have fun and mix in cereals like Fruity Pebbles or Captain Crunch!
How long does this homemade fudge last?
Keep this fudge stored in an airtight container at room temperature. This should last up to 3-5 days, making it the perfect make-ahead dessert.
To extend the shelf life, keep it in the refrigerator for up to two weeks.
Can you freeze this recipe?
Yes. To freeze, wrap the block of fudge in plastic wrap and place into a zip top bag that is freezer safe. Freeze for up to three months.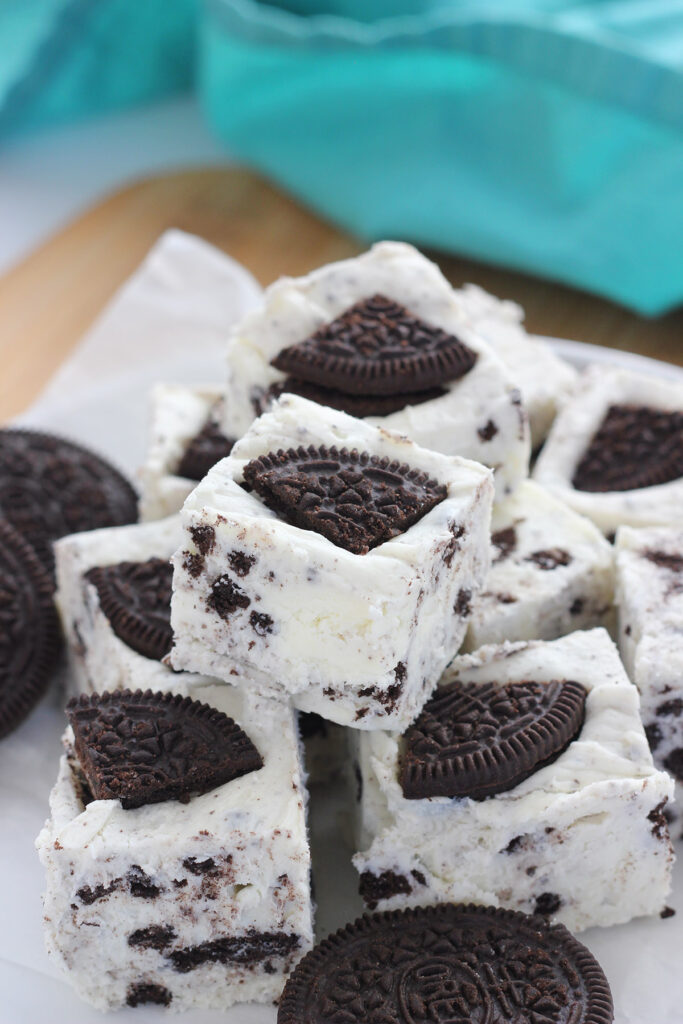 MORE MUST-TRY FUDGE RECIPES
Still Hungry? Follow One Sweet Appetite on Instagram, Pinterest, and Facebook!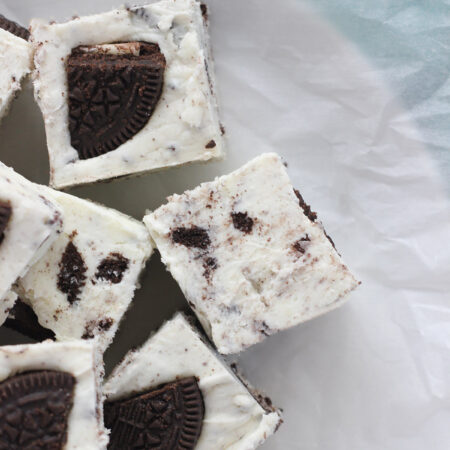 3 Ingredient Cookies and Cream Fudge
3 Ingredient Cookies and Cream Fudge. Melted white chocolate chips, vanilla frosting, and crushed Oreo cookies combine in this 15 minute fudge recipe. Perfect for your cookie trays this holiday season! 
Ingredients
12 oz white chocolate chips
16 oz vanilla frosting
1/2 cup chocolate cookie crumbs I used Oreos
Instructions
1. Line an 8×8 square pan with parchment paper. Set aside.

2. Place the chocolate chips in a glass bowl. Microwave in 15 second intervals, stirring in between, until fully melted. White chocolate can seize easily, so be sure to check and stir well in between.

3. Fold in the vanilla frosting and cookie crumbs. Pour into your prepared dish and refrigerate for 1 hour or until firm.
Notes
Optionally, you can melt the chocolate over a double boiler. Use whatever you feel most comfortable with.
Nutrition
Serving: 2fudge pieces | Calories: 341kcal | Carbohydrates: 47g | Protein: 2g | Fat: 17g | Saturated Fat: 7g | Polyunsaturated Fat: 8g | Cholesterol: 6mg | Sodium: 120mg | Sugar: 43g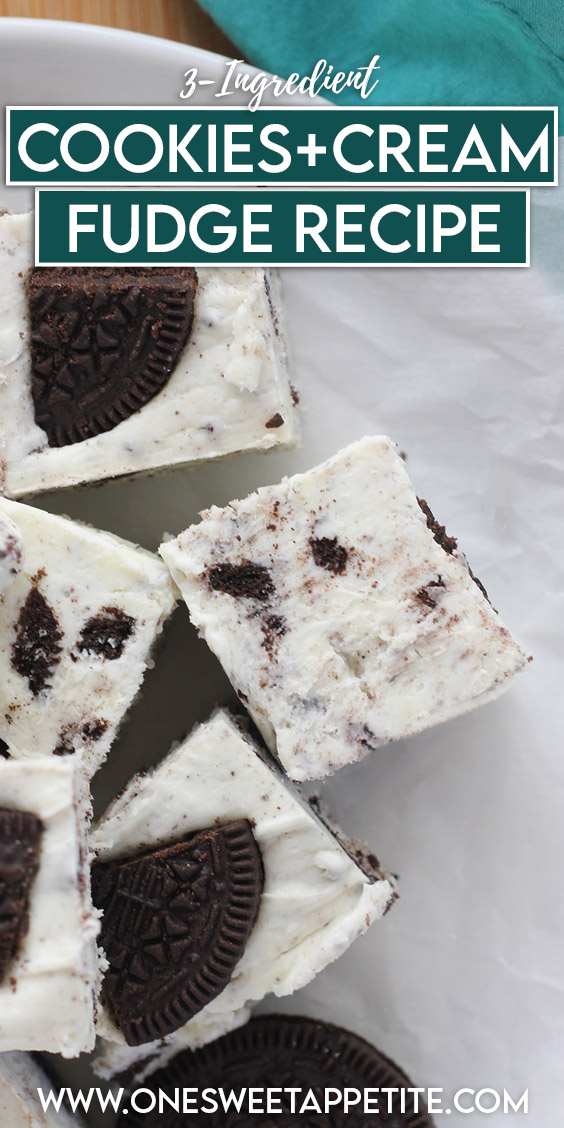 Reader Interactions