These simple punch recipes are perfect for any occasion! Everything form bubbly champagne to non alcoholic favorites, there is something for everyone to enjoy! Cheers with these tried and true drink recipes.
Love parties? Me too! Here are some of our most popular party ideas on the site: Easy Harry Potter Party, How to Make a Balloon Arch, Waffle Bar Brunch Party.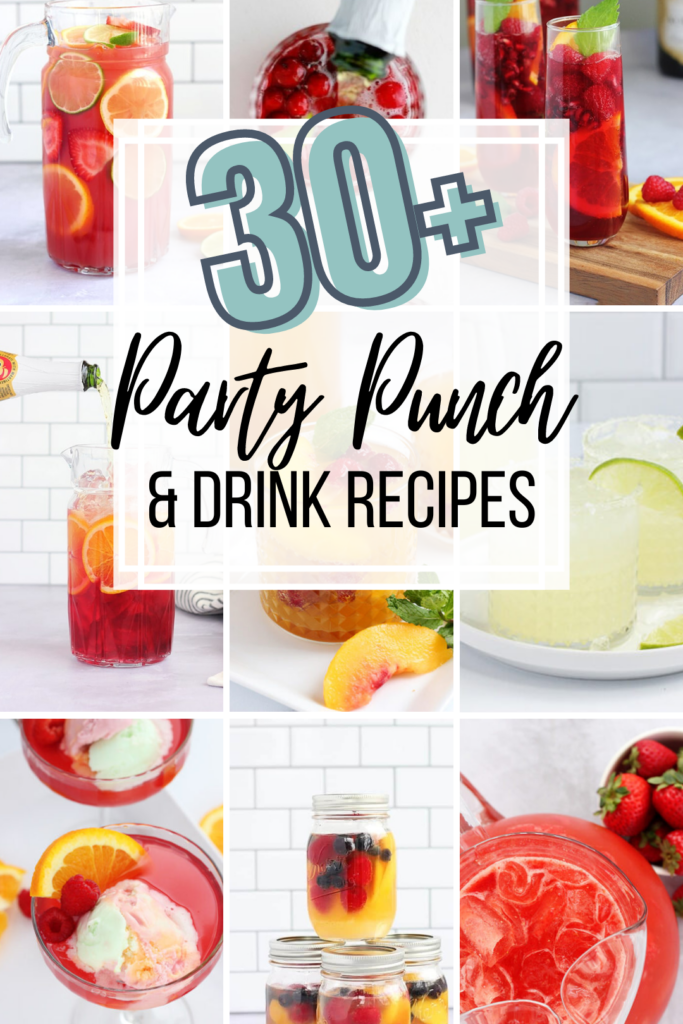 Party Punch Recipes
If you like to host parties, this list of punch recipes will be gold! Whether you are getting ready for the holiday season, birthday parties, or baby showers, you'll want a show stopping drink to serve.
This list is packed with delicious options. Everything from boozy cocktails for a crowd to non-alcoholic punch recipe favorites. With over 30 delicious punch recipes to pick from, you'll be sure to find two or three favorites!
Recipe Notes:
Can punch be made in advance?
You can prepare some portions of these recipes in advance, like any decorations or fruit slicing or chilling the different ingredients. However, drinks are best made just before serving.
What is the most popular punch recipe?
Punch and drink recipes are the TOP visited and reviewed on my website. The three most popular and loved are my Sparkling Holiday Punch, Party Punch, and Fruit Punch Recipes. All super simple to make and made with or without alcohol.
How much punch do you need for 100 guests?
Typically, one serving of punch will be about 4 ounces. For 100 guests, two drinks each, you would need 800 oz of punch. That measures to 100 cups.
Can you make these with, or without, alcohol?
Most of the recipes that are featured in this roundup include instructions on how to create a cocktail or non alcoholic version. While I enjoy a good alcoholic beverage, I also like to make sure these are available to my kid and non drinkers.
Still Hungry? Follow One Sweet Appetite on Instagram, Pinterest, and Facebook!