Rainbow Fruit Salad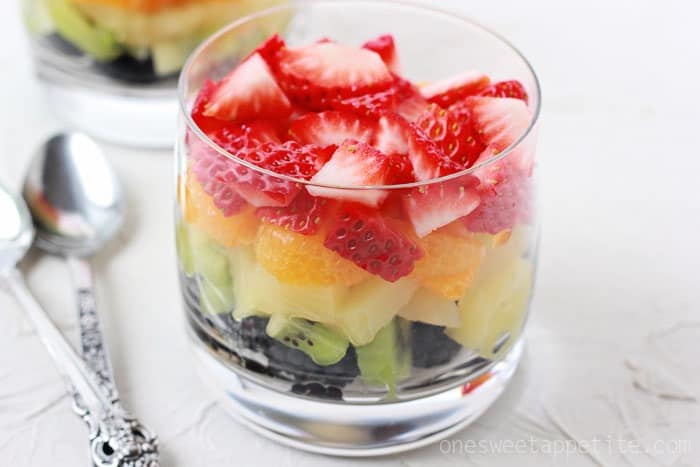 Ingredients for this recipe:
To achieve that rainbow look I was strategic with my fruit choices. Below are the options we used.
Blackberries- Ripe blackberries pair beautifully with the other fruit in this recipe, but you could also substitute blueberries.
Kiwi- Do get a touch of green we layered kiwi in these cups. It is bold, bright, and delicious.
Oranges- We love love love canned mandarin oranges. They are slightly sweet and are a fruit salad staple, in my opinion.
Strawberries- The red in your rainbow! Strawberries are a great addition because they add a wonderful sweetness and pop of vibrant color.
Pineapple- FRESH is best, but that is not always available. In that case, feel free to substitute with canned.
Whipped cream or cool whip – This ingredient is completely optional, but can give you a touch of sweetness when needed.
Other fruit options:
Now that you have a breakdown of our go-to flavors for this simple fruit salad, let's talk about some other great add-in's! The fruit below were not used in our mixture but have made an appearance in the recipe since we originally made it.
Blueberries- Often times we find these in the grocery store and swap them out for the blackberries.
Apples- Tart apples provide a fun pop of flavor while the sweeter honey crisp variety blends well with the existing profiles!
Cantaloupe- When in season, cantaloupe adds orange color and delicious flavor.
Honeydew- More green for your salad!
Watermelon- Not our favorite, it tends to be watery, but loved by all little kids.
How to make an easy fruit salad:
For cups:
Layer each fruit in a glass or plastic cup.
Top with whipped cream if desired.
For fruit salad:
Combine all fruit in a large mixing bowl.
Gently toss to combine.
rainbow fruit cups
Ingredients
1/2 cup blackberries
1/2 cup chopped kiwi
1/2 cup mandarin oranges
1/2 cup chopped strawberries
1/2 cup chopped pineapple
Instructions
Layer your fruit inside cups and serve with whipped cream or cool whip.
Another option is to toss in a large bowl.
Pin for later:
Still hungry? Follow One Sweet Appetite on Facebook, Instagram and Pinterest for more great recipe ideas!