Boo-licious and frightfully fun, summon your inner mixologist with this Halloween punch recipe! No need for magic wands or spooky incantations, for this devilishly delightful punch concoction is just three ingredients away from perfection. So gather 'round, you delightful ghouls and goblins, and let's stir up some spine-chilling mocktail mischief that's sure to leave everyone howling for more!
There's no shortage of punch recipes here at One Sweet Appetite! Some other favorites? Classic Party Punch, Pineapple Punch and my Rainbow Sherbet Punch Recipe.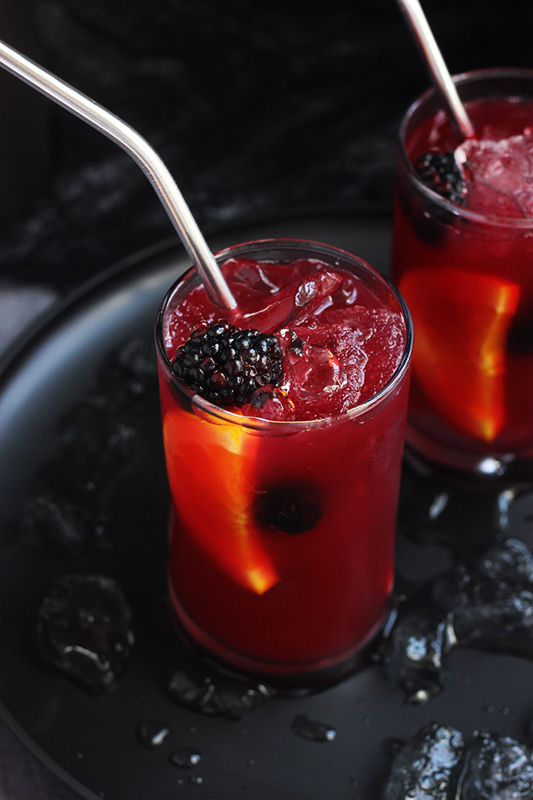 Why You'll Love This Punch Recipe
3 Ingredients: You can't beat a budget friendly recipe that tastes delicious! This one calls for three simple items.
Make-Ahead: You can make the juice portion up to 3 days in advance and store in the fridge until ready to serve with soda.
Spookily Delicious: The dark red-ish/purple is perfect for a Halloween punch bowl.
THIS holiday punch recipe may be the greatest invention of all-time. We obviously make it for Halloween but it's quickly become a go-to all year long! I can confidently say I've made this at least a dozen times and it is ALWAYS the first drink to disappear, along with my fruit punch!
The sweet flavor of fruit punch paired with grape is a combination we never knew we needed. Quick, easy, and a cheap way to serve a crowd. 10/10 review from my picky teen and equally delicious with a white grape juice! But what makes it spooky? Check out our full post for fun ways to put a creepily delicious finish on this punch recipe.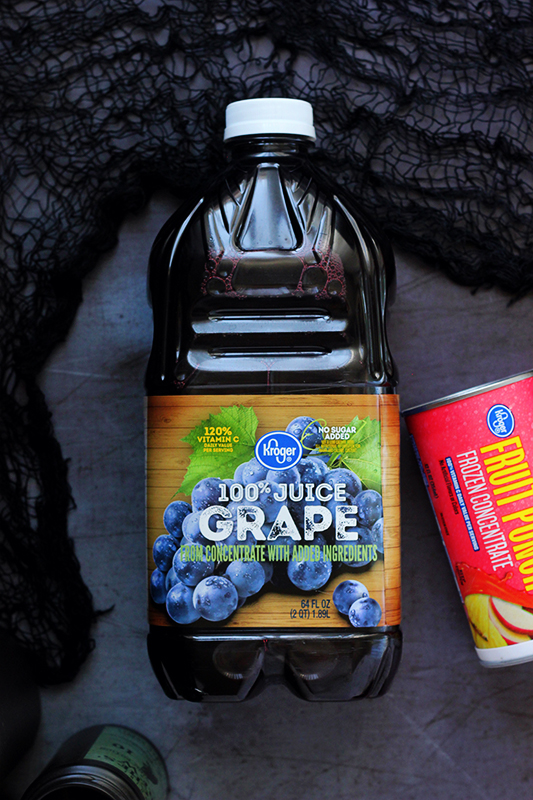 Halloween Punch Ingredients:
Here is the skinny with this recipe. It is only 3-ingredients, but the flavor is bold. The secret? Grape juice. Here is a quick look at everything you will need to whip this up:
Grape Juice: Grab 100% juice and not grape juice cocktail.
Fruit Punch Concentrate: OR Pineapple concentrate. Both work well.
Lemon Lime Soda: This adds a delightful fizz that is the perfect finish to your punch recipe.
Pro Tip: Keep everything chilled before making this punch. It will give your guests a nice cool drink and keep the soda from going flat too quickly.
Halloween Drink Ideas
Alrighty, so this drink is Halloween-ish, but looking for something more spooky? Try some of these ideas to add a little extra spook to your punch!
Freeze water in tied off plastic gloves (make sure they are food safe). Cut away the plastic and float the ice hands inside your pitcher or punch bowl.
Play with dry ice. While I do not recommend adding dry ice directly to your drink, there is a great youtube tutorial on how to add it around the punchbowl. It gives you that spooky fog effect without the worry of someone drinking the dry ice.
Add scoops of sherbet for a "witches brew" foam top.
Serve the punch out of a cauldron.
Use goblets to serve the punch.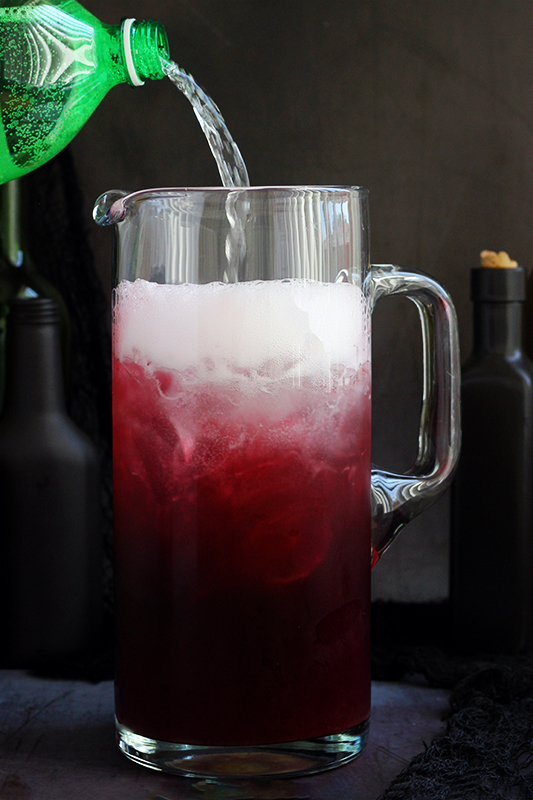 Non Alcoholic Halloween Punch Recipe
This is the perfect Halloween punch for kids since the ingredients are alcohol free, but I promise even the adults will like it!
PREP: This is the biggest tip I can share, keep everything chilled! This make sit super delicious without the need for a ton of ice which can water down the drink. You can even freeze fruit for an ice alternative.
COMBINE: Add the fruit punch concentrate and grape juice to a punchbowl or large pitcher.
MIX: Stir to combine.
FIZZ: Just before serving add ice and chilled lemon lime soda to the pitcher.
ENJOY: Serve as-is or with fruit pieces like blackberries and orange slices.
Like this recipe? You should check out my Halloween Dirt Cups!
Helpful Tools
Pitcher: I use a pitcher (affiliate) for serving, because I find it easier and less space consuming. This one specifically is beautiful with the different edges and design.
Punch Bowl: If you prefer a more party friendly display, try a punch bowl (affiliate). Orange slices and cranberries floating on top are simply beautiful.
Glasses: My current obsession are this set of stemless champagne flutes (affiliate). They are so elegant without the risk of accidentally breaking the long thin stem. You can also stick with something simple like solo cups or mason jars!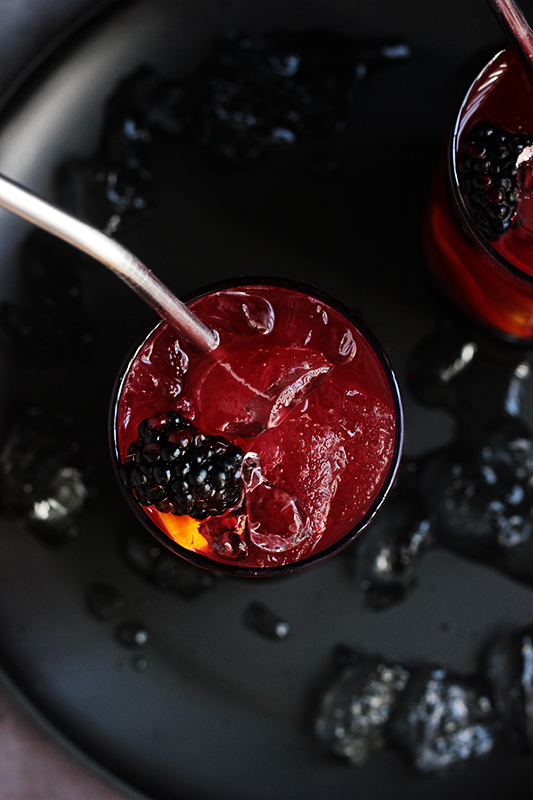 Recipe Notes:
Can I make this halloween punch alcoholic?
While this recipe is written as non-alcoholic, you can also serve this as a cocktail. You have two options when turning this into an alcoholic punch recipe. 
Fill a glass with ice. Add 1.5 oz of vodka (one shot) into the glass. Top off with the punch, stir, and enjoy.
OR
Stir in 2 cups of vodka into the punch before adding the ginger ale. Chill and serve. 
Can I make this punch in advance?
This recipe is super simple, but you can always make it ahead to save even more time. Simply combine the fruit punch and grape juice in a pitcher. Stir well and store in the refrigerator until you are ready to serve. Add ice and lemon lime soda just before serving.
How many servings does this recipe make?
This recipe yields approximately 8-10 servings, depending on the serving size.
Can I add some spooky garnishes?
Of course! Feel free to decorate with gummy worms, floating eyeballs, or eerie ice cubes.
How long can I keep the leftovers?
Keep the leftover punch stored in the refrigerator for 24 hours. While it will become less carbonated, the flavor will still be delicious. Top it off with additional fresh soda for more fizz.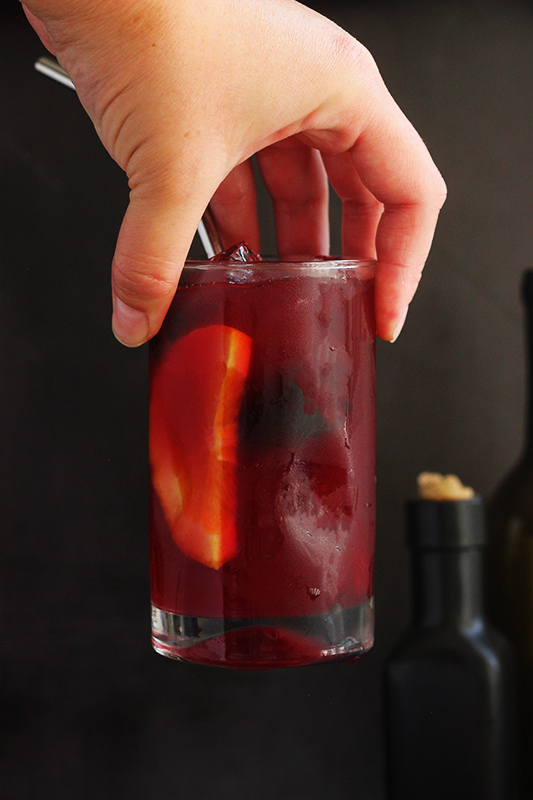 More Halloween Treats To Try
Still Hungry? Follow One Sweet Appetite on Instagram, Pinterest, and Facebook!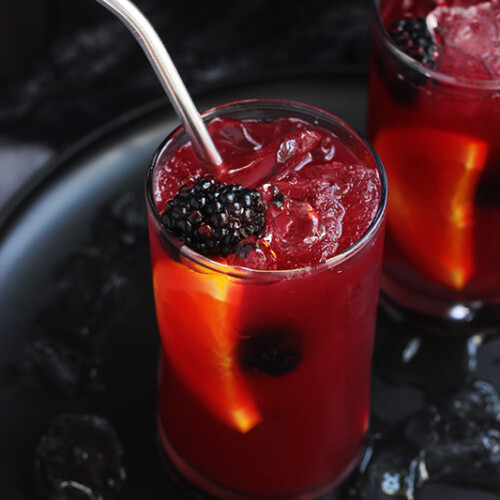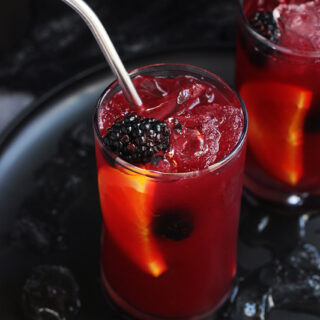 3- Ingredient Halloween Punch
This fizzy Halloween punch is perfect to serve your guests! Full of grape flavor and a dark purple color that is perfectly festive! Made with only 3-ingredients and a dark purple color that is perfectly festive.
Ingredients
8 cups (64 oz) Grape Juice
12 oz (1 can) Fruit Punch Concentrate
2 liters Lemon Lime Soda
Optional- Blackberries and orange slices for garnish
Instructions
Add the fruit punch concentrate and grape juice to a punchbowl or large pitcher.

Stir to combine.

Just before serving add ice and chilled lemon lime soda to the pitcher.

Enjoy as is or with fruit pieces like blackberries and orange slices.
Notes
Make this in advance, without the soda, to give it enough time to chill.
Slice fresh fruit for a fun presentation and tasty snack!
Add ice to the cups, not the pitcher. This keeps the juice from becoming watered down. 
Taste and add m
Nutrition
Serving: 1g | Calories: 101kcal | Carbohydrates: 26g | Sodium: 52mg | Sugar: 25g
More Favorites from One Sweet Appetite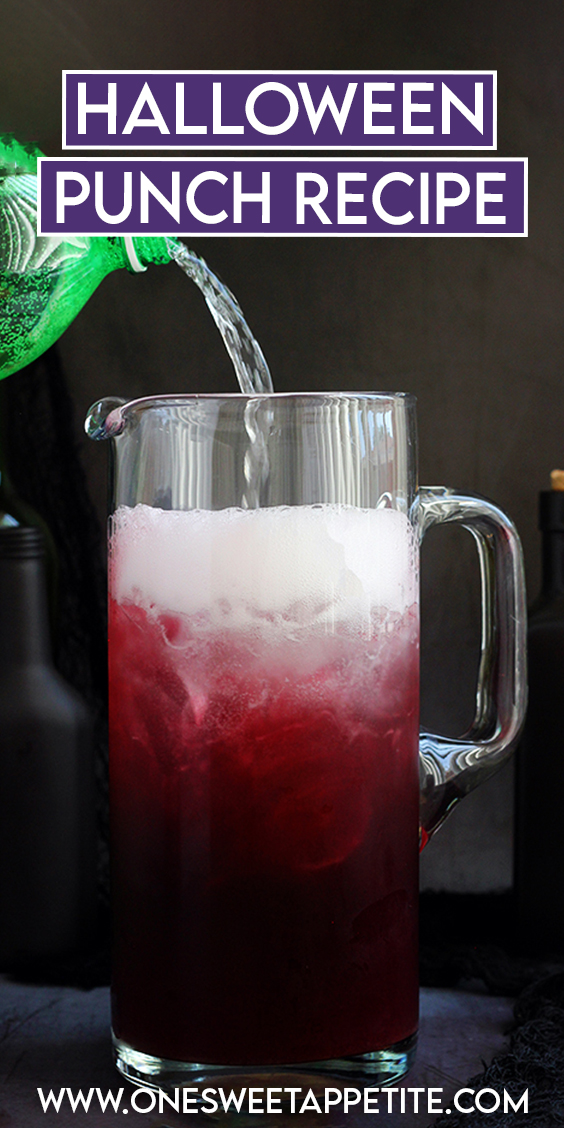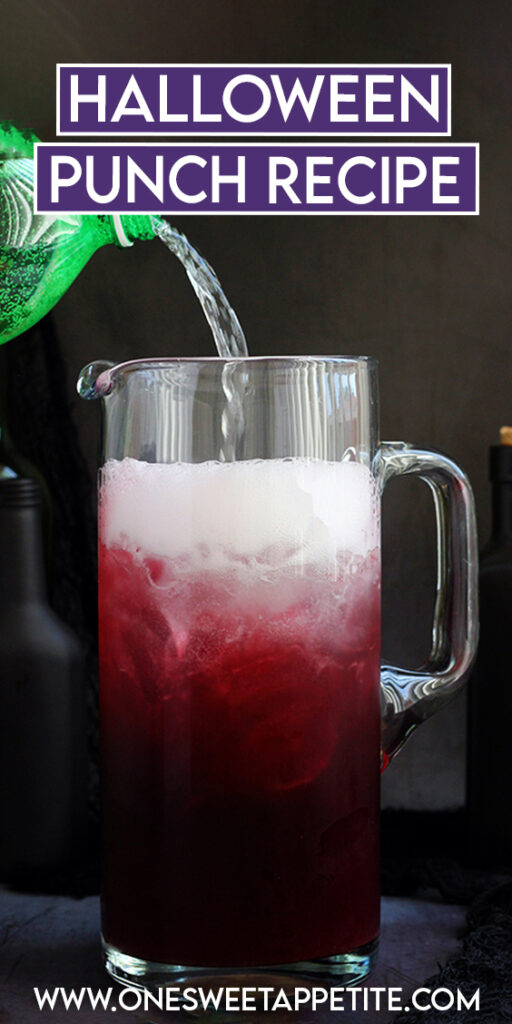 Reader Interactions