This post was updated on by Jesseca
Easy Bat Oreo's. These cute little bat treats come together quickly and are a fun Halloween recipe the entire family will love helping with!
Last weekend I was remaking my Bat Oreo Truffles when I had an idea…
Don't get me wrong. I love those truffles.
But when I was looking at a bag full of Oreo cookies I knew there was an easier way to make cute little Halloween bats.
Enter these adorable:
Easy Bat Oreo's.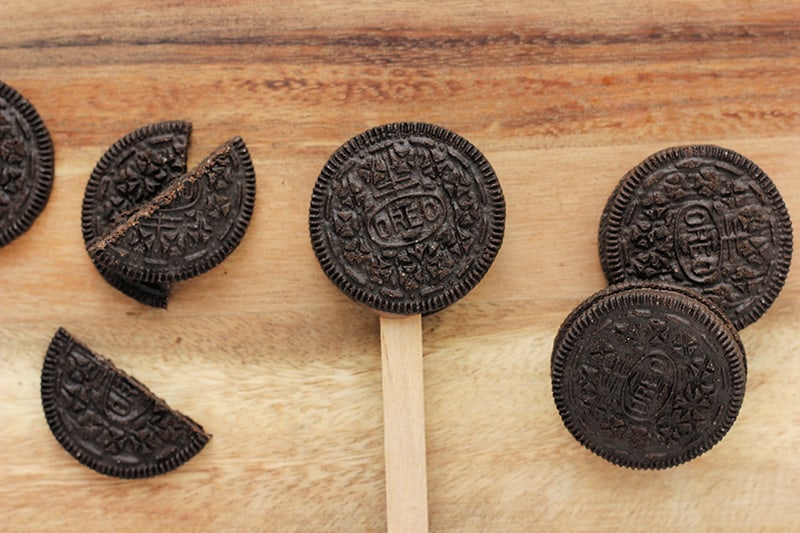 For real, ya'll…
All you need to do is cut your little bat wings, melt some chocolate, and dip.
Eep! Are they not the cutest things you have EVER SEEN??
Maybe it is the deer caught in a headlight look they get with those edible eyes??
Either way, they look adorable and taste amazing.
I mean, it is literally an Oreo dipped in melted chocolate. You cannot go wrong.
I am adding these to the long list of adorable Halloween treats we have lurking around the blog. I have a soft spot for the spooky holiday. But it turns out all of my desserts lean more toward the adorable vs cute category.
Give them a try and let me know what you think!
Like this recipe? You will love my Bat Oreo Truffles, Oreo Frankenstein's, and Oreo Spiderwebs!
Easy Bat Oreo's
Ingredients
9 Oreo cookies
chocolate or black candy melts
edible eyes
mini chocolate chips
popsicle sticks
Instructions
Gently twist 3 of your Oreo cookies in half. Scrape off the filling and discard. With a sharp serrated kitchen knife slice each one in half. After this step you should have 12 cookie halves.
Hay the cookies down onto wax paper in your bat wing formation. Set aside.
Melt the candy melts according to the package. If you notice that it is too thick add a small amount of shortening or coconut oil until the desired consistency is reached.
Dip the very end of one popsicle stick into the melted chocolate. Gently slide between one of your whole sandwich cookies. 
Using the stick to hold, dip the cookie into your melted chocolate and cover completely. Tap off excess gently and place directly on top of two of the wing formations you previously created.
Working quickly, add two eyes and two mini chocolate chip ears.
Allow to set completely before serving.
Recommended Products
As an Amazon Associate and member of other affiliate programs, I earn from qualifying purchases.

Pin for later:
(Visited 395 times, 4 visits today)
6