This post was updated on by Jesseca
This Strawberry Shortcake is the perfect way to use some in season produce for a quick sweet treat!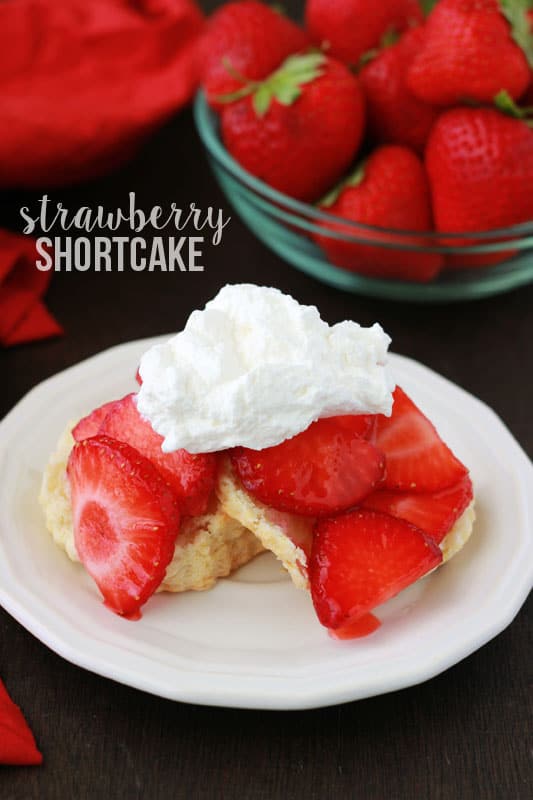 Strawberries are the fruit that always makes it's way into my cart. The smell is what immediately pulls me in and the bright red color tells me "You know you want to… Just do it." And of course, because  I give in to all peer pressure, I end up going home with the fresh berries. Now here's the problem… I almost NEVER eat them before they go bad. They sit in the back of the refrigerator lonely and ignored and eventually make their way to the garbage.
Sad, right?! This time around we bought them with something specific in mind. My little guy saw an episode of Curious George where that monkey made some sort of cabbage juice (sounds appetizing, right?) and one of the secret ingredients was strawberries. After attempting to make our own version (which was quickly dumped down the drain) we had some leftover berries begging to be used.
That is when I remembered I had THIS recipe on my site. I did a quick search and saw outdated photos ready to be retaken. I was so surprised at the ease of the little cakes. For some reason I thought they were going to be more complicated but I had them whipped up and in the oven in under five minutes. The topping was just as simple and the end result is a slightly sweet treat ready to be devoured.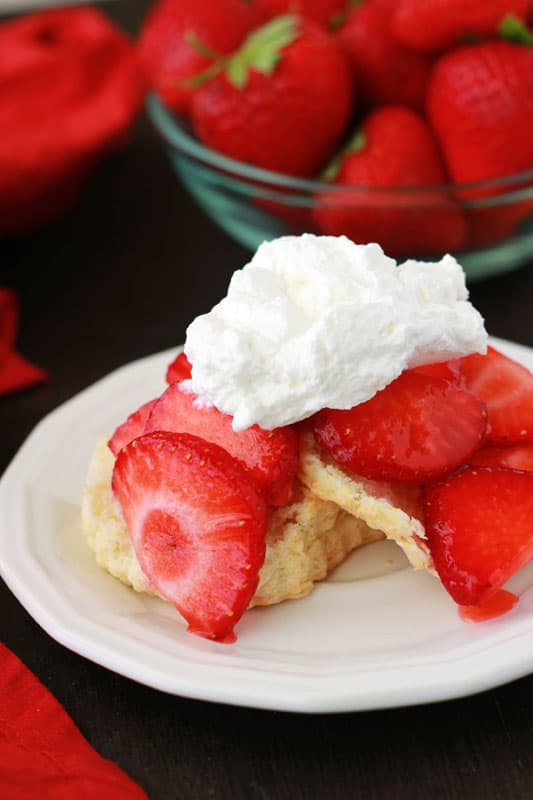 Strawberry Shortcake
Ingredients
2

cups

strawberries

sliced

1/4

cup

+ 3 tablespoons sugar

divided

2

cups

all-purpose flour

pinch

salt

2-1/2

tablespoons

baking powder

6

tablespoons

cold butter

3/4

cup

heavy cream

whipped cream

optional
Instructions
Combine the strawberries with 1/4 cup sugar in a small bowl. Cover and refrigerate until ready.

Preheat your oven to 450 degrees.

Whisk together the flour, 3 tablespoons of sugar, salt, and baking powder. Cut in the butter using a pastry blender or two knives. Stir in the cream until a dough forms.

Turn the dough onto a lightly floured surface and knead just until it comes together. Roll until 1/2 inch thick and cut into circles.

Bake 10 minutes or until lightly browned. Top with your strawberry mix and whipped cream.

Notes
Recipe Notes
Tip: This recipe does better if you mix it by hand. The secret is not to over mix the dough.
Recipe only slightly adjusted from NY Times
This post may contain affiliate links. I include these links to help you find specific products that are used in my recipes. If you purchase an item from the link on One Sweet Appetite, I will receive a small commission helping keep my recipes free for you.
One Sweet Appetite is a participant in the Amazon Services LLC Associates Program, an affiliate advertising program designed to provide a means for sites to earn advertising fees by advertising and linking to amazon.com
(Visited 1,258 times, 1 visits today)
1