Halloween is a little extra sweet when you have a batch of these Oreo Bat Truffles! 
Let's talk Halloween for a second. I'm sure you've noticed that I'm getting in the spirit with my cute Ghost Ice Cream Cupcakes, right?! I have never been a super huge fan of the holiday until I had my son. He can't wait to dress up this year and loves all of the creepy crawlies (from a distance that is). I wanted to create a fun recipe for his favorite scary animal and decided that bat Oreo truffles would be the perfect way to help us celebrate.
These little critters couldn't be easier to whip up. Once you have the basic truffle put together you can stick them in the fridge and move on to this next easy step.
You will need:
Chocolate
edible eyes
mini chocolate chips
wax paper
a Ziploc bag
Draw out a few small wing shapes onto a piece of paper. Lay some wax paper over the top and tape it to the table top. Melt a small amount of chocolate according to the package and transfer to a Ziploc bag. Snip a small corner off of the bag and pipe the chocolate following the stencil. Allow to set for a few minutes, or speed up the process by tossing them into the fridge. Ok… maybe set them gently in there. Tossing could cause problems.
Next is the fun part. Melt a larger portion of chocolate. Dip each of your prepared truffles (one at a time) into the melted goodness and quickly apply the wings, eyes, and mini chocolate chips for the ears. Let them set up before handling too much.
Isn't this little guy adorable? Or more like adorably delicious?? I have to say. I do love these fluttery little creatures. It was almost hard for me to eat them. Almost. These would be great to hand out to teachers, friends, family… Anyone that you might want to pass out a treat that is just extra special. Who can go wrong with Oreo's?
PS, you might like…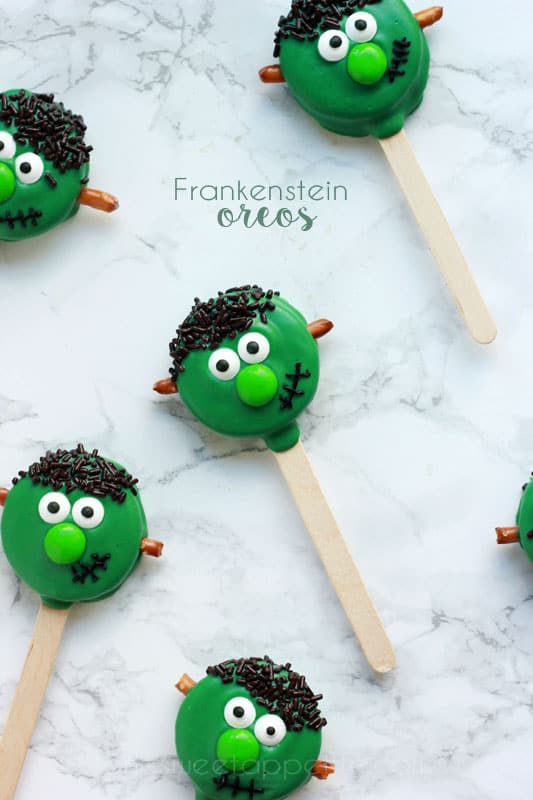 This post may contain affiliate links. I include these links to help you find specific products that are used in my recipes. If you purchase an item from the link on One Sweet Appetite, I will receive a small commission helping keep my recipes free for you.
One Sweet Appetite is a participant in the Amazon Services LLC Associates Program, an affiliate advertising program designed to provide a means for sites to earn advertising fees by advertising and linking to amazon.com
(Visited 46,114 times, 4 visits today)
49