You will be looking for a reason to host brunch when you see all of the cute details in the Waffle Bar Party! See tips and ticks below on how to rock this brunch themed celebration.
This post was originally published May 5, 2013. It has since been updated to include new images and helpful tips.
3 Quick, Simple Steps for Creating a Perfect Waffle Bar:
When my sister in law announced she was having a baby I was so ecstatic! She is the one I can relate the most to on my husbands side and I was literally over the moon excited for the news. So, obviously, I jumped at the opportunity to throw her a baby shower. The idea was to throw a brunch themed gathering with a minimalist style. Easy was key and this party nailed it right on the head. Everything came together in three easy steps.
Decide on the waffle recipe to use. You can opt for homemade waffles or store bought.
Pick if the waffles will be made in advance or make-it-yourself style.
Gather TOPPINGS.
I knew I wanted waffles to be the star of the show, but getting everything ready beforehand can be a challenge. I did not want to spend the entire party tied to the kitchen cranking out waffles. The tips and tricks below are PERFECT for getting started. The end result will be an elegant brunch fit for any occasion!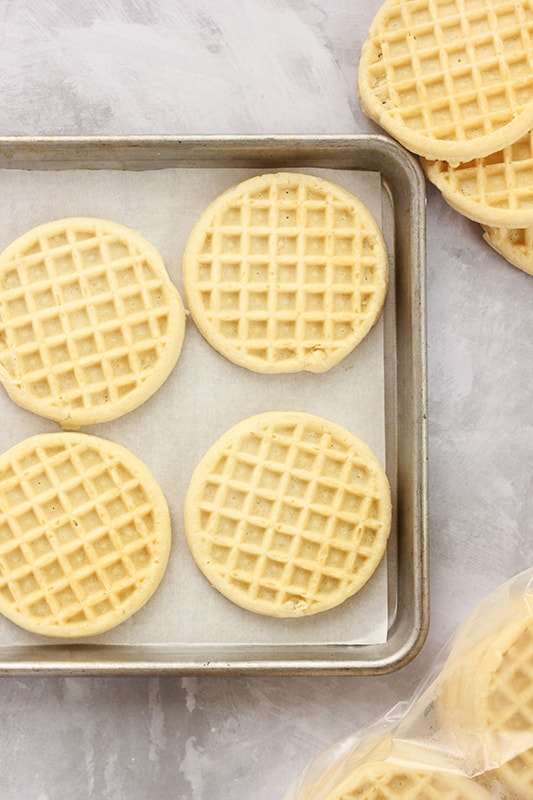 Waffle Recipes
I mention above that there are a few different options for waffles. Let's chat about your choices for waffle bar recipe.
Premade Waffles- These will include the toaster variety like Eggo's (killer deal for a giant box at Costco), but you can also find Belgian waffles that are ready made. You can even toast these in the oven in large batches which makes prep a breeze for a quick belgian waffle bar.
Waffle Mix- There are so many great mixes that require minimal effort. We really like this one and this one.
Homemade- You can never go wrong with a homemade waffle.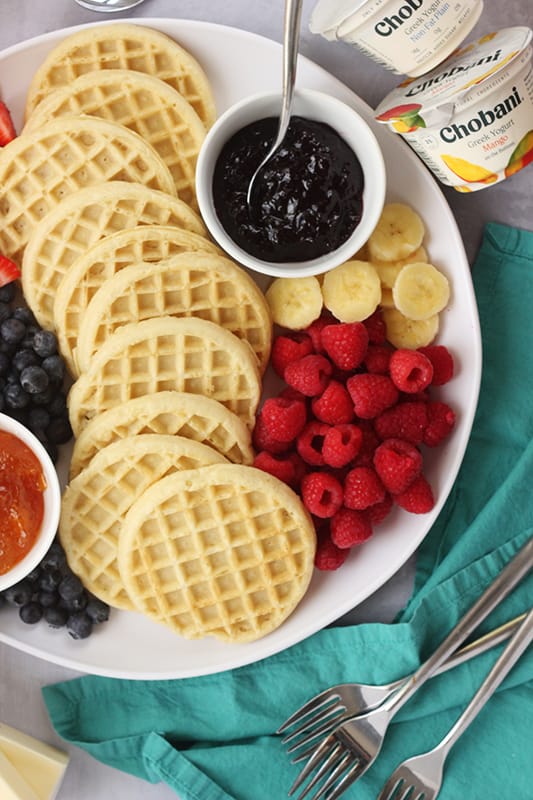 What Makes This DIY WAffle Bar So Good?
The reason this waffle bar party is such a great idea is because how easy it is to put together. There are so many ways to get creative and easy substitutions. You can even make it an interactive experience by setting up 3 or 4 waffle irons and letting guests make their OWN waffles. To do this:
Make the batter and divide it into plastic cups.
When guests are ready, let them pour the batter into a heated iron and cook!
Warm fresh waffles ready in minutes.
TIP: You could even include a cute print by the cooking station with instructions.
Another option is to pre-cook and keep the waffles warm until ready to serve. Just cook, toast, and leave in the oven on the warm setting until you are ready for an easy waffle bar for a crowd.
What Foods Go With Waffles?
There are so many more fun items you can add to the waffle bar menu. Try one of the below for a fun twist on a brunch themed occasion!
Yogurt
Fresh Fruit
Crepes
Fresh Squeezed Juice
Quiche
Parfaits
Croissants
And so much more!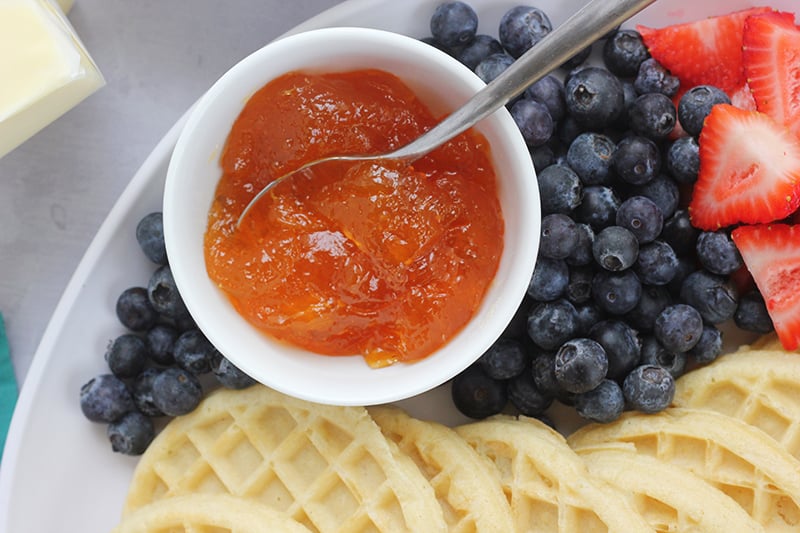 What Are Good Toppings For Waffles?
THIS is the golden question. When waffles are the star of the show, you want to make sure you include items that will really compliment them. Here are just a few suggestions of what you could serve with your warm and toasty waffles.
Fresh fruit or spreads. We served diced strawberries, blueberries, and raspberries. Not only are they delicious as a garnish to your waffles, but they are a beautiful pop of color on the table! Serve mixed together or in separate bowls.
Nut Butters– Nutella, peanut butter, or any nut spread is an amazing addition and tiny boost of protein.
Whipped cream. Make a homemade whipped cream or opt for the store bought spray can version. This adds a finishing touch that is perfect for your berry covered breakfast!
Chocolate chips or chocolate sauce. Who doesn't love a little extra sugar on top of their dish? Bonus? My homemade chocolate syrup makes a great party favor! Bottle it up and tie a cute colored ribbon to finish off the look!
Honey or syrup. We decided to offer guests a variety of syrup flavors. Classic Maple or Buttermilk Syrup are always a hit!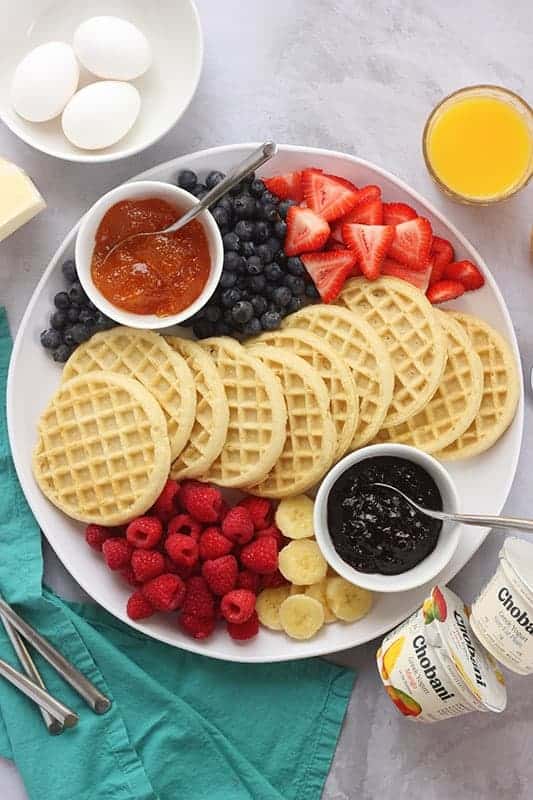 Expert TIPS:
I borrowed some white serving bowls and dishes from friends and neighbors keeping the look cohesive. Prepping ahead of time was a life saver. I cleaned and cut fruit the night before, used Costco croissants, and assembled the parfaits first thing in the morning.
If you plan on serving granola on your parfaits I suggest setting it to the side and allowing guests to top their own. This keeps the granola from going soggy and giving them control over how much they would like added!
You can make waffles ahead of time and refrigerate or freeze them. Reheat in oven or toaster and you are all set!
Leftover waffles? Freeze them for later!
What's The Best Waffle Mix?
According to The Spruce Eats, the best overall waffle mix of 2021 was Krusteaz Belgian Waffle Mix. Check out their entire post for more waffle mix suggestions.
How To Keep Waffles Warm
THIS TIP is golden. When you are serving a crowd the last thing you want to do is serve cold food. Here is how I cooked the waffles beforehand AND kept them warm:
Set your oven to the lowest temperature or the warm setting.
Line 2 cookie sheets with tin foil.
Place your waffles into the oven and on the cookie sheet once it is done cooking in your waffle iron. Continue until you have all of your waffles cooked.
Pull the trays out when ready to serve.
Now, I do want to mention that this will result in a more crisp waffle. It is ideal to start making the waffles 30-45 minutes prior to your guests arrival. This should give you just enough time to make the batter and get all of the waffles cooked.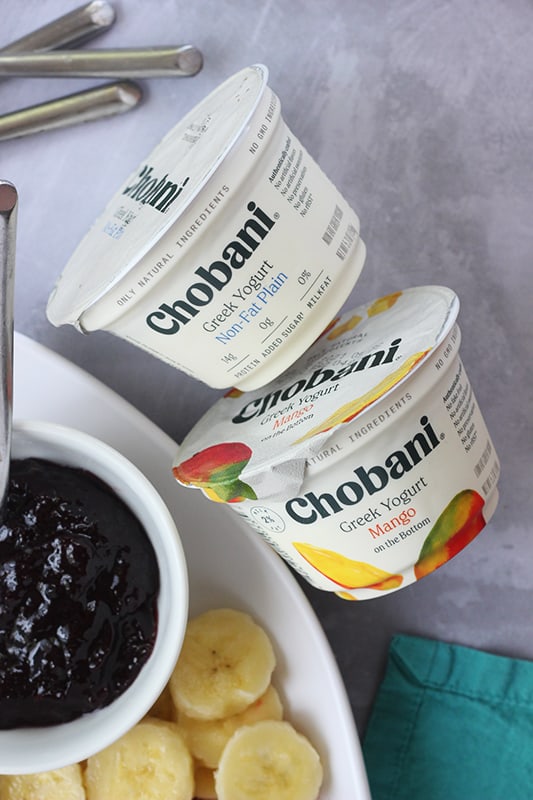 Can Waffles Be Made The Night Before?
Yes! You can make homemade or mix waffles the night before. Keep them stored covered in the refrigerator and heat in the oven before serving.
Can Waffle Batter Be Made The Night Before?
Yes! You can make the batters the night before your party. Just be sure to keep them in the refrigerator and tightly covered. Give a good stir before using.
What Can I Make With The Leftover Ingredients?
Leftovers happen, but no one wants to see all of that hard work go to waste! Freeze leftover waffles to serve at another time, turn the fruit into sauce, candy, or smoothie packs!
Our party was a success. We enjoyed a simple breakfast, great company, and exchanging of gifts! It was perfect. I sent people home with a small goody bag filled with chocolates keeping with our simple minimalist theme. So what do you think? Would you throw a waffle themed party?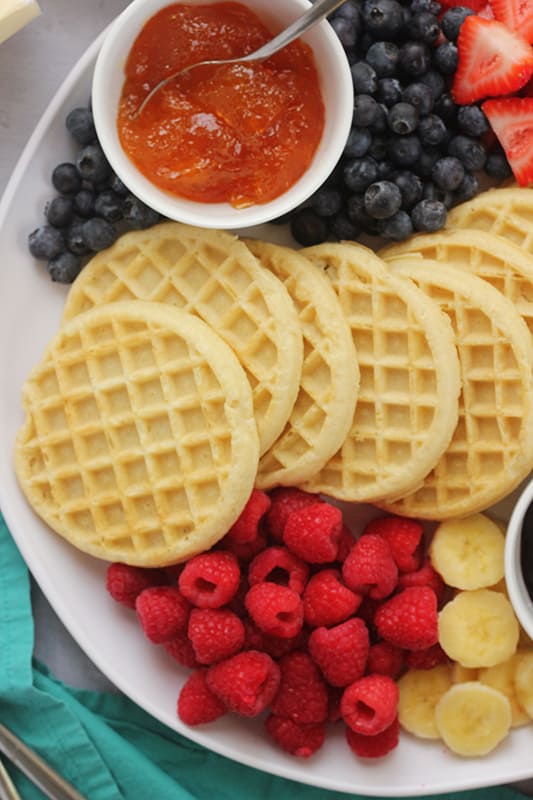 More Waffle and Pancake Recipes:
More Party Ideas:
Still hungry? Follow One Sweet Appetite on Facebook, Instagram and Pinterest for more great recipe ideas!