This quick and easy Pickle Relish Recipe comes together in minutes and DOES NOT need to be cooked! Perfect quick fix pickle relish to top off your grilled favorites all season long!
Homemade condiments are a game changer to summer grilling season! Serve these along side Homemade BBQ sauce with your burgers and dogs this year!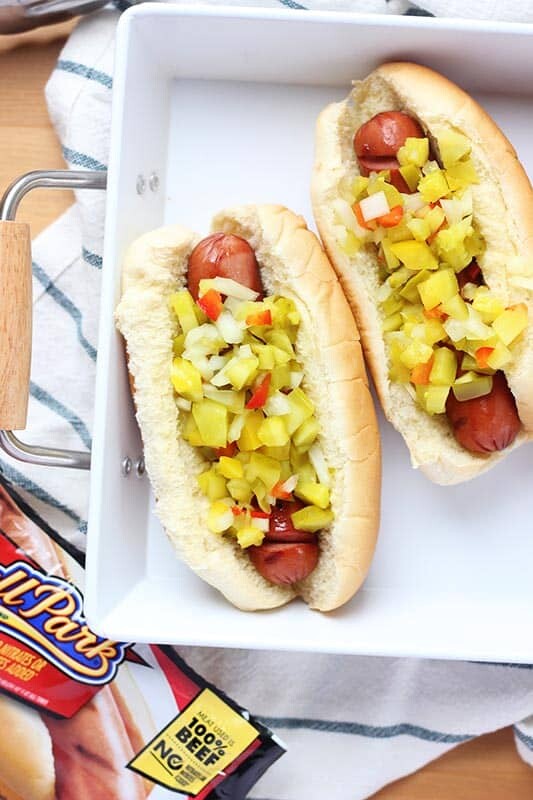 RECIPE FEATURES
Quick and easy: I kid you not, this recipe takes minutes to prepare.
Make Ahead: You can make this and keep it stored in the refrigerator for up to a week.
Easy to Customize: You can switch out the pickle types for a whole new flavor profile.
I have dived head first into grilling season this year. We are loving the beautiful spring weather and plan to take full advantage. One of our favorite things to make? Hot dogs. They are so simple and oh-so delicious. But we all know it is all about the toppings!
This fresh relish recipe comes together in under ten minutes and adds a crisp fresh flavor to all of your grilled favorites!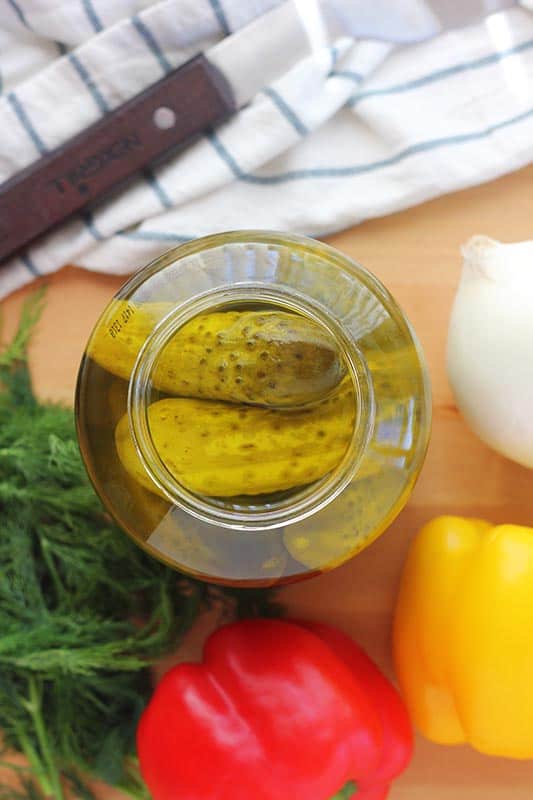 WHAT IS PICKLE RELISH MADE OF?
So what are the ingredients in pickle relish? This recipe has a fairly short list that uses ingredients that are fairly common in the everyday kitchen. Since it is a "quick fix" recipe, it uses cucumbers that are already pickled. Which means you get bold fresh flavor without all of the work of classic relish!
Dill or Sour Pickles: Here is where your main flavor is going to come from. Pick a pickle you enjoy as your base. Change things up for new flavor profiles once you've found your balance.
Bell Peppers: Specifically, a red and yellow pepper. These two provide that fresh crispy flavor that kicks this up to the next level.
White Onion: White onion has a bold stronger flavor of the yellow onion. Perfect when used in relish or salsas. You don't need much to make a big impact.
Fresh Dill: This is optional, but a delicious addition to this relish recipe.
Pickle juice: My secret ingredient. Pickle juice is used in place of vinegar and blends the flavors of all of the ingredients perfectly.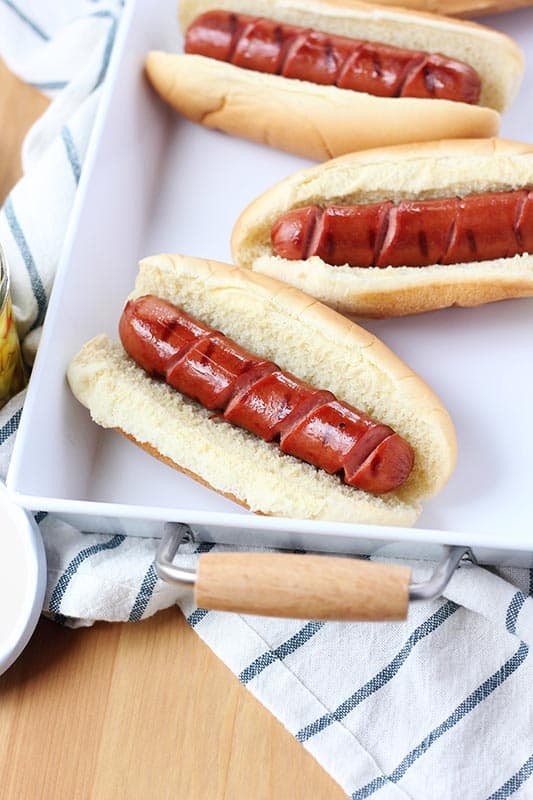 HOW TO SPIRAL CUT HOT DOGS
Our absolute favorite way to grill hot dogs is spiral cut. Adding shallow slices to the uncooked meat helps them cook quickly and gives you amazing grooves for your toppings to fill in!
Carefully, use a paring knife to cut at a slight angle around your hot dog.
Make sure to slowly spin as you cut to move the spiral down the uncooked hot dog.
Also, avoid cutting too deep. Shallow cuts are what we are looking for here.
Once you have added the spiral cut to your dogs, add them to your heated grill. Cook, turning frequently, until your hot dogs are heated through.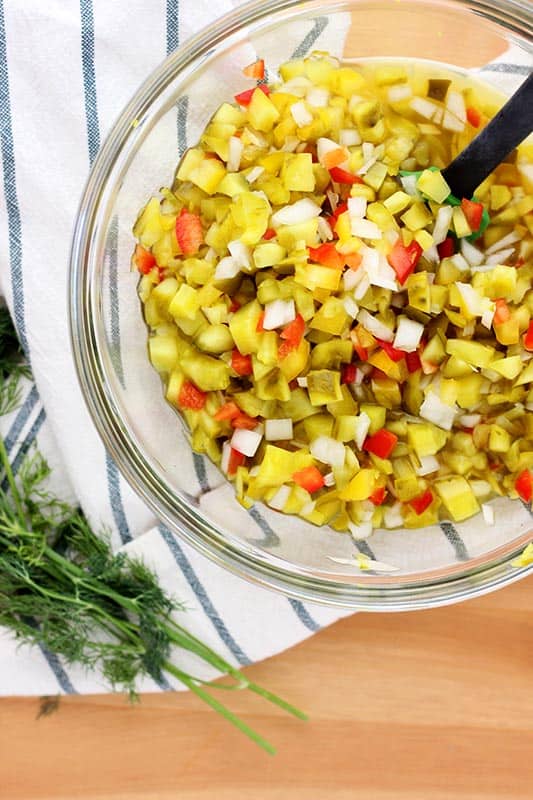 HOW TO MAKE RELISH FROM PICKLES
This makes a dill relish. Since I start with dill pickles and add more fresh dill to the seasoning, you end up with a more bold less sweet finish. A sweet relish contains more sugar and has less of a tart vinegar taste. It pairs well with hot dogs, hamburgers, tuna and chicken salad.
PREP: Measure all of your ingredients and dice your pickles, peppers and onion.
MIX: Combine all of the ingredients into a medium sized bowl. Gently toss to combine.
CHILL: Cover and chill for one hour, or up to a few day.
SERVE: Serve on top of your favorite grilled items!
RECIPE TIPS
Is pickle relish just chopped pickles?
This dill relish recipe does use chopped pickles as the base. However, it combines more fresh ingredients for bold flavor. Bell pepper, onion, and dill are the secret to making the BEST homemade relish recipe.
What do you eat relish on?
Here's the deal, this relish is so stinken good for so many things. We use it on hotdogs, obviously, but also on a few other summer favorites like:
potato salad
macaroni salad
egg salad
chicken salad
meatloaf (so good and so random)
tuna
Does homemade relish go bad?
We find that this relish is best eaten within one to two weeks of making.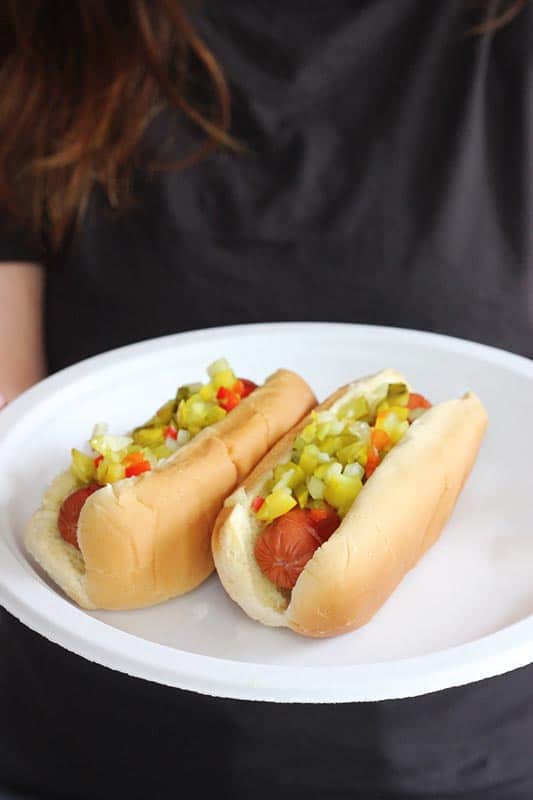 MORE MUST-TRY SUMMER RECIPES
Still Hungry? Follow One Sweet Appetite on Instagram, Pinterest, and Facebook!
More Favorites from One Sweet Appetite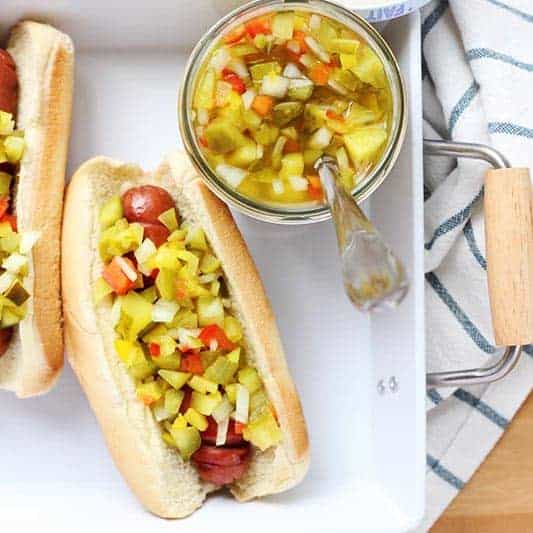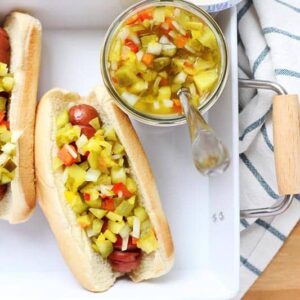 Quick and Easy Pickle Relish Recipe
This quick and easy pickle relish recipe comes together in minutes and DOES NOT need to be cooked! Perfect to top off your grilled favorites all season long!
Ingredients
2 large dill or sour pickles finely diced
1/4 cup red pepper finely diced
1/4 cup yellow pepper finely diced
1/4 cup white onion finely diced
fresh dill optional
1/4 cup + 2 tablespoons pickle juice
Instructions
Combine all of the ingredients in a medium sized bowl. Stir to combine. Refrigerate one hour or up to 24 hours.

Serve on grilled Ball Park® Beef Franks! 
Notes
*Calorie count is based off of 1 tablespoon of relish
Nutrition
Serving: 4servings | Calories: 20kcal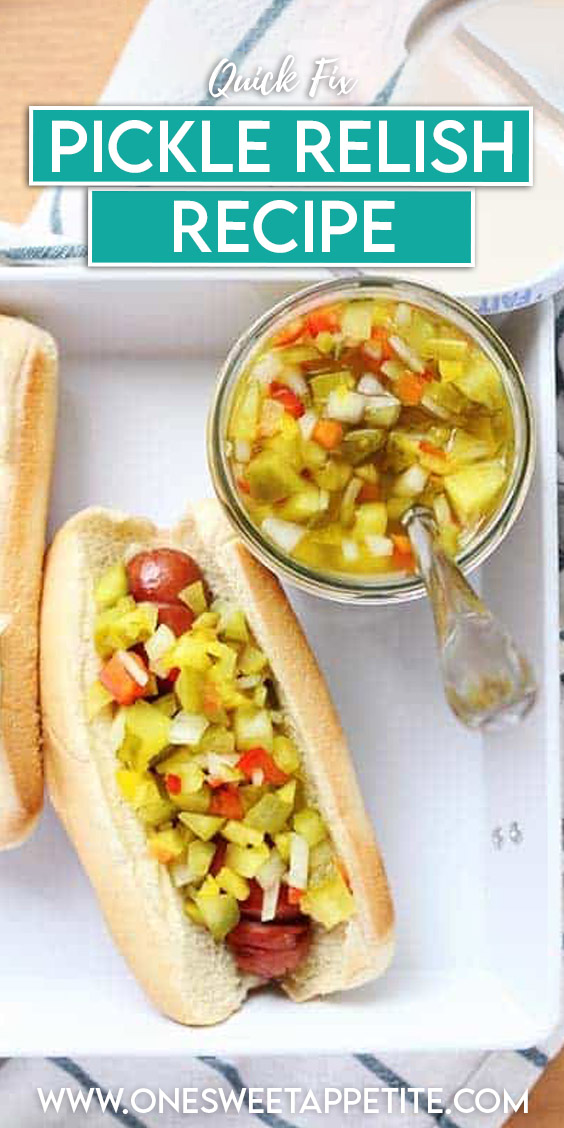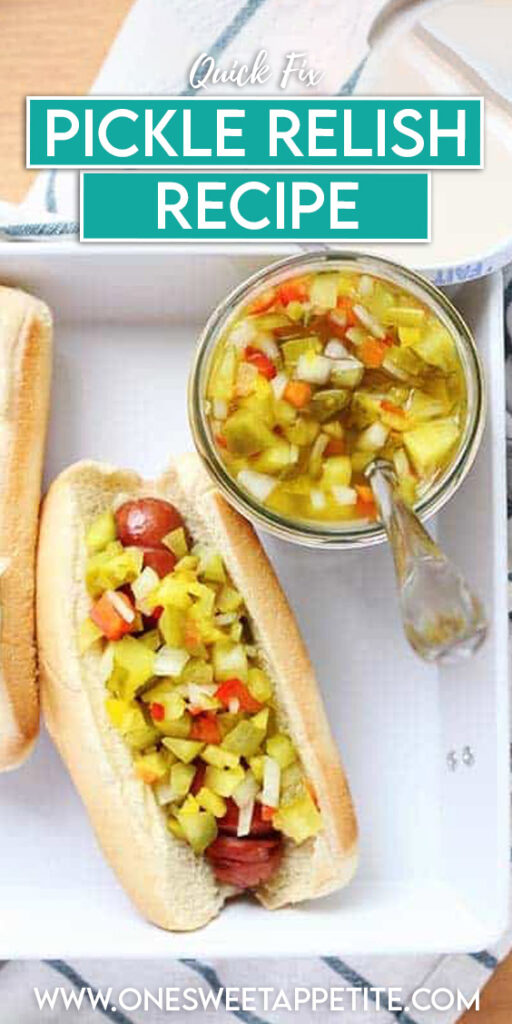 Reader Interactions