Easy Bloody Mary Recipe. Mix good quality vodka with tomato juice, Worcestershire sauce, lemon juice, and Tabasco for the perfect cocktail.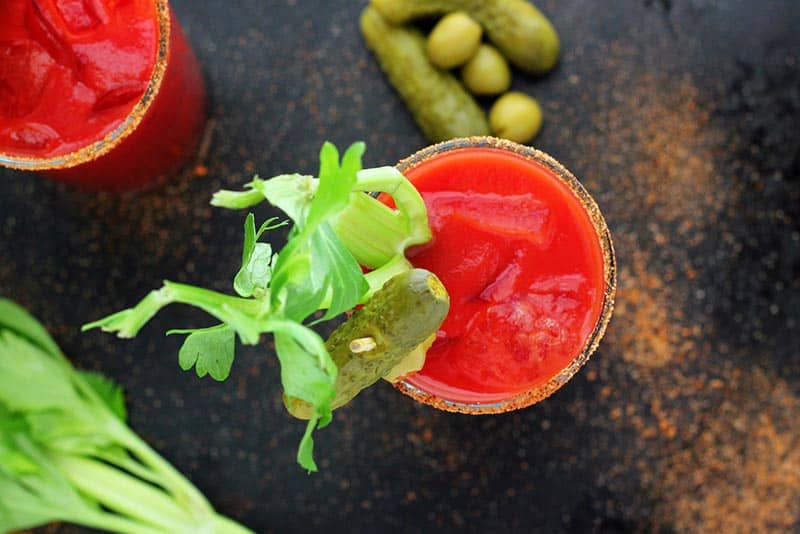 This post includes a recipe for alcohol. Drink responsibly. One Sweet Appetite and it's authors are not responsible for the actions of our readers should they choose to make this recipe and consume it. Please drink responsibly.
I am a sucker for a good
Simple Bloody Mary Recipe
I actually had never tried one until a few years ago. My husband would always order them and I'd find myself envious of the tomato drink packed with little finger foods. The only time I crave green olives and celery is when they are layered beautifully on a toothpick in my husband's beverage.
He would roll his eyes the very second his order was delivered to the table in anticipation of me reaching over and yanking the little treats right out of his reach. About three of four times of me doing this, he finally put his foot down and told me I will have to order my OWN drink.
I caved and decided that I would give it a try. Surprisingly, vodka and tomato juice pair well together! It gives your drink a tiny zing that tastes A-MAZ-ING with cracked pepper. We've hesitated making our own version at home, but when I found out it was National Bloody Mary day I just couldn't resist.
Perfect Bloody Mary Recipe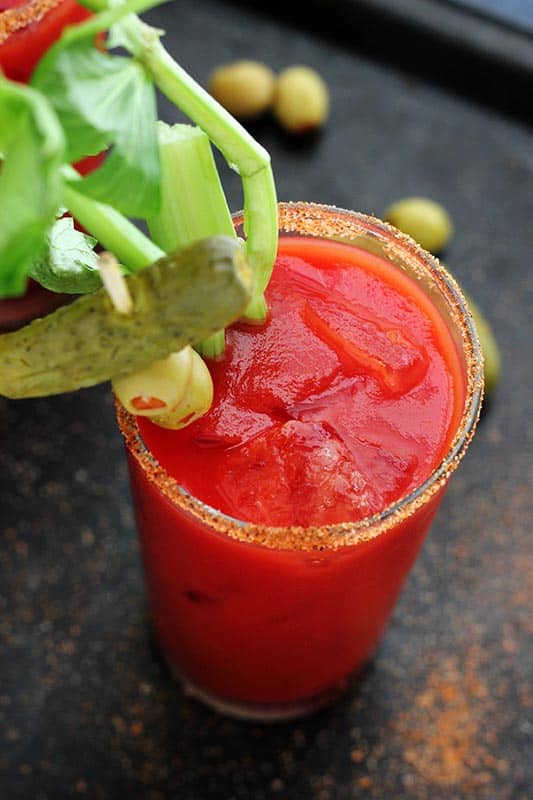 This recipe is so stinken easy. All you need are a few simple ingredients.
Bloody Mary Ingredients:
Tomato juice
Worcestershire
Lemons
Celery salt
Tabasco
Salt and Pepper
Garnishes
How to make the perfect Bloody Mary
Toss your ingredients into a giant pitcher the night before.
Let the flavors blend together.
Enjoy the cocktail over ice.
I do recommend you adjust the ingredients according to your tastes. We like a LOT of pepper and lemon but if you're not-so into it you can easily reduce those two ingredients. ALSO, don't be stingy with the add-in's! The veggies are totally what this drink is all about. We season the side of our cup with creole seasoning (obsessed and put it on EVERYTHING) and switch up what goes on the tooth pick. A few of our favorites? Tiny dill pickles, green olives, celery, banana peppers, bacon, or even shrimp!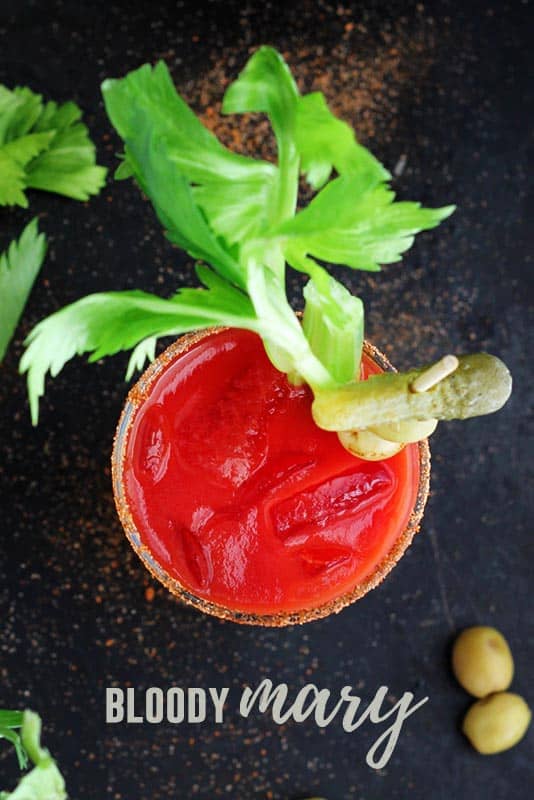 Like this recipe? You will love my Classic Mojito, Blackberry Mojito, and Raspberry Peach Sangria!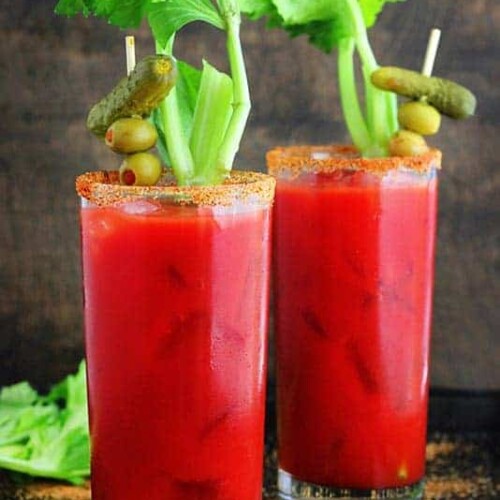 Bloody Mary Recipe
Easy Bloody Mary Recipe. Mix good quality vodka with tomato juice, Worcestershire sauce, lemon juice, and Tabasco for the perfect cocktail. 
Ingredients
4 cups tomato juice or V8
2 Tbsp Worcestershire sauce
juice of 2 large lemons
2½ tsp celery salt
dash tabasco
salt and pepper to taste
2 cups good quality vodka
Celery pickles, olives or whatever garnish you prefer
Instructions
Combine the first six ingredients into a large pitcher. Stir and allow to sit overnight

Stir in the vodka.

Fill your glass with ice and choice of garnish. Pour tomato mixture over the ice and enjoy.
Notes
Try Pepper Vodka for an even spicier drink. I suggest reducing the pepper you add to the recipe if you decide to go this route. Adjust the lemon juice and seasonings according to your taste.
Nutrition
Serving: 1Servings
Pin for later: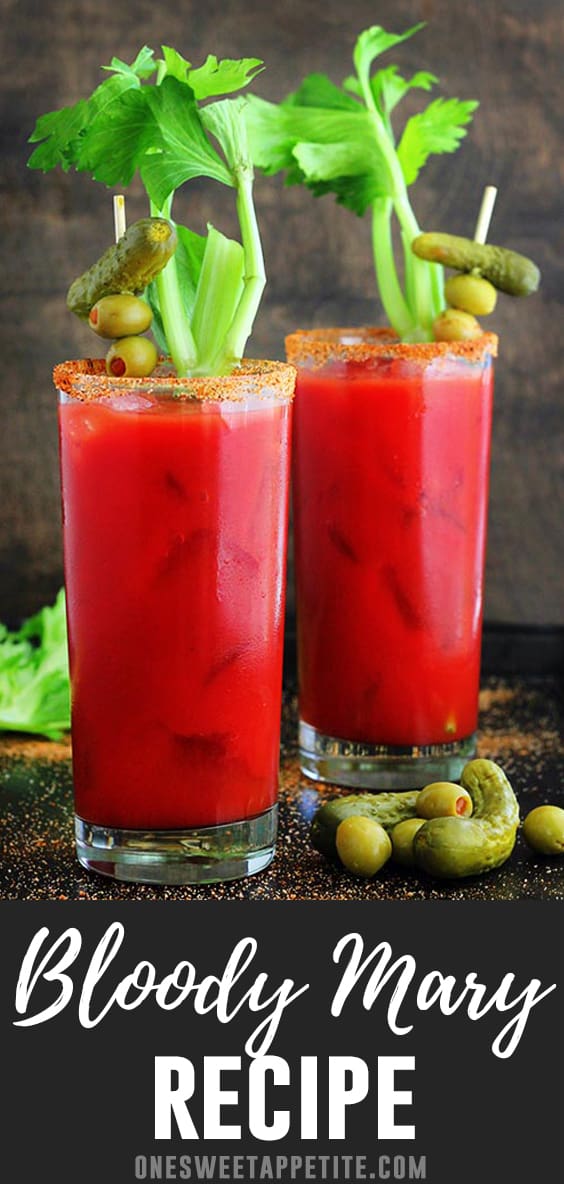 Still hungry? Follow One Sweet Appetite on Facebook, Instagram and Pinterest for more great recipe ideas!
Reader Interactions